Andhra Pradesh CM flags off 516 e-autos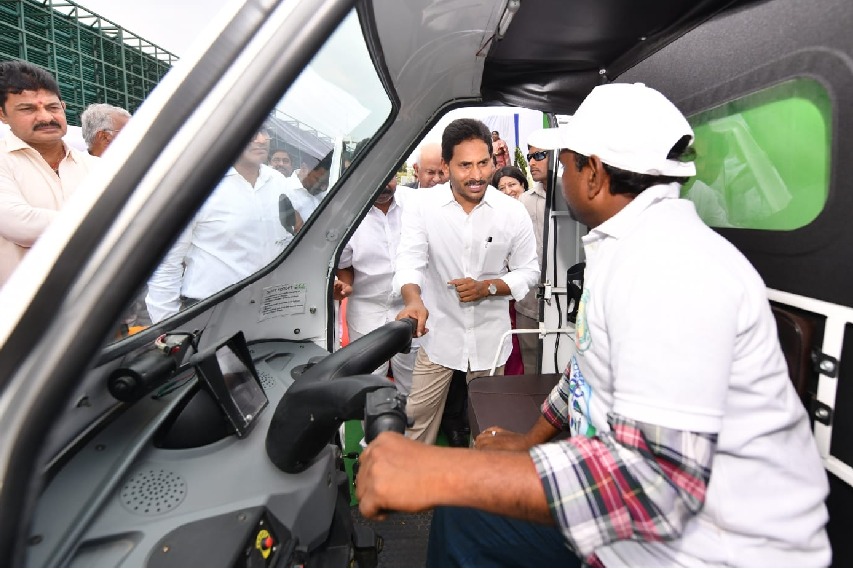 Amaravati, June 8: Andhra Pradesh Chief Minister Y.S. Jagan Mohan Reddy on Thursday flagged off 516 e-autos under Clean Andhra Pradesh (CLAP) from his Camp Office here.

The e-autos worth Rs 22.18 crore would be deployed in 36 municipalities for garbage collection in an eco-friendly manner.

Municipal Administration Minister A Suresh, Revenue Minister D Prasada Rao, Labour and Employment Minister G Jayaram, Municipal and Urban Development Special Secretary YS Srilakshmi, public representatives and officials were also present.

Jagan Mohan Reddy, who completed four years in power last month, has been flagging off hundreds of vehicles under various government schemes.

The YSR Congress Party (YSRCP) government is using such occasions to bring all the vehicles at one place for greater visibility of the schemes.

In 2020, the Chief Minister had flagged off a huge fleet of 1,088 ambulances of '108' ambulances and '104' mobile medical units.

In May 2021, he flagged off 175 veterinary ambulances under the first phase of Dr YSR Sanchara Pasu Aarogya Seva. He flagged off another 165 veterinary ambulances in February this year.

In June last year, the Chief Minister launched YSR Yantra Seva Scheme by flagging off 3,800 tractors and 320 combined harvesters.

Last week, he flagged off 2,562 tractors, 100 combine harvesters and 3573 farm machines under the second phase of the scheme.