WFI chief still in 'suraksha kavach' of PM Modi: Rahul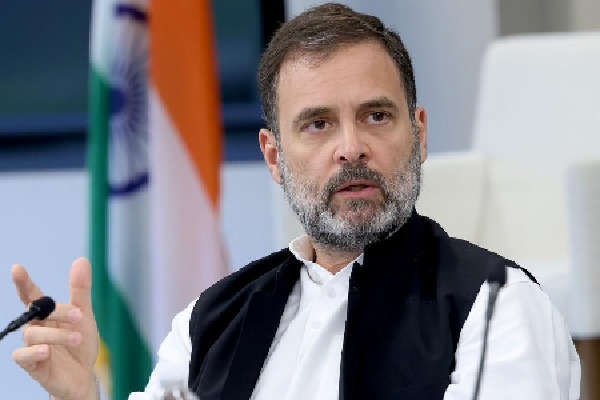 New Delhi, June 2: With serious allegations against Wrestling Federation of India (WFI) chief Brij Bhushan Sharan Singh coming to the fore, former Congress president Rahul Gandhi on Friday sharpened his attack on Prime Minister Narendra Modi, saying that the BJP MP is still within his "suraksha kavach" (protective shield).
In a tweet in Hindi, Rahul Gandhi, who is on a six-day US visit said: "Daughters who brought 25 international medals - pleading for justice on the streets. An MP with 15 heinous allegations of sexual abuse in two FIRs - safe in the Prime Minister's 'Suraksha Kavach' (protective shield)! Modi government is responsible for these conditions of daughters."
His remarks came after the details of the two FIRs, which included the details of the alleged sexual harassment by Singh of the female wrestlers, emerged.
In the FIR, the wrestlers had detailed the incidents of sexual harassment allegedly by Singh.
Earlier also, Rahul Gandhi had come out in support of the protesting wrestlers after they were detained by the police on May 28, the day of inauguration of the new Parliament House and said: "The coronation is over - the 'arrogant king' is crushing the voice of the people on the streets!"
Prominent Indian wrestlers, including Olympians Bajrang Punia, Sakshi Malik, and Vinesh Phogat have been demanding the arrest of Singh, over sexual harassment of female athletes, including a minor.
Earlier on Friday, Congress General Secretary Priyanka Gandhi Vadra also came out in support of the wrestlers, and said: "Prime Minister Narendra Modi ji, read these serious allegations and tell the country why no action has been taken against the accused so far?"
On Sunday, the protesting wrestlers were detained after they tried to march towards the new Parliament House from Jantar Mantar.
The protesters had tried to jump the police barricades.
Since April 23, prominent Indian wrestlers such as Punia, Malik, and Vinesh have been staging a protest at the Jantar Mantar against WFI chief Brij Bhushan Sharan Singh.