People of Telangana are with me, says Governor Tamilisai Soundararajan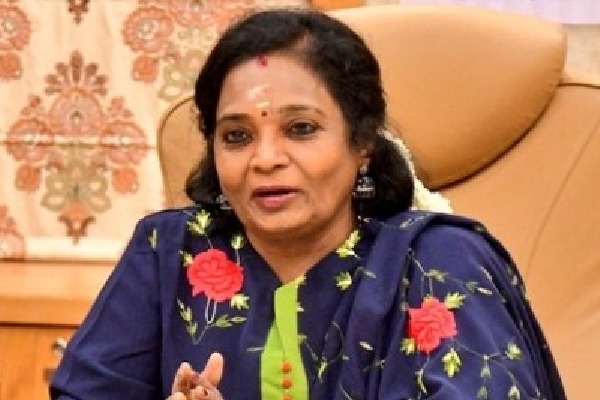 Hyderabad, June 2: Amid continued friction with the Telangana government, Governor Tamilisai Soundararajan said on Friday that people of the state are with her.
She declined to comment on whether the state government invited her for Telangana formation day celebrations or not.
"I am not going to comment on whether the invitation extended or invitation came or not. I am with the people of Telangana and people of Telangana are also with me. I celebrated with them. That's all I can say," she told media persons after the formation day celebration at Raj Bhavan.
Chief Minister K. Chandrasekhar Rao hoisted the national flag at the main formation day event held at the newly constructed state Secretariat.
The governor had earlier complained that she was not invited by the state governments for many key events, including inauguration of Secretariat and unveiling of 125-feet statue of Dr B. R. Ambedkar.
Tamilisai said she had invited those who had fought for Telangana in 1969. "I celebrated formation day with them and I was proud to felicitate them," she said.
"Today's celebrations are the answer," she quipped when asked about Chief Minister KCR's recent remark that the post of governor is only ornamental. "People were so affectionate to participate. My doors are always open for people," she said
Tamilisai said that she was overwhelmed with the people's support and their love and affection. She stated that her heart was filled with joy to watch the cultural programmes reflecting the pride of Telangana.
Tamilisai, who is also Lieutenant Governor of Puducherry, later left for the union territory to participate in Telangana formation day celebrations. She said Prime Minister Narendra Modi has suggested that state formation day should be celebrated in all states.
At the event held at Raj Bhavan in Hyderabad, she delivered her speech in Telugu. She noted that the movement for Telangana has a special place as all sections of people participated in it. Recalling that it was a non-violent movement, she paid tributes to those who laid down their lives for Telangana.
The governor pointed out that over 300 people had sacrificed their lives in the 1969 agitation and said she was happy to felicitate some of those who had participated in the first phase of the movement.
She stressed the need to ensure that the fruits of development reach people in remote areas of Telangana.