Telangana is slave in hands of one family: Kishan Reddy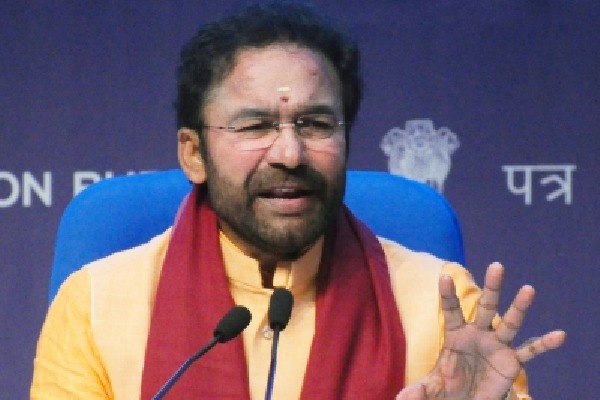 Hyderabad, June 2: Union Minister for Culture and Tourism G. Kishan Reddy targeted the KCR-led government of Telangana over 'family rule and corruption' from Golconda Fort where the Central government on Friday organised Telangana state formation day celebrations.
Kishan Reddy, who unfurled the national flag at the historic fort to formally launch the celebrations, slammed the Bharat Rashtra Samithi (BRS) government and alleged that Telangana has become a slave in the hands of one family.
In a direct attack on Chief Minister K. Chandrasekhar Rao, the Union minister remarked that Telangana was not achieved because of one or two individuals but the separate state became a reality thanks to the mass agitation.
Kishan Reddy claimed that Telangana state was formed with the support of BJP which was then in the opposition.
He recalled that the Telangana movement was launched with the slogan of water, funds and jobs, but under the KCR government, this could not be achieved.
He alleged that because of the family rule, corruption was rampant in Telangana and that state was pushed into debt trap. "This is not the Telangana of the dreams of martyrs. The state government is not working to realize the dreams of martyrs," he said.
The minister, who is a Member of Parliament from Secunderabad, alleged that even after nine years the poor were still waiting for houses promised to them. He said that the BRS government failed to help the families of martyrs.
"The government took loans of thousands of crores, but still unable to pay salaries to the government employees on time," he said.
Kishan Reddy wanted to know what happened to the government's promises to develop Hyderabad into Istanbul or Singapore. He remarked that the flyovers will not solve all problems.
Kishan Reddy felicitated the families of Telangana martyrs on the occasion.
For the first time since the formation of Telangana State nine years ago, the Union Government organised the formation day celebrations.
The Union Ministry of Culture is organising two-day festivities at the Golconda Fort under the aegis of the Azadi Ka Amrit Mahotsav. The activities included a march past, photograph and painting exhibitions.
Cultural performances will be held in the evening. There will be classical dance performances by Anandaji and her group, performances by Manjula Ramaswamy and her group on June 2.
The public will also have the opportunity to witness performances by renowned Telugu singers, Mangli and Madhupriya. The day will conclude with a spectacular performance by singer Shankar Mahadevan.
On June 3, there will be captivating folk dance performances, including Dimsa, Dappu and Gussadi. Additionally, a theatrical production on Raja Ram Mohan Roy will be staged. The day will culminate with a multilingual 'mushaira' (poetic symposium).