Sharmila poses 10 questions to KCR on eve of Telangana formation day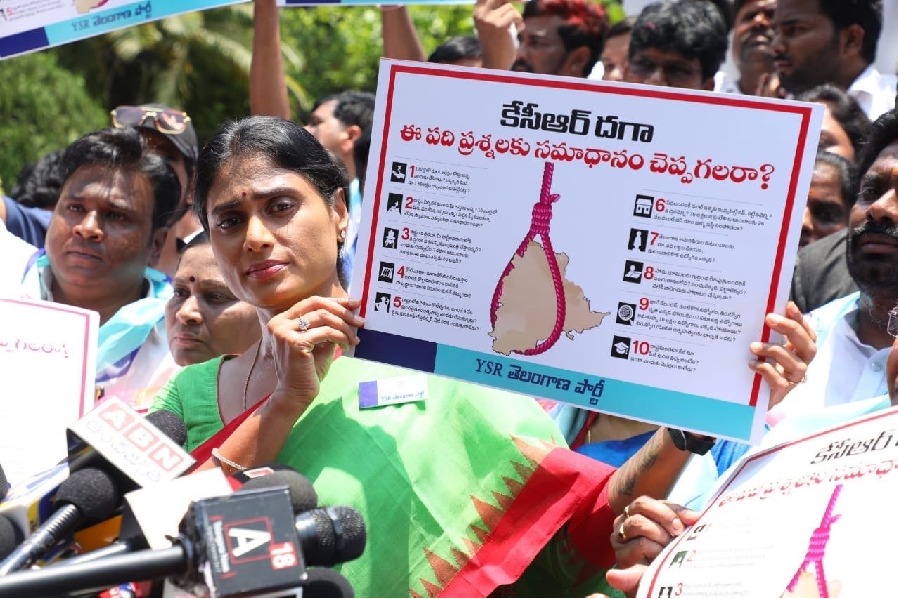 Hyderabad, June 1 : YSR Telangana Party leader Y.S. Sharmila on Thursday launched a bitter attack on Chief Minister K. Chandrasekhar Rao on the eve of state formation day and posed 10 questions to him.
After paying tributes to the Telangana Martys at the Gun Park, she released a poster to the media on the "failures" of KCR, as Rao is popularly known.
The YSRTP leader said: "KCR is going all out to celebrate Telangana Formation Day and has appealed to the people to celebrate this 10th year with bigger excitement. Does he actually have a right to lead these celebrations when he has failed the state on every front, and deceived every person."
"Today, on the eve of Telangana Formation Day, while commemorating the tenth year, we yet again demand KCR that he explains to the people of Telangana why he has not kept his word on numerous promises. YSR Telangana Party has launched this poster to dare him to accept his atrocities and failures, and apologize to the people," added Sharmila.
Sharmila asked KCR why he pushed the state into debts to the tune of Rs 4.5 lakh crores. "How much wealth did you amass in these ten years at the cost of the state? Why did you not make a Dalit the CM of the state, as promised? Why have you not provided irrigation to 10 million acres of land?," she asked.
"Why have you not extended loan waiver to farmers? Where are the promised number of double bedroom houses? Where is the promised financial aid to Telangana martyrs? Why did you fail to distribute podu lands to tribals? Where are the promised jobs and pension for the unemployed? Why have you not implemented the grandiose KG to PG scheme even after nine years?" were the other questions she posed.