Khaps extend full support to wrestlers, mull approaching President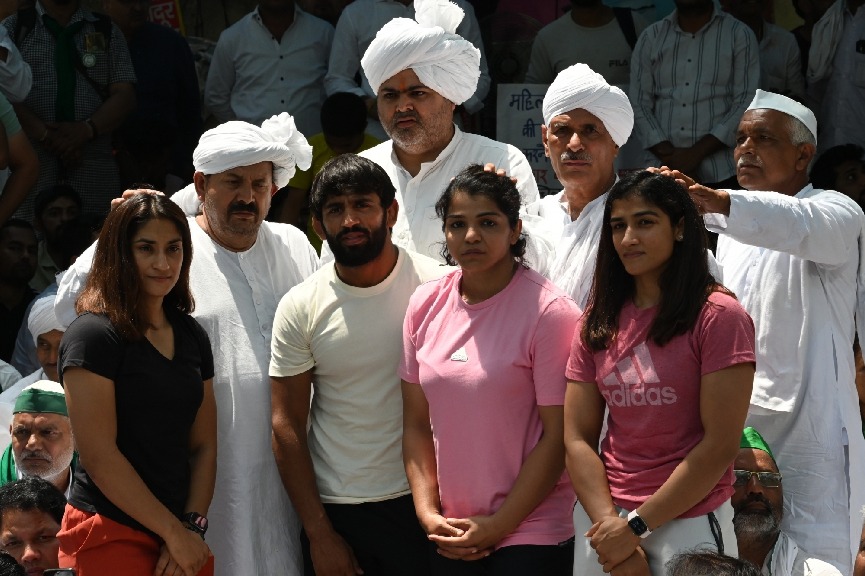 Muzaffarnagar (UP), June 1: The Mahapanchayat of Khaps that met in Muzaffarnagar on Thursday has decided to meet President Droupadi Murmu if need be and seek justice for the protesting wrestlers demanding the arrest of Wrestling Federation of India chief Brij Bhushan Sharan Singh on charges of sexual harassment.
Bharatiya Kisan Union (BKU) spokesman Rakesh Tikait said the final decision on the issue of wrestlers' protest will be taken at a meeting in Haryana on Friday.
The Mahapanchayat held at Sauram village extended full support to the protesting wrestlers and demanded the arrest of WFI chief Brij Bhushan Sharan Singh.
Meanwhile, farmer leader Mangeram Tyagi alleged that the wrestlers' protest is being given a casteist colour.
"Did anyone ask them (the protesting wrestlers) about their caste when they won medals for the country," he asked.
BKU chief Naresh Tikait, who had persuaded the wrestlers not to immerse their medals into River Ganga on Tuesday, made it clear that they will leave no stone unturned.
"We will go to the President of India if need be. We are with the wrestlers and they don't have to worry. I told them not to immerse their medals in Ganga, rather put them up for auction. The entire world will come forward and ask you to stop the auction," he added.
"You should understand what the Central government is doing. They broke Lalu Prasad's family in Bihar. See what they did with Mulayam Singh Yadav's family. The same thing is happening in Rajasthan," Naresh Tikait said.
The wrestlers have been on a warpath since January, demanding action against WFI chief Singh, whom they accused of sexually harassing seven athletes.
Singh, who is also a BJP MP, has asserted that would accept any punishment if the allegations against him are proven.
"If a single allegation against me is proven, I will hang myself. If you (wrestlers) have any evidence, present it to the court, and I am ready to accept any punishment," he said.
The government, in its first comment on the matter on Wednesday, had warned the wrestlers against any precipitate action and advised them to wait for the conclusion of the police investigation.