Balakrishna, Jr NTR pay tributes to NTR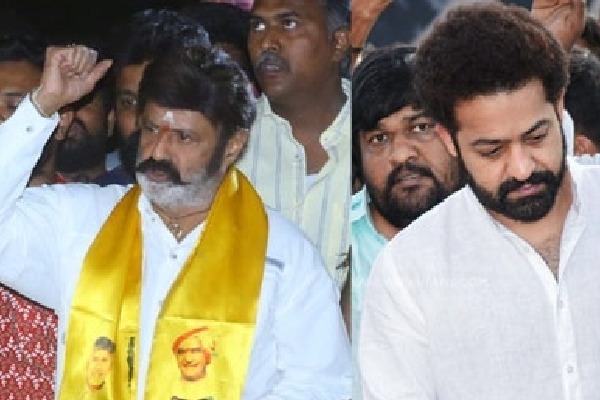 Hyderabad, May 28: Rich tributes were paid to former Andhra Pradesh chief minister and Telugu Desam Party (TDP) founder N.T. Rama Rao by his family members on his 100th birth anniversary on Sunday.

NTR's son and Tollywood actor Nandamuri Balakrishna and grandson and popular actor Jr NTR paid floral tributes at NTR Ghat on the banks of Hussain Sagar lake here.

Nandamuri Ramakrishna, actor Rajendra Prasad and others also paid tributes.

Talking to reporters at NTR Ghat, Balakrishna said that he considers it his good fortune to be born as son of NTR. The actor, who is also TDP MLA, stated that the birth centenary of NTR is being celebrated not just in Telugu states but across the world.

"NTR reached the greatest heights of success not just in the film industry but also in politics. He founded TDP to pay back to the Telugus for their love and affection," said the actor. He recalled that after coming to power NTR launched several welfare schemes for the people.

"The two rupees a kg rice scheme started by him gave food security to the poor. He brought many revolutionary laws including the one to give women the right to property," he said. He also recalled that NTR played a key role in national politics.

Jr NTR took to Twitter to share his thoughts to pay tributes to the legendary actor-turned-politician.

NTR had floated TDP in 1982 on the slogan of Telugu self-respect. He created a record of sorts by coming to power in united Andhra Pradesh in less than a year after founding the party.

NTR served as three-time chief minister of Andhra Pradesh and played a key role in uniting the opposition parties against Congress. He passed away on January 18, 1996.