As Andhra CM, NTR went beyond giving rice for Rs 2 a kg to the poor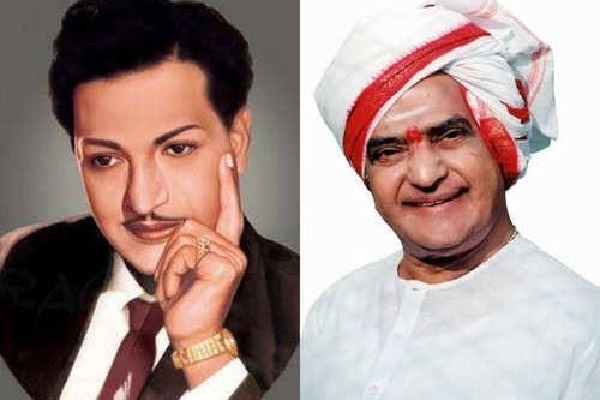 Hyderabad, May 28: From announcement of his entry into politics to the colourful campaign he conducted ahead of 1983 Assembly elections, and from swearing-in as the Chief Minister to the decisions made by the new Cabinet, whatever NTR did was dramatic.

After the first mammoth public meeting of TDP at Tirupati in May 1982, NTR decided to undertake a state-wide tour to cover the entire length and breadth.

When Gemini Studios in Madras downed the shutters, NTR had bought many items and one of them was a Chevrolet van of 1940s. He sent the vehicle to Madras for refurbishing. He got the chairs replaced by bedding along with an aircraft-style chair and table. On his instruction, a sunroof was made so that he could climb up with the help of a stepladder to address people during road shows.

NTR named the vehicle 'Chaitanya Ratham' (chariot of awakening). He was thus a pioneer of the Rath Yatras in politics. The vehicle served as his house during visits to remote parts of the state. He used to eat and sleep in the vehicle and hold meetings with his close confidants.

From June 1982 to January 3, 1983, NTR undertook the campaign in phases, covering 35,000 kms. He was sleeping for only 3-4 hours in a day while his food was very simple. The actor politician used to do his morning ablutions in the open. He used to shave and wash his clothes by the roadside surrounded by curious onlookers. This sent a powerful message to people that he is sacrificing all comforts for a greater cause.

At every place, thousands of people flocked to his road shows. Attired in khaki pants and a bush shirt and standing atop Chaitanya Ratham, NTR used to address the crowds. His distinct style of speech laced with both classical Sanskrit expressions and idiomatic Telugu, his trademark baritone voice and the gestures sent people into a frenzy at every meeting.

After creating records of sorts by storming to power with a huge majority, NTR took oath as the Chief Minister on January 9, 1983 at L. B. Stadium in the presence of thousands of people. In a clear departure from the laid-back approach of previous Congress regimes, NTR introduced a unique work culture.

The bureaucrats faced a big challenge as the new Chief Minister was an early riser and used to begin work before dawn. He was known for seeing officers and even visitors from 5 a.m. Punctual with his appointments, he used to dispose of matters and files quickly. He announced several measures to streamline administration and issued dos and don'ts for government employees to enforce discipline in government offices but faced stiff resistance from them.

A month after assuming office of the Chief Minister, NTR made some dramatic decisions at the first Cabinet meeting. These include reducing age of retirement from 58 to 55 years for government employees, intention to abolish Legislative Council, the upper House of the state legislature, introducing a bill to ban defections of elected representatives from one party to another, ban on donations in professional colleges, bringing a bill to provide equal rights to women in ancestral property and to establish a women's university.

NTR implemented his poll promise of Rs 2-a-kg rice through a public distribution system. This came as a boon for families living below poverty line.

With a non-political background and without any consideration for vote banks, NTR took revolutionary steps to set things right. He rationalised the government corporations to bring down their number from 48 to 34 as they had become political rehabilitation centres. He made Telugu the language of correspondence at all levels of administration, discontinued pension for former legislators, prohibited private practice by government doctors and private tuitions by government teachers.

NTR's decision to lower the age of retirement resulted in the retirement of 18,000 government employees and 10,000 public sector employees. The employees were up in arms while he argued that this was necessary to solve the unemployment problem. They went on strike but NTR too approached people and called the action of the employees unjustified. The strike ended after 19 days but the confrontation had already created bad blood between the government and the employees.

As the Chief Minister, NTR vowed to chase corrupt officers like Yama (the god of death). Certain steps taken by him created terror among top bureaucrats including IAS officers. He also brought Lokayukta Act in the very first year to check corruption.

After completing the first year as Chief Minister, NTR launched another revolutionary step to bring changes in social and political structure in the countryside. He abolished part-time hereditary village officers - karanam and munasabu (munsif) in Andhra and Patel and Patwari in Telangana. Mostly upper caste landlords, these hereditary officers wielded enormous power and clout. The move was hailed by marginal sections of the society who were victims of the exploitation by these hereditary officers.

After seeking a fresh mandate and returning to power with another huge majority in 1985 following a coup against him, NTR introduced more changes in the administrative system and panchayat raj. He created 1,104 revenue mandals in place of 305 talukas to decentralise administration. This curtailed domination of upper castes in local bodies.

Going a step forward, the TDP founder conducted direct elections for Panchayat bodies and provided quota for various communities. This ensured participation of backward classes and women in local bodies.

NTR government passed an order to reserve 30 per cent of all government jobs for women. In another major move, the Assembly passed a bill in 1985 to give daughters, who were majors but unmarried, a share in the Hindu joint family property. This made Andhra Pradesh first state to give equal rights to women by amending Hindu Succession Act.

It was during NTR's regime that the practice of registering house site pattas in the name of women began.

NTR also increased reservation of backward classes from 25 per cent to 44 per cent. This triggered massive protest by forward castes and also some castes within BCs who objected to exclusion of creamy layer. The High Court struck down the government order citing the Supreme Court judgments that total reservation should not exceed 50 per cent.

NTR's costume drama grabbed all the attention during his reign as Chief Minister. He was known for strange sartorial selection, which was believed to be influenced by on-screen characters.

The actor-politician, who wore khaki trousers and shirt for his campaigns, started wearing Telugu-style dhoti and kurta after becoming the Chief Minister for the first time in 1983. A few months later, he appeared in the saffron attire of a sanyasi as he was disturbed after reading about the rape of a young girl. On other occasions, he appeared in the attire of Swami Vivekananda.

"He often appeared wearing saffron but he was secular to the core. He had immense respect for people of all faiths and demonstrated his secularism in practice by dealing firmly with attempts to vitiate communal harmony," recalled a senior journalist.

During his regime, NTR ensured peace and communal harmony in Hyderabad which witnessed major communal riots during the Congress rule.

After becoming Chief Minister for the third time in 1994, NTR imposed total prohibition in response to the demand by women from across the state. This was yet another revolutionary and pro-women measure by him.

In his brief political career of 12 years, NTR was a three-time Chief Minister for a period spanning over seven years. But even in this brief period, he demonstrated that if the ruler has the political will, he can make big decisions for the good of his people.