Telangana Governor clears 3 out of 10 pending Bills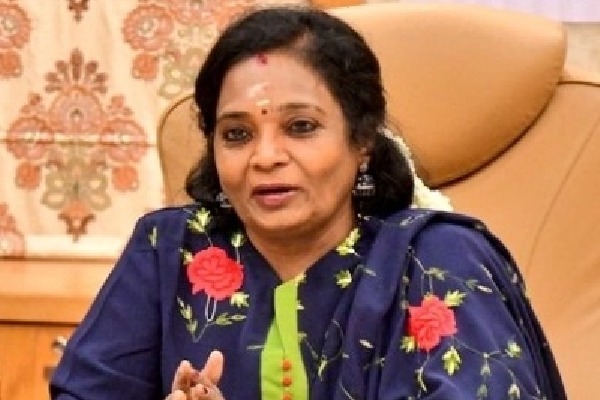 Hyderabad, April 10: With the Telangana government approaching the Supreme Court seeking direction to Governor Tamilisai Soundararajan to take a decision on the Bills pending with her, she has passed three legislations but sent back two others to the state government.

The Governor has also forwarded two Bills to the President for her assent and kept three others with her. There was no clarity about the Bills which the Governor cleared, those which she sent back to the government and the ones she forwarded to Rashtrapati Bhavan.

The government is understood to have passed Telangana Forest University Bill, Jayashankar Agriculture University Amendment Bill and Telangana Women's University Bill

She is reported to have sent to the President Azamabad Industrial Area Amendment Bill and Telangana Motor Vehicle Tax Amendment Bill.

Her decision came on a day when the Supreme Court was set to resume hearing on the state government's petition.

In a writ petition, the state government has brought to the notice of the Supreme Court that 10 Bills are pending with Raj Bhavan.

While seven Bills were pending since September 2022, three were sent to the Governor in February for her approval.

The petition pleaded the Supreme Court to declare as illegal, irregular and unconstitutional the delay by the governor.

"As per the mandate of the Constitution, the Governor has to necessarily clear the bills and any inaction to accord assent would lead to lawlessness," the state government said in the Special Leave Petition (SLP).

The state argued that if the governor has any doubts on the bills, she can seek clarifications but she cannot sit on them.

"If she raises any issues, we will clarify them. She cannot sit on them and the mandate of the Constitution in this regard is clearly in favour of the state," the government contended.

This is the second time that the Bharat Rashtra Samithi (BRS) has knocked the apex court's door against the Governor.

In February, the government moved Telangana High Court seeking direction to the Governor to give her approval to the state Budget for 2023-24. The court, however, had suggested both sides sort out the issue amicably.

Counsels of both the state government and Raj Bhavan had agreed to a compromise formula. While the government agreed to begin the Budget session of the Legislature with the Governor's speech and the latter came forward to approve the Budget.

In November 2022, the Governor had dismissed the allegations by BRS that her office was sitting on some Bills forward by the state government for her assent. She stated that she is taking time for assessing and analyzing the Bills before giving her consent.

Education Minister P. Sabitha Indra Reddy had subsequently met the Governor to clarify her doubts on the Common Recruitment Board Bill.