Telangana govt vs Governor: SC asks SG to seek instructions on govt's plea over delay in assent to bills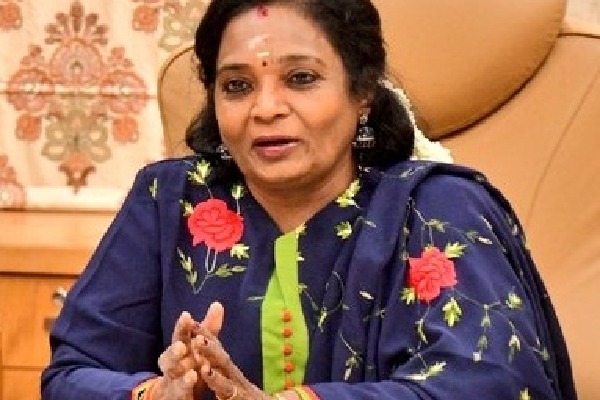 New Delhi, March 20: The Supreme Court on Monday asked Solicitor General Tushar Mehta to seek instructions on a plea filed by the Telangana government seeking directions to Governor Tamilisai Soundararajan to clear ten bills passed by the Assembly, which are awaiting her assent.

Mehta submitted before a bench headed by Chief Justice of India D.Y. Chandrachud that the court may not issue notice in the matter and he will take instructions.

"Possibly, some of the bills were received a few months back," he said. At this, the Chief Justice said: "We are not issuing notice to the Governor. We are issuing notice to the Union of India."

Mehta pressed that it may not be necessary as he is before the court and added that a copy of the petition be served on him and reiterated, "your lordships may not issue notice".

The bench, also comprising Justices P.S. Narasimha and J.B. Pardiwala, clarified that it is not issuing notice to the Governor and to the respondent number 2, which is the Union of India. Mehta again emphasised that notice may not be issued in the matter.

Senior advocate Dushyant Dave, representing the Telangana government, submitted that the court may record the Solicitor General's presence and he has no problem. After hearing submissions, the bench accepted Mehta's contention and scheduled the matter for further hearing on next Monday.

On March 14, Dave mentioned the matter before a bench headed by Chief Justice Chandrachud for urgent listing, saying that "several bills are stuck". The matter was scheduled for hearing on March 20.

Earlier this month, the Telangana government had approached the apex court seeking direction to the Governor to give her approval to the bills passed by the state legislature. In a writ petition, the state government has brought to the notice of the Supreme Court that 10 bills are pending with Raj Bhavan. While seven bills are pending since September 2022, three bills were sent to the Governor last month for her approval. The Secretary to the Governor and the Union of India has been made respondents in the case.

The plea contended that Article 200 of the Constitution empowers the Governor to either assent to a Bill passed by the state legislature or to withhold assent therefrom or to reserve the Bill for consideration of the President and this power is however to be exercised "as soon as possible".

This is the second time that the Bharat Rashtra Samithi (BRS) has knocked the court's door against the governor.

Last month, the government moved Telangana High Court seeking direction to the Governor to give her approval to the state Budget for 2023-24. The court, however, had suggested both sides sort out the issue amicably.