Sitharaman slams KCR for calling $5 trillion economy a joke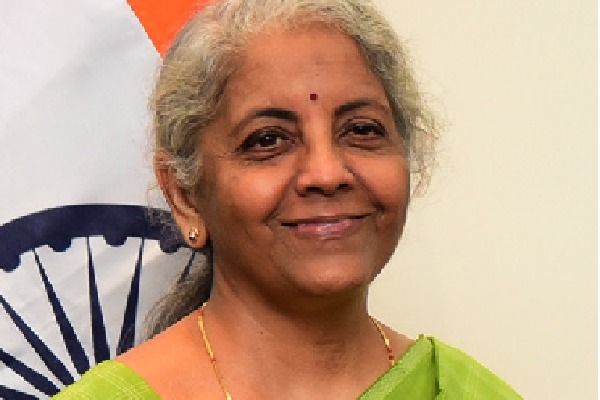 Hyderabad, Feb 16: Union Finance Minister Nirmala Sitharaman on Thursday slammed Telangana Chief Minister K. Chandrasekhar Rao for calling the Centre's target of a $5 trillion economy a joke.

She said she was requesting KCR with folded hands not to make jokes on the goal.

The minister was speaking on the Amrit Kaal Budget organised by Doordarshan here.

Addressing the Telangana Assembly on February 12, the Chief Minister had said that the BJP government's target of a $5 trillion economy became a joke, as after all the hype, India managed to become just a $3.1 trillion economy.

KCR pointed out the economy of the US is $25 trillion while that of China is $18.3 trillion.

Sitharaman said it was ironic that KCR under whose rule Telangana's debts mounted was calling the $5 trillion economy and the budget a joke.

"What was the debt of Telangana before KCR became the Chief Minister and what is it now," she asked and then pointed out that the state's debts mounted from Rs 60,000 crore in 2014 to Rs 3 lakh crore now.

On the allegations by the BRS government that the Centre was imposing restrictions on the borrowings by the state, she said the Constitution has mandated the Centre to control the debts of the states.

Asked about the allegation by the BRS government that the Centre has not sanctioned even a single medical college to Telangana, she claimed that the state government did not send the list of the districts which have no medical colleges.

She said that the state government sent the names of Karimnagar and Khammam districts which already had medical colleges and hence it was rejected.

"Does the Chief Minister not know which districts have medical colleges," she asked.

Sitharaman said the government aims to take all development and welfare schemes to all sections of the society while keeping up the economy's growth rate. She asserted that sections of the society like SCs, STs, BCs, OBCs and other weaker sections were kept in mind while formulating the budget.

She said that the government is geared up to face economic challenges in the background of rise in fuel prices and also face the challenges from across the border.

Sitharaman said that the government is specially focussing on 124 aspirational districts with an aim to reach the SCs, STs and BCs and achieve saturation level in taking the development schemes to eligible beneficiaries.

She said 500 blocks were identified to reach the unreached. She said the government has enhanced capital expenditure in the budget for boosting infrastructure facilities in the country.