Sonu Sood on temple built in his honour: I don't deserve so much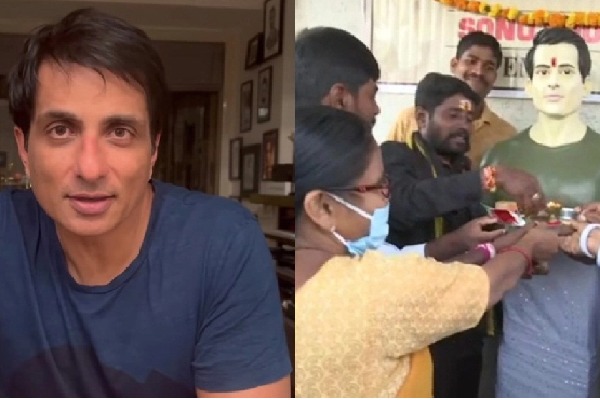 Bollywood actor and philanthropist Sonu Sood feels very honoured and has expressed his gratitude after he got to know about another temple being made in his honour at the borders of Andhra Pradesh and Telangana.

A video shared by Viral Bhayani, a celebrity paparazzi, showed a statue of Sonu Sood with a banner in the back which had "Real Hero Of India Sonu Sood Temple".

IANS reached out to Sonu and spoke about the love coming his way and about the temple being made in his honour.

He told IANS: "So yea just got to know about another temple that is made in the borders of Andhra and Telangana. This is the fourth temple you know that they have made in Telangana, Andhra and one in Chennai.

"I feel really humbled you know I have no words to say anything... you know I really feel full of gratitude that people show and shower so much love but also I want to say... you know I totally don't deserve so much.

He added that it is just "prayers of a lot of people who made this happen."

"I used to always read all these stories or the books and sometimes on the news that people used to shower so much love... never know that I would be given so much love, I just want to thank every single individual and they are making temples on me they rather make some schools and hospitals that can give education to people and cure the needy."

On the Bollywood front, Sonu will next be seen in 'Fateh', which is inspired by real-life incidents and will feature high-octane action sequences.

The action-thriller is helmed by Abhinandan Gupta, who earlier worked as an assistant director in films such as 'Bajirao Mastani' and 'Shamshera'. After 'Fateh', he will begin work on another movie 'Kisaan'.