Chandrababu, Pawan Kalyan to unitedly fight against ban on meetings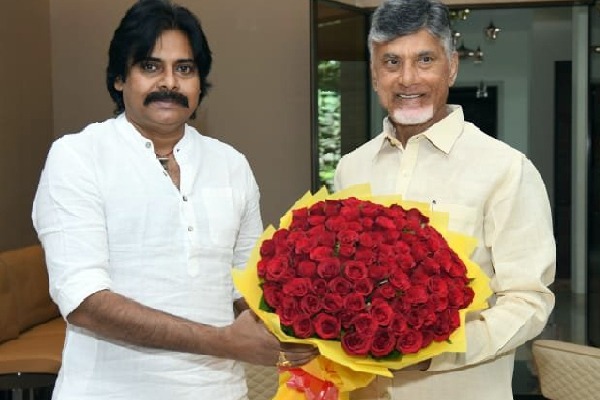 Hyderabad, Jan 8: Telugu Desam Party (TDP) president N. Chandrababu Naidu and actor-politician Pawan Kalyan on Sunday decided to join hands to fight unitedly against a recent order by the Andhra Pradesh government prohibiting public meetings on roads.

They also vowed to work with other opposition parties to launch a movement to save democracy in the state.

Jana Sena Party (JSP) leader Pawan Kalyan met Chandrababu Naidu at the latter's residence in Jubilee Hills.

After a two-and-a-half hour meeting, the two leaders declared that they will continue the fight till YSR Congress Party (YSRCP) takes back the 'black order'.

Pawan Kalyan said he met the former chief minister to express solidarity with him in the wake of the recent incident in Kuppam. The two leaders discussed what they call repression by YSRCP, fee reimbursement, pensions, law and order and other issues.

He alleged that the Government Order (GO) number one was brought to muzzle the voice of the opposition leaders. The actor said the YSRCP government was acting with a conspiracy to ensure that main opposition leaders do not get closer to people.

Stating that maintaining law and order is the responsibility of police, Pawan Kalyan wondered how opposition parties could be held responsible if something happens during the meetings. He alleged that police failure was responsible for the incidents at Kandukur and Guntur.

Pawan Kalyan, who is an ally of BJP, said he would speak to BJP and other parties for a united fight against what he called the attempts by YSRCP government to muzzle the voice of dissent.

When asked if they discussed electoral alliance, Naidu said their focus was on saving the democracy as elections and alliances can be discussed later.

The TDP chief said all political parties and people's organisations should fight together to save democracy.

The former chief minister alleged that institutions have been destroyed in Andhra Pradesh and public life has slipped into darkness. He thanked Pawan Kalyan for expressing solidarity with him over the incidents in Kuppam.

Naidu alleged that the YSRCP government brought a GO of British times and remarked that nobody knows if it is legally valid or not.

Alleging that the situation in Andhra Pradesh is worse than emergency, the TDP chief said if necessary they would bring the repression by YSRCP to the notice of the state.

Naidu also remarked that if there are law and order problems in a state, the Centre should intervene.

The TDP chief was barred from conducting roadshows and addressing meetings last week during his visit to his Assembly constituency Kuppam in Chittoor district.

The GO banning public meetings on roads was issued in the wake of December 28 stampede during Naidu's road show at Kandukur in Nellore district that claimed eight lives.

This was the first meeting between the two leaders after Pawan Kalyan had called on Prime Minister Narendra Modi in November. The JSP leader had met Modi during the latter's visit to Visakhapatnam.

This was Pawan Kalyan's first meeting with Modi after 2014. After the meeting, he had expressed hope that this will bring good days for Andhra Pradesh in future.

Chandrababu Naidu had called on Pawan Kalyan in Vijayawada in October last year to express solidarity with him after the police had denied him permission to hold any meeting in Visakhapatnam.

After the meeting they had declared that they would strive to protect democracy in the state.