Tense situation prevails as JAC leaders try to stop Amaravati farmers' yatra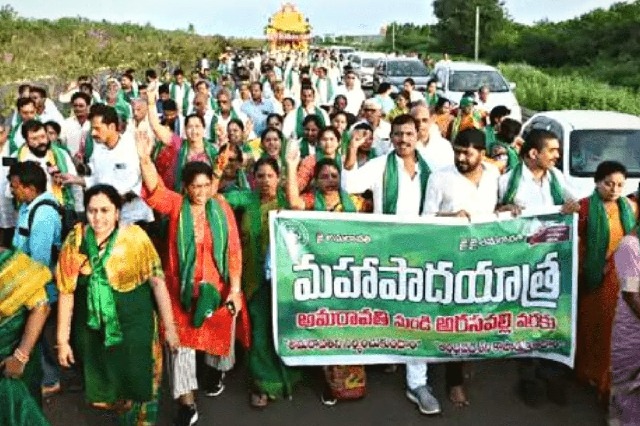 East Godavari, October 14: A tense situation prevailed at overbridge in Nidadavolu on Friday as the Joint Action Committee (JAC) leaders try to stop Maha Padayatra of the Amaravati farmers. They raised slogans in support of three capitals and termed padayatra as fake and asked them not to go forward with the yatra.

While the JAC leaders were protesting, the local YSRCP leaders also joined them and staged protest with black balloons. The police personnel took the JAC and YSRCP leaders into custody to deescalate the situation.

Meanwhile, the police made elaborate security arrangements for 'Visakha Garjana Rally' to be held on October 15 in Visakhapatnam. Minister for IT and Industries Gudivada Amarnath said that lakhs of people will participate in the rally supported by the YSRCP. He demanded executive capital tag for Visakhapatnam for development of backward north Andhra region. Amarnath criticised Jana Sena chief Pawan Kalyan for holding 'Jana Vani' programme in Vizag to dilute the significance of rally.