Many heave a sigh of relief as Keeravani revises his decision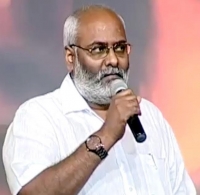 Few days ago senior music director MM Keeravani gave a statement that he would retire from the film industry and possibly Bahubali-2 (The Conclusion) is his last film. Many of his fans, well-wishers and friends prevailed upon him to take back the decision as the film industry needs his services. In fact, Keeravani's family members too don't want him to quit the films. Keeravani had revised his decision to retire from film industry as over 99 per cent of his fans and well-wishers still want his services to the film industry.

So, he revealed that he is postponing his decision to retire from films but said that he would do limited films and doesn't want to strain himself, as he is not able to take stress at this age. Stating that he could give good tunes and good background score provided he should be given a free hand and the directors/producers should listen to him and take his advice. He vowed that he would work for such directors/producers who listen to him and to those who did not pressurise him for hurried work. Anyhow, several of his fans and film personalities from Tollywood heaved a sigh of relief with Keeravani's decision to postpone his retirement plan.