Flipkart signs Terms of Understanding (ToU) with Aarunya in the presence of Minister K T Rama Rao
09-05-2022 Mon 20:37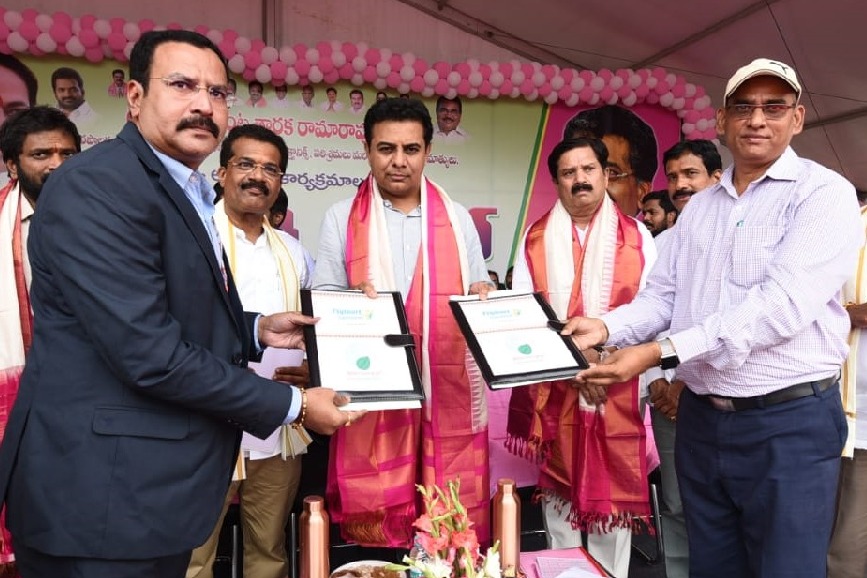 Telangana - May 9, 2022: Flipkart, India's homegrown e-commerce marketplace, today announced a partnership through a Terms of Understanding (ToU) with Aarunya to onboard women artisans, weavers, handicraft makers and help promote and scale their products pan-India through the e-commerce platform. This effort will be driven through Flipkart Samarth, which empowers rural communities by enabling access to the national market.

The ToU was signed in the presence of K. T. Rama Rao, Minister for IT, Industries, Municipal Administration and Urban Development of Telangana.Talking about the partnership, K. T. Rama Rao, Minister of Municipal Administration and Urban Development of Telangana, said, "We are focussed on deepening our commitments towards MSMEs in the state and helping their growth. Partnership with Flipkart Samarth provides a great platform for capacity-building, enhancing and impacting rural livelihoods, especially for women. These partnerships will be instrumental in driving the commercial and social development in the state by creating inclusive growth."

Rajneesh Kumar SVP & Chief Corporate Affairs Officer Flipkart Group, said, "We are delighted to partner with Telangana and Aarunya - a project that helps women gain financial independence by providing them with various skill training programs and a platform to get pan-India market access for their Handloom and Handicraft products and products from other artisans and weavers from the state of Telangana. As a homegrown company, our deeper engagement with local Indian businesses and MSMEs has enabled us to understand their challenges and needs better and help them become prosperous. With this partnership, we aim to uplift and empower women-led businesses in their growth ambition in Telangana."

Aarunya, the brand name for Narayanpet's famous handlooms and handicrafts, is a project initiated amidst Covid 19 to help local women sell their specialized products. The project, which started with a team of 10 women, is now organizing a full-fledged campaign to train other women on how to make Kalamkari and Black Paintings. Aarunya has secured funding from NABARD to conduct these training sessions.
This partnership between Flipkart and Aarunya will enable the local artisans, handicraft makers from the region to market their hallmark products such as Kalankari, black paintings, fig jam and clay jewelry to millions of customers across India and help them attain financial independence. Flipkart Samarth is a nationwide initiative that aims to help skilled artisan communities set up their business on the Flipkart Marketplace in an efficient, transparent and cost-effective manner. The program was launched in 2019 as a sustainable and inclusive platform that empowers underserved indigenous communities and businesses with new growth opportunities and better livelihoods. Flipkart Samarth currently supports over a million artisans, weavers and craftsmen across India and is working towards bringing more such sellers onto the platform.

About the Flipkart Group

The Flipkart Group is one of India's leading digital commerce entities and includes group companies Flipkart, Myntra, Flipkart Wholesale, Flipkart Health and Cleartrip. The Group is also a majority shareholder in PhonePe, one of the leading Payments Apps in India.
Started in 2007, Flipkart has enabled millions of consumers, sellers, merchants, and small businesses to be a part of India's digital commerce revolution, with a registered customer base of more than 400 million, offering over 150 million products across 80 categories. Our efforts to democratize commerce in India, drive access and affordability, delight customers, create lakhs of jobs in the ecosystem, and empower generations of entrepreneurs and MSMEs have inspired us to innovate on many industry firsts. Flipkart is known for pioneering services such as Cash on Delivery, No Cost EMI and easy returns – customer-centric innovations have made online shopping more accessible and affordable for millions of Indians. Together with its group companies, Flipkart is committed to transforming commerce in India through technology.


---
More Press Releases
Legrand India announces its first state-of-art studio in Telangana
10 hours ago
Governor lauds the services of the banking staff
10 hours ago
Medanta brings world-class, affordable cancer care to Visakhapatnam
14 hours ago
Governor Tamilisai exhorts people to celebrate Yoga Day as the Festival of Health
14 hours ago
Kia EV6 now displayed at Automotive Kia, Hi-tech City
15 hours ago
విద్యుత్తు రంగంలో విప్లవాత్మక మార్పులు తెలంగాణ విజ‌యం.. దేశానికే ఆద‌ర్శం
16 hours ago
Asteria Aerospace participates in the Drone Festival of India 2022
17 hours ago
Thousands in Hyderabad join Yoga Utsav to mark 25 days countdown to International Day of Yoga
17 hours ago
aha to premiere Vishwak Sen's family - entertainer film 'Ashoka Vanamlo Arjuna Kalyanam' on June 3rd
19 hours ago
PM pays tributes to Pandit Jawaharlal Nehru on his death anniversary
19 hours ago
పల్లె ప్రగతి 5వ విడత కార్యక్రమ నిర్వహణపై మంత్రి ఎర్రబెల్లి సమీక్ష
1 day ago
ముఖ్యమంత్రి కె.చంద్రశేఖర్ రావు మాజీ ప్రధాని దేవెగౌడ, మాజీ సీఎం కుమారస్వామితో సమావేశం - ఫొటోలు
1 day ago
Watch: PM Narendra Modi Program at ISB Campus, Gachibowli, Hyderabad-Exclusive pics
1 day ago
Forever 21 unveils its all-new flagship store at Sarath City Capital Mall in Hyderabad
1 day ago
త్వ‌ర‌లో వరంగల్ సైన్స్ సెంట‌ర్ లో టీఎస్‌కాస్ట్ ఆద్వర్యంలో ఎస్సీ, ఎస్టీ సెల్‌ ఏర్పాటు
1 day ago
Governor Tamilisai Soundararajan receives PM Modi at Begumpet Airport in Hyderabad,
1 day ago
బెంగళూర్‌లో ముఖ్యమంత్రి కేసీఆర్‌ను కలిసిన తెలంగాణ రాష్ట్ర బి.సి. కమిషన్‌ చైర్మన్‌, సభ్యులు
1 day ago
Aakash+BYJU'S launches its New Classroom Centre at Kondapur in Hyderabad; 7th in the city
1 day ago
World's first synthetic jaw-bone graft developed, gets Govt. nod for clinical trial
1 day ago
SLG Hospitals to hold '5K Running & Cycling' event to raise awareness on deadly effects of tobacco on Health
1 day ago
Free education offered for students suffering with Thalassemia in Telangana
1 day ago
AICGIM to host Defence India Startup Challenge at ICG
1 day ago
Safety Audit on Monsoon preparedness for safety of citizens – Certain instructions
2 days ago
Infinity Learn by Sri Chaitanya (Asia's largest Education group) acquires Wizklub for $10 million
2 days ago
కర్ణాటక కమిషన్ తో భేటీ అయిన తెలంగాణ బీసీ కమిషన్
2 days ago