Hyundai Makes Exciting Driving Experiences Accessible to all, Launches i20 N Line at an Attractive Price
02-09-2021 Thu 18:46
Hyundai i20 N Line introduced in new N6 and N8 trims, powered by 1.0 l Turbo GDi petrol engine
Sporty and Fun Driving is now accessible to everyone with the impeccably priced i20 N Line now available at a starting price of INR 9 84 100 (Ex-showroom)
Hyundai i20 N Line features 27 unique and exclusive facets that translate Hyundai's Motorsport inspiration into fun and enthralling elements making every drive exciting
Hyundai i20 N Line will offer customers complete peace of mind with WONDER Warranty Options - 5 years/40 000 kms or 4 years/50 000kms or 3 Years/100 000 kms, 3 Years – Free Road-Side Assistance & 3 Year - Blue Link Subscription.
Hyundai i20 N Line – https://youtu.be/eJrth5K1ouI
Gurugram, September 02, 2021: Hyundai Motor India Ltd., country's first Smart Mobility Solutions Provider and largest exporter since inception, today launched the most awaited i20 N Line in India with prices starting at 9 84 100 (Ex-showroom). With its exciting design and engaging interiors, i20 N Line is set to elevate driving excitement to a new level.
Commenting on the Launch of i20 N Line, Mr. S S Kim, MD & CEO, Hyundai Motor India Ltd., said, "In our pursuit of redefining mobility experiences for our customers, Hyundai has launched the first N Line model for India. Making sporty and fun driving experiences accessible to our customers across India, we have introduced i20 N Line at an attractive price. As we continue to introduce globally advanced technologies and products to India, i20 N Line will epitomize our strong legacy and DNA into motorsport inspired styling and everyday excitement for all our customers. As India's leading smart mobility solutions provider, i20 N Line encapsulates a host of enticing technology, engaging interiors, energetic exteriors and enthralling performance."
Mr. S S Kim, added, "With its unique and exciting elements, i20 N Line will redefine exclusive experiences for customers. To amplify these experiences, i20 N Line will be available in 188 Signature Dealerships across India. Additionally, i20 N Line customers will also be facilitated by a Personal Mobility Advisor who will cater to a hassle-free service experience and enable them with advanced facilities, becoming a single point of contact for complete peace of mind & an overall enhanced ownership experience."
Hyundai i20 N Line features 27 unique and exclusive elements that translate Hyundai's Motorsport inspiration into fun and enthralling elements making every drive exciting. Developed for everyday fun of young and energetic customers that i20 N Line makes the world your playground, letting you explore beyond the confines of an ordinary life. For the indulgence of those who crave a fun and fast paced lifestyle, the playful and cool Hyundai i20 N Line has been depicted with our communication line 'It's time to play'.
27 Unique and Advanced Features of HYUNDAI i20 N Line: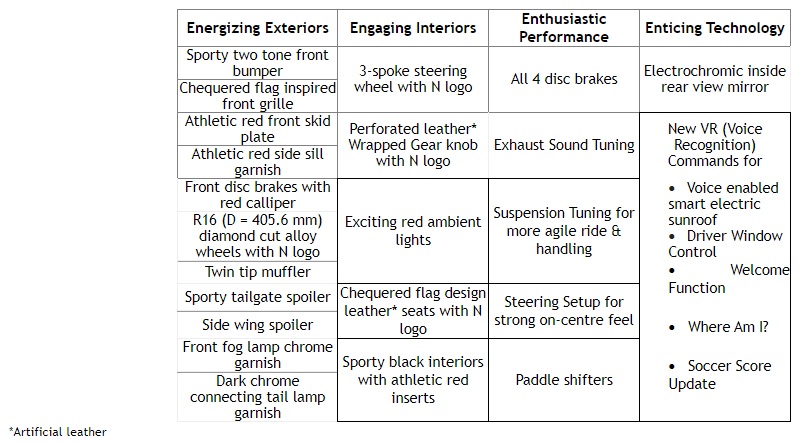 Peace of Mind
As a Lifetime Partner in mobility and beyond, Hyundai i20 N Line will offer customers complete peace of mind with WONDER Warranty Options - 5 years/40 000 kms or 4 years/50 000kms or 3 Years/100 000 kms, 3 Years – Free Road-Side Assistance & 3 Year - Blue Link Subscription. Hyundai is also offering free 16 map update up to 8 Years through Bluelink OTA. Hyundai i20 N Line is set to wow customers with lowest cost of maintenance in this segment. For additional customer delight, 31 Hyundai genuine accessories are designed to build customer excitement and add up to the aesthetic choices of customers
Personalized Service with Single Point of Contact:
Hyundai is a progressive, innovative, and customer-oriented brand. With the introduction of Personal Mobility Advisor at our signature outlets, we aim to provide a personalized & hassle-free service experience to our customers. Along with video chat with customer & live streaming of car Service from workshop, Personal Mobility Advisor will act as a single point of contact to our customers which will ensure complete peace of mind & an overall enhanced ownership.
Colours
Hyundai i20 N Line will be offered with 4 Mono Tone Colour Options - Thunder blue (New & Exclusive), Fiery red, Titan grey and Polar white; as well as 2 Dual Tone colour options - Thunder blue with Phantom black roof and Fiery red with Phantom black roof.
Feature List
Complementing the sporty driving dynamics of the i20 N Line, Hyundai has equipped the car with many advanced safety features as standard along with host of other convenience and connectivity features on offer.
Trim
N6 (iMT)
N8 (iMT)
N8 (DCT)
Specification
· 6 speed iMT
· Cruise Control
· 7 speed DCT
· Paddle Shifters
Safety
· All 4 Disc brakes
· Electronic stability control (ESC) with VSM
· Hill assist control (HAC)
· Rear camera with dynamic guidelines
· Reverse parking sensors
· Tyre pressure monitoring system (Highline)
· Side and Curtain Airbags
· Electrochromic Inside rear-view mirror (IRVM)
Exterior/Interior
& Convenience
· Z-shaped LED tail lamps
· Voice enabled smart electric sunroof
· R16 (D = 405.6 mm) diamond cut alloy wheels with N logo
· Twin Tip Muffler
· Chequered flag design leather* seats with N logo
· LED projector with LED day time running lamps (DRL)
· Smart entry with push button start/stop
· Wireless charger with cooling pad
· Air conditioning – Fully Automatic
· Exciting red ambient lights
Infotainment & Connectivity
· 20.32 cm (8") touchscreen infotainment system
· Smartphone connectivity - Apple CarPlay & Android
· 26.03 cm (10.25") HD touchscreen infotainment & navigation system
· Hyundai Bluelink with Voice commands
· Bose Premium 7 Speaker System
---
More Press Releases

క్రీడా సంఘాల ప్రతినిధులతో వీఎంసీ కమిషనర్ స‌మావేశం
22 minutes ago

అటవీ అధికారులు, సిబ్బందిపై దాడిని ఖండించిన మంత్రి ఇంద్రకరణ్ రెడ్డి
1 hour ago

Bladder Cancer: Early Detection and Prevention: Dr. Priyank Salecha
2 hours ago

'Made in India' THANDAV Dance based Physical Activity
2 hours ago

త్వరలో అందుబాటులోకి వెట‌ర్న‌రీ కాల‌నీ పార్క్: వీఎంసీ క‌మిష‌న‌ర్
3 hours ago

pTron launches Gaming Earbuds and 3 New Trendy TWS Earbuds
5 hours ago

Krafton rolls out September version update to Battlegrounds Mobile India
5 hours ago

Telangana Covid Vaccination update as on 16.09.2021 at 09 PM
20 hours ago

సీఎం కేసీఆర్ కు కృతజ్ఞతలు తెలిపిన చాకలి ఐలమ్మ కుటుంబ సభ్యులు
20 hours ago

286 సచివాలయంల్లో వ్యాక్సిన్ స్పెష‌ల్‌ డ్రైవ్‌: వీఏంసీ క‌మిష‌న‌ర్
21 hours ago

Hyderabad FC go down fighting 0-1 to Gokulam Kerala
21 hours ago

ఇళ్ల రిజిస్ట్రేషన్ల సమస్య శాశ్వత పరిష్కారానికై రిజిస్ట్రేషన్ మేళా నిర్వహిస్తాం: ఎమ్మెల్యే మల్లాది విష్ణు
23 hours ago

Hyderabad FC announces unique partnership with Maidaan movie
1 day ago

Bank of Baroda festive season offering on Home loan and Car Loan
1 day ago

గ్రీన్ ఇండియా ఛాలెంజ్ తరపున 'ఊరుఊరికో జమ్మి చెట్టు.. గుడిగుడికో జమ్మి చెట్టు'
1 day ago

President of India confers the National Florence Nightingale award to 51 nurses, midwives
1 day ago

Mahindra launches the All New FURIO 7 range of LCV Trucks
1 day ago

రాజీవ్ గాంధీ పార్క్ నందలి ఆధునికీకరణ పనులు వేగవంతము చేయాలి:వీఎంసీ క‌మిష‌న‌ర్
1 day ago

Doctors at SLG Hospitals perform a '12-hours' long rare surgery to save life of a 48-yr-old man
1 day ago

Etihad announces special fares for travel from India as Abu Dhabi opens to all fully vaccinated travellers
1 day ago

PUBG: New state surpasses 40 million pre-registrations as pre orders open up in India
1 day ago

శక్తిమంతమైన సాధనంగా ప్రజాసంబంధాలు: ఏపీ గవర్నర్ బిశ్వభూషణ్
5 days ago

మత్స్యకారులు ఎదుర్కొంటున్న సమస్యల పరిష్కారం కోసమే సమన్వయ కమిటీ ఏర్పాటు: మంత్రి తలసాని
5 days ago

అట‌వీ అమ‌ర‌వీరుల‌కు నివాళుల‌ర్పించిన మంత్రి ఇంద్ర‌క‌ర‌ణ్ రెడ్డి
5 days ago

Hyderabad FC sign city youngster Abhinav Mulagada
6 days ago