Telangana Governor plants saplings at Raj Bhavan on World Environment Day
05-06-2021 Sat 20:46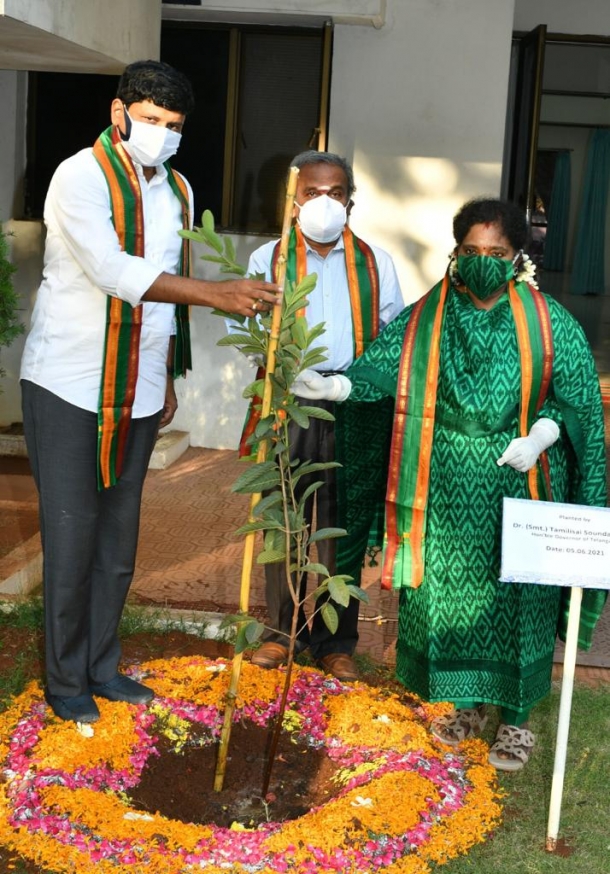 Rajya Sabha member J. Santosh Kumar joins the plantation
Governor lauds Green India Challenge initiative of the MP
Felicitates Santosh Kumar for his greenery effort
Hyderabad, June 5: Governor Dr. Tamilisai Soundararajan, on the occasion of the World Environment Day, has planted saplings at the Raj Bhavan, here, on Saturday.
Rajya Sabha Member J. Santosh Kumar, who launched Green India Challenge, has also joined the Governor in the programme and planted a sapling at the Raj Bhavan.
Speaking on the occasion, Governor called upon all sections of the people to join hands in greening our State and country.
"Protecting, promoting, and restoring our ecosystem is vital for the health of the mother Earth. We must give the healthier ecosystem to future generations for their wellbeing. In order to ensure better health of the planet, we must follow the sustainable development models," she added.
Referring to the Green India Challenge, Dr. Tamilisai Soundararajan lauded the efforts of Rajya Sabha Member J. Santosh Kumar in striving to improve the green cover.
"The planting of more than 10 crore saplings, involving different sections of the people and taking the greenery challenge on a massive scale will go a long way in improving our green cover," she added.
The Governor also felicitated the MP for undertaking the gigantic task of increase of green cover with an apt slogan "Hara Hain Tho Bara Hain (If it is green, it is complete) .She appreciated his untiring efforts in promoting planting saplings. She lauded the efforts in bringing out "Vruksha Vedam",a book explaining the importance,medicinal and therapeutic properties of various plants as written in our ancient scriptures and Vedas.
Dr. Tamilisai Soundararajan also congratulated the MP on recently getting a special appreciation from Prime Minister Narendra Modi for his Green India Challenge initiative.
The Governor termed the MP's initiative "Green India Challenge" as an inspiring one and hoped that his mission would transform our State into a greener one.
The Governor's spouse, renowned Nephrologist Dr. P. Soundararajan, Secretary to Governor K. Surendra Mohan, Joint Secretaries and other senior officials joined the plantation programme.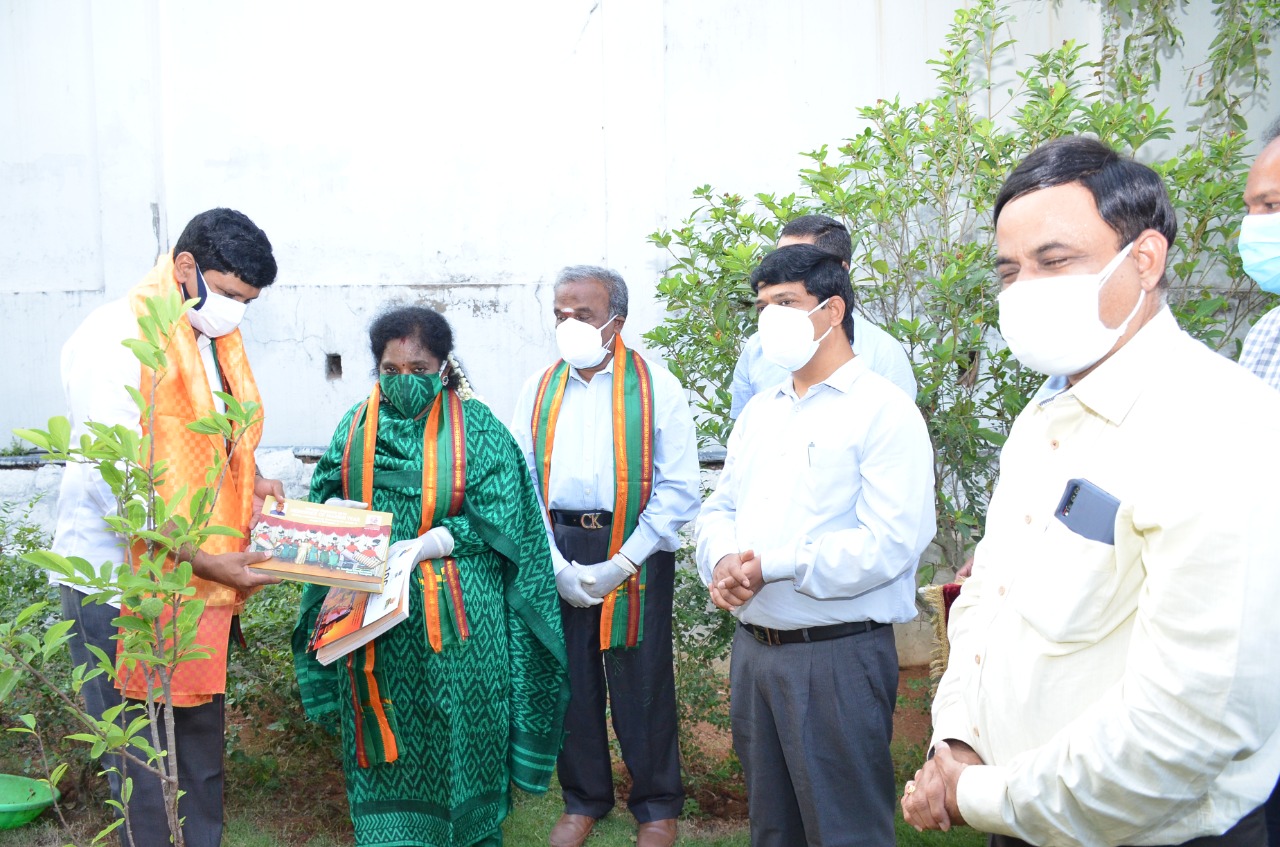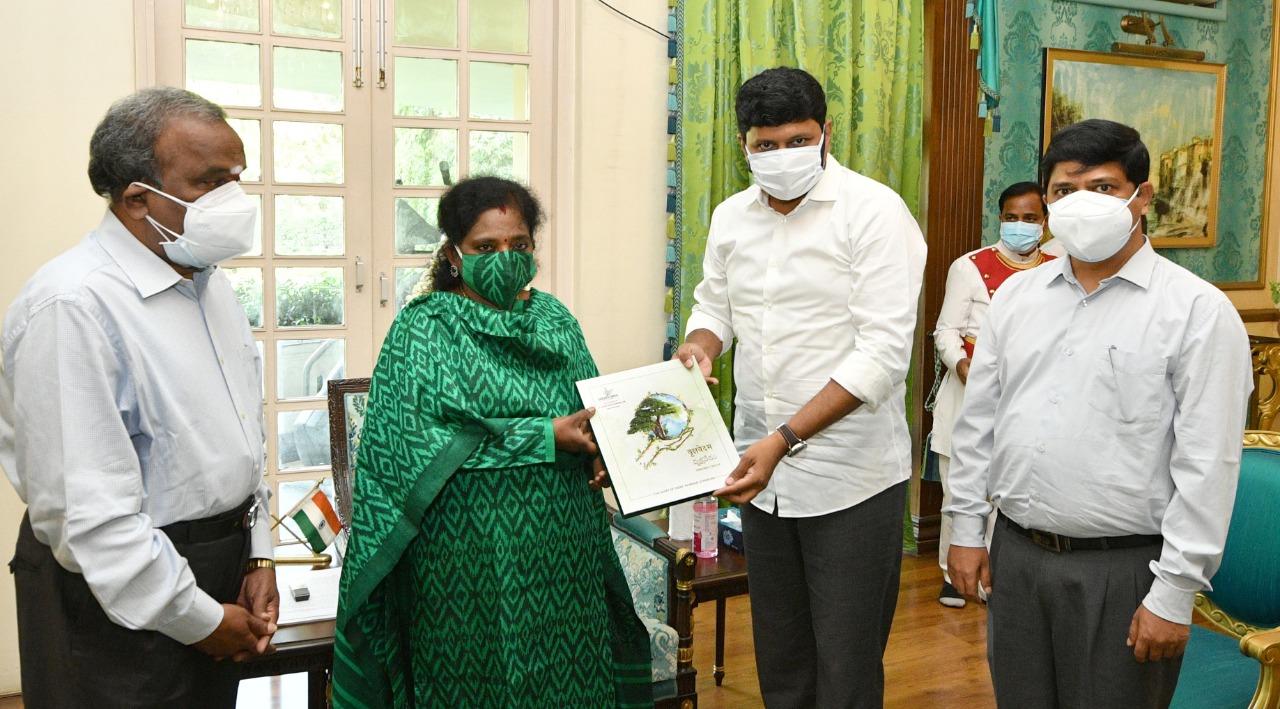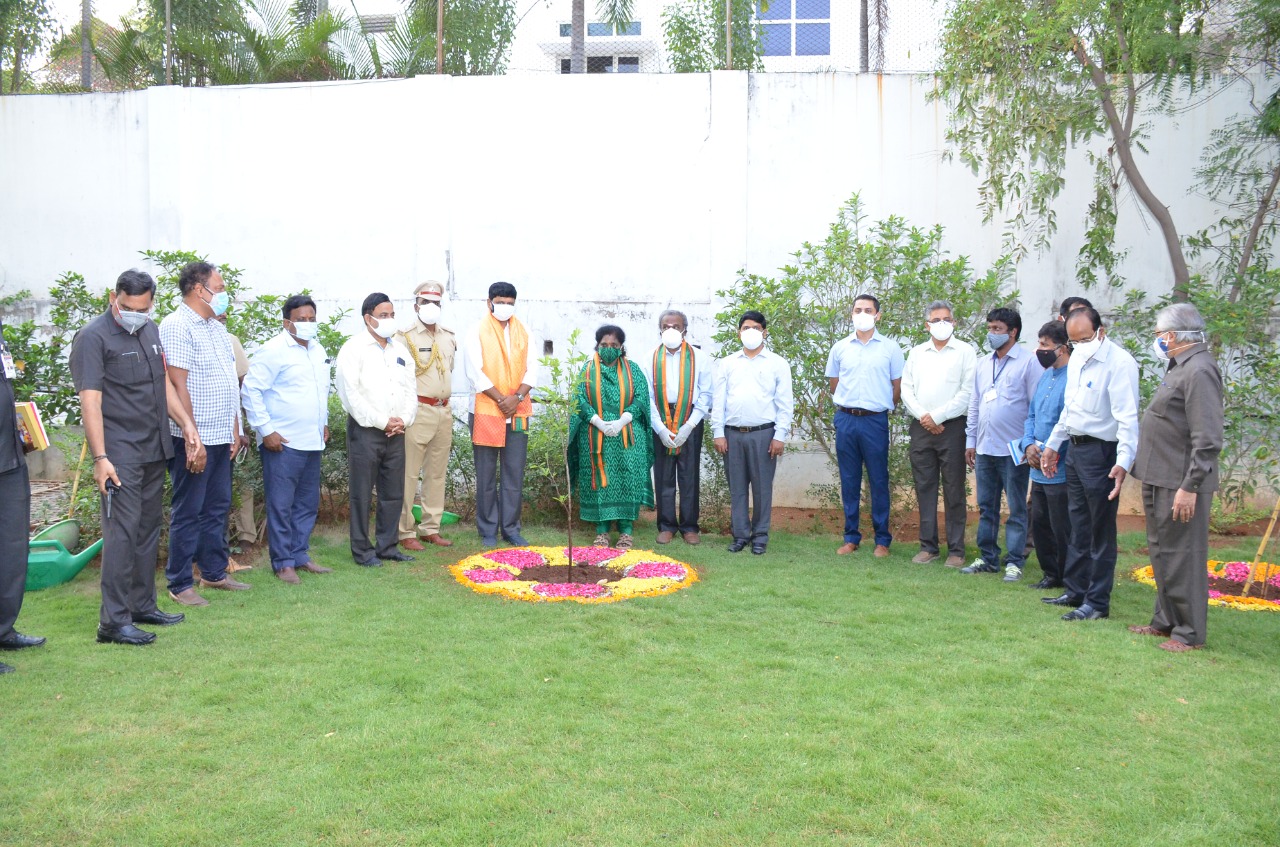 ---
More Press Releases
టోక్యో ఒలంపిక్స్ కు ఎంపికైన తెలంగాణ క్రీడాకారుడు.. ఘనంగా సన్మానించిన మంత్రి శ్రీనివాస్ గౌడ్
1 hour ago
Jaguar land rover to develop hydrogen powered defender fuel cell prototype
1 hour ago
Hero MotoCorp announces the fourth edition of Hero colabs
2 hours ago
Chingari announces 'Chingari World Music Day Concert'
2 hours ago
Godrej and Boyce launches Mobile calibrations service van in Telangana and AP
3 hours ago
Innoviti launches G.E.N.I.E, India's first smart marketing app for local mobile retailers
3 hours ago
UST Hyderabad celebrates 1000 employees
4 hours ago
PM delivers keynote address at the UN 'High-Level Dialogue on Desertification, Land degradation and Drought'
21 hours ago
Minister Harish Rao holds a meeting on cultivation of Oil Palm
21 hours ago
Alumni of IIT Madras donates over 200 Oxygen Concentrators to Telangana
21 hours ago
GO FIRST inks partnership with DreamFolks, introduces Departure Lounge service
21 hours ago
Digital Showroom, India's first O2O brand providing businesses their own website through phones
1 day ago
Salute to all the blood donors: Governor Tamilisai
1 day ago
Flipkart Wholesale sees 3x increase in digital adoption among kiranas in India
1 day ago
Centre allocates Rs 3,183cr to Andhra Pradesh under Jal Jeevan Mission in 2021-22
1 day ago
Shyam Steel India becomes the Official Partner of ICC World Test Championship Final
1 day ago
PAYBACK India Supports 'YouWeCan' Mission 1000 Beds Drive
1 day ago
PM congratulates Naftali Bennett on becoming the PM of Israel
1 day ago
Telangana Covid Vaccination update as on 13.06.2021 at 09PM
1 day ago
StanPlus to expand its Red Ambulance network pan-India
2 days ago
TCL gears up for new TV launch
2 days ago
Recommendations of 44th GST Council Meeting
3 days ago
Telangana Covid Vaccination update as on 11.06.2021 at 09PM
3 days ago
Maa TV announces the fourth season of Sixth Sense
3 days ago
Flipkart to conduct pilot on drone deliveries of vaccines in Telangana
3 days ago