Telangana is marching forward: Governor Tamilisai
02-06-2021 Wed 16:55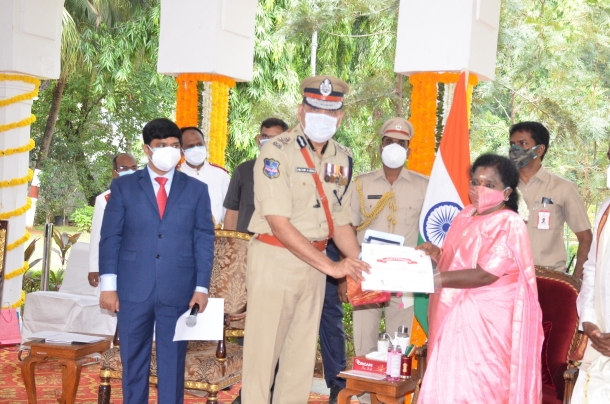 Hyderabad, June 2: Governor Dr. Tamilisai Soundararajan on Wednesday called upon the people to join hands in the progress and prosperity of the Telangana State, which she said as marching forward towards all-round development.

"We all need to strive to transform the Telangana, the youngest State of the country, into the number one State in different sectors," she added.

The Governor was speaking at the Telangana State Formation Day celebrations, organized in a low key manner, at the Raj Bhavan, here.

Expressing her happiness at Telangana making a special mark of its own in agriculture, Information Technology, and pharmaceutical sectors, Dr. Tamilisai Soundararajan said that it should be our common resolve that Telangana be the number one State in all the sectors.

Referring to her birthday coinciding with that of the Telangana State Formation Day, the Governor termed this as a divine coincidence.

She said that due to the prevailing Covid-19 pandemic conditions, we could not conduct the celebrations on a massive scale. "Hopefully we conduct the formation day celebrations next year in a grand manner," she added.

"Mask is everyday protection. Vaccine is permanent protection. Public education and adherence to preventive norms is a way to end the spread of the Covid pandemic. This 2nd wave must be the end of all waves and we all must prevent any further waves," she said.

On the occasion, the Governor remembered those who laid down their lives in the fight for the formation of separate State and paid rich tributes to them.

The Governor also expressed gratitude and saluted the frontline warriors for their continued service and sacrifices during the pandemic.

The Governor felicitated Hyderabad Commissioner of Police Mr. Anjani Kumar, Rachakonda Commissioner of Police Mr. Mahesh Bhagwath, and Cyberabad Commissioner VC Sajjanar for their exemplary services and blood donation activities during the Covid-19 pandemic.

Military officers Mr A. Joshi, Mr. Inderdeep Singh and Indian Red Cross Society representative Dr. K. Pitchi Reddy.

Superintendents of Gandhi Hospital, King Koti Hospital, Ayurvedic Hospital were also honoured by the Governor for their invaluable services in treating the Covid patients in their hospitals.

On the occasion, Dr. Tamilisai Soundararajan handed over the groceries distributed by Learning Space Foundation.
The participants and other dignitaries greeted the Hon'ble Governor on the occasion of her birthday.

Secretary to Governor K. Surendra Mohan, Governor's husband, renowned Nephrologist Dr. P. Soundararajan were present.

---
More Press Releases
PM delivers keynote address at the UN 'High-Level Dialogue on Desertification, Land degradation and Drought'
5 hours ago
Minister Harish Rao holds a meeting on cultivation of Oil Palm
5 hours ago
Alumni of IIT Madras donates over 200 Oxygen Concentrators to Telangana
6 hours ago
GO FIRST inks partnership with DreamFolks, introduces Departure Lounge service
6 hours ago
Digital Showroom, India's first O2O brand providing businesses their own website through phones
8 hours ago
Salute to all the blood donors: Governor Tamilisai
9 hours ago
Flipkart Wholesale sees 3x increase in digital adoption among kiranas in India
10 hours ago
Centre allocates Rs 3,183cr to Andhra Pradesh under Jal Jeevan Mission in 2021-22
10 hours ago
Shyam Steel India becomes the Official Partner of ICC World Test Championship Final
13 hours ago
PAYBACK India Supports 'YouWeCan' Mission 1000 Beds Drive
13 hours ago
PM congratulates Naftali Bennett on becoming the PM of Israel
15 hours ago
Telangana Covid Vaccination update as on 13.06.2021 at 09PM
16 hours ago
StanPlus to expand its Red Ambulance network pan-India
2 days ago
TCL gears up for new TV launch
2 days ago
Recommendations of 44th GST Council Meeting
2 days ago
Telangana Covid Vaccination update as on 11.06.2021 at 09PM
2 days ago
Maa TV announces the fourth season of Sixth Sense
2 days ago
Flipkart to conduct pilot on drone deliveries of vaccines in Telangana
3 days ago
Governor and CM extend a warm welcome to CJI at Raj Bhavan - Hyderabad
3 days ago
10 రోజుల్లో ఇళ్లు శుంకుస్థాపన‌కు సిద్దం కావాలి: ఏపీ మంత్రి వెల్లంపల్లి
3 days ago
Minister Talasani holds a review meeting with Engineering officials
3 days ago
తెలంగాణ అటవీ కళాశాల, పరిశోధనా సంస్థకు మరో గుర్తింపు
3 days ago
Sony announces BRAVIA X90J series
3 days ago
CS Somesh Kumar reviews progress of Haritha Haram
3 days ago
Livinguard AG protects Indians from Black Fungus
3 days ago