Collective resolve and intensified efforts crucial to contain the pandemic: Telangana Governor
08-05-2021 Sat 19:45
Governor interacts with the Red Cross functionaries
World Red Cross Day interaction
Red Cross' TS unit services appreciated
Hyderabad, May 8: Governor Dr. Tamilisai Soundararajan on Saturday emphasized on the need to promote public education and ensure their COVID-appropriate behaviour to contain the spread of the pandemic.
"Besides ensuring the strict adherence to the preventive norms by the people for which we need to have collective resolve, we must also intensify our service activities to reach out to the needy, she added.
The Governor was virtually interacting with the functionaries of the Indian Red Cross Society's Telangana State unit and district units on the occasion of the World Red Cross Day.
The Governor appreciated the IRCS, TS branch, activities in promoting blood donations, ensuring regular blood transfusion to the Thalassemia patients and other service activities during the natural calamities and during other times of emergencies.
"You all have helped thousands of people during the first wave of the pandemic. It is high time that we intensify our humanitarian activities to meet the growing demands during this deadly second wave of the pandemic," she added.
Dr. Tamilisai Soundararajan also called for the enrolment of more number of volunteers in Red Cross, Youth Red Cross and Junior Red Cross to prepare the torchbearers of the future service.
While conveying her greetings to the Red Cross volunteers on the occasion, the Governor paid rich tributes to Red Cross founder and the first Noble Peace Prize winner Henry Dunant, whose birth anniversary is celebrated as the World Red Cross Day every year on May 8th.
Referring to the World Red Cross Day-2021 theme, "Together we are Unstoppable," she highlighted the need to be united and called for the collective resolve and collective effort to end the pandemic.
The Red Cross State level and district units' functionaries thanked the Governor for her unique initiatives and for mentoring and guiding them in their service activities from time to time in her capacity as the President of the IRCS State unit.
The Governor took part in the virtual interaction programme from Raj Niwas, Puducherry, where is she is holding an additional charge as the Lt. Governor.
Secretary to Governor K. Surendra Mohan coordinated the virtual interaction from the Raj Bhavan, here, and presented the summary of activities taken up by the different units of the IRCS in the State.
Senior functionaries of the IRCS and the officers of the Raj Bhavan too have joined the virtual interaction.
---
More Press Releases

Covid -19- Disaster Management Act, 2005 - Unlock orders issued
1 hour ago

Union Bank of India enters MoU with The National Small Industries Corporation Ltd
1 hour ago

జస్టిస్ ఎన్వీ రమణకి "పుష్పహాసీయం" నీతి శతకాన్ని అందజేసిన తెలంగాణ గవర్నర్ జాయింట్ సెక్రటరీ
3 hours ago
ఏడేళ్లలో రూ.88వేల కోట్ల విలువ చేసే 5 కోట్ల మెట్రిక్ టన్నుల ధాన్యం కొనుగోలు: తెలంగాణ పౌరసరఫరాల సంస్థ ఛైర్మన్
3 hours ago
విభిన్న ప్రతిభావంతుల కోసం వెయ్యికి పైగా ప్రభుత్వ ఉద్యోగాల భర్తీ: కృతికా శుక్లా
3 hours ago

BunkerFit adds yoga to its offerings, becomes India's first vernacular fitness app
4 hours ago

Telangana Covid Vaccination update as on 18.06.2021 at 09 PM
9 hours ago

PM condoles the passing away of legendary athlete Milkha Singh
9 hours ago

TCL to Redefine Video Gaming in India with Upcoming C-series Smart TVs
1 day ago

Yamaha launches Neo-Retro Motorcycle FZ-X with the concept of ride free
1 day ago

ఈఎస్ఐ నాచారం హాస్పిటల్ నూతన భవనంను ప్రారంభించిన మంత్రి మల్లా రెడ్డి
1 day ago

Hyderabad FC sign striker Aaren D'Silva
1 day ago

PM launches 'Customized Crash Course programme for Covid 19 Frontline workers'
1 day ago

TVS Eurogrip celebrates Father's Day with a new social media campaign
1 day ago

Telangana Covid Vaccination update as on 17.06.2021 at 09 PM
1 day ago

Cable Television Network Rules amended
1 day ago

Cabinet Sub-Committee to study on functioning of Hospitals holds the first meeting
1 day ago

ధాన్యం దిగుబడి, కొనుగోళ్లలో సరికొత్త చరిత్ర: తెలంగాణ పౌరసరఫరాల సంస్థ ఛైర్మన్
2 days ago

WayCool launches 2nd Shuddha Dairy Square in Tirupati
2 days ago

Battlegrounds Mobile India early access is now live on Google Play Store for players in India
2 days ago

IKEA enters Bengaluru with eCommerce and Mobile Shopping App
2 days ago

Quaker Provides Oatmeals to healthcare professionals at Osmania General Hospital
2 days ago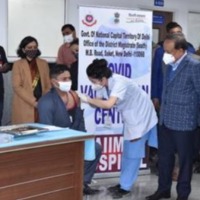 Telangana Covid Vaccination update as on 16.06.2021 at 09 PM
2 days ago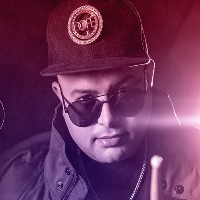 Hamsini Entertainment Brings Thaman To The USA
2 days ago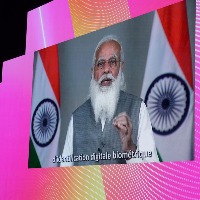 PM delivers Keynote address at the 5th edition of VivaTech
3 days ago