Mohan Bhagwat receives the first copy of the Haridwar Draft Declaration
07-04-2021 Wed 16:25
The RSS Chief visited the photo gallery and appreciated Kumbh Sandesh Yatra Spirit and MISSION5151
Haridwar, April 7, 2021 : Kumbh Sandesh Yatra team reveal the Draft note of the HARIDWAR DECLARATION here in Haridwar. Arige Madhusudhan Secretary, MISSION5151 handed over the first copy of the document to Rashtriya Swayamsevak Sangh (RSS) Chief Mohan Bhagwat. Attending the 25yrs celebrations of Diyya Prem Sava Mission Dr Mohan Bhagwat visited the Kumbh Sandesh Yatra Photo gallery after completing 7,250 km long Yatra across the 10 states in 41days including 250 km Padayathra from New Delhi. The Kumbh Sandesh Yatra and Mission5151 team conducted a Photo exhibition here in Haridwar. Interaction with Aurobindo Society, Vivekananda Center, Art of Living, Kanheri Math, MIT School Of Govt, Padma Bhushan DR Vijay Bhatkar, IIT Delhi were highlighted along with the multiple perspectives of Indian villages based on "Podagatlapally Monograph" work in the gallery.. Mission5151 executive Chairman Mankena Srinivasa Reddy briefed about the 7,250 Km long journey to Mohan Bhagawath. Bhagawath appreciated the Kumbh Sandesh Yatra Spirit and also asked secretary Arige Madhusudan on the dias about the Village Monograph technology platform deveolped by GCOT . Earlier Mohan Bhagwat was welcomed by Delhi Vasanth the trustee Mission 5151 and Founder and Managing Director of GCOT.
DECLARATION HIGHLIGHTS
Foundational thoughts
Responding to the appeal made by Hon Prime Minister Narendra Modi on the occasion of WHOs initiative of establishing international Alternative Medical center in India to the Education Ministry and University Grants Commission (UGC) to introduce new subjects in Ayurveda like Ayurvedic Physics and Ayurvedic Chemistry, Gramodaya Chamber of Commerce and Technology (GCoT) entered the field . Attempts were made in that direction with the hope that subjects such as Ayurvedic Physics and Ayurvedic Chemistry could be enriched through the history of ancient mathematics as mathematics is the language of all sciences.
As the theme line of the yatra is RE IMAGINING INDIA AS THE GLOBAL PARLIAMENT based on the significance of Kumbhmela honoring it is a KNOWLEDGE EXCHANGE CENTRE & AN INDIGENOUS PLANNING SYSTEM GCOT here brought the Concepts of NATURE OF NUMBERS, DIMENSIONAL ASPECTS OF 108 ALPHABETS to enrich the present Indian16/49 SANSKARA PATTERN through ASHTANGA YOGA & PANINI VYAKARAN SUTRA..
ACTION PLAN
* CALENDAR REFORMS through BHARATHIYA JYOTHISH PARISHAD focusing on KRISHI PANCHANG (AGRICULTURAL PANCHANG), DINA CHARYA (DAILY CODE OF CONDUCT), RITHU CHARYA(SEASONAL CODE OF CONDUCT) to empower the rural communities to face alarming CORONA pandemic.
* VILLAGE MONOGRAPH preparation through technology platform (VMRI) towards GPDP (GRAM PANCHAYATH DEVELOPMENT PLAN).
* Enriching Joint family Culture by redefining the social fabric relationship among the social communties. Jathi Puranas are the source of Knowledge and Wisdom
* Defining tje Human Relationship Pattern With Plants/ Birds/ Animals. Jathi Puranas are the source of Knowledge and Wisdom.
* Apart from Cleaning the River Ganga, it is also important to clean the Himalayas. Occupancy by Pine Trees is a subject to debate.
DPSM PTD ASHISH GAUTHAM, SECRETARY SANJAY CHATURVEDI, NATIONAL SPOKESPERSON ACHARYA AVINASH RAI, ISRN CEO SANTHOSH GUPTHA, GCOT CEO SRAVAN KUMAR MADAP, NAIDU PRAKASH were also present on the occasion.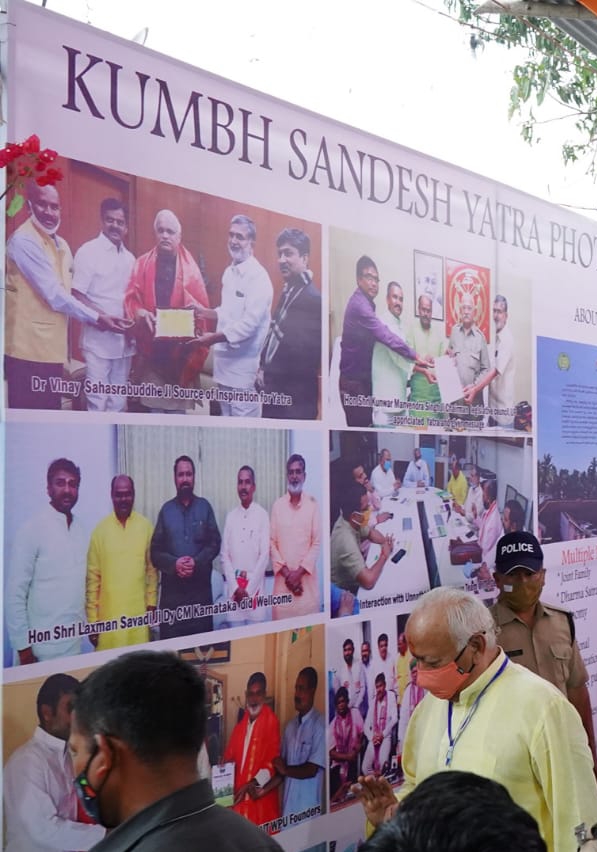 ---
More Press Releases
ప్రపంచంలోనే మొదటి భారీ నీటి పారుదల ప్రాజెక్టు నిజాంసాగర్: సభాపతి పోచారం
2 hours ago
శామీర్ పేట ప్రాథమిక ఆరోగ్య కేంద్రం ఆధ్వర్యంలో టీకా ఉత్సవ్
2 hours ago
Nexzu Mobility launches the new and improved Roadlark, India's first and only e-cycle
2 hours ago
Infinix bolsters its popular HOT series; Unveils the stylish new upgrade HOT 10 Play
3 hours ago
Kalyan Jewellers to open first showroom in Karim Nagar
3 hours ago
Everyone above the age of 18 shall be eligible for COVID19 vaccination from May 1st - Registration starts on April 28
6 hours ago
MHA issues orders to ensure an uninterrupted supply of oxygen across country
6 hours ago
PM holds a high level meeting on oxygen supply and availability
6 hours ago
ప్రతీ ప్రాణమూ విలువైనది, స్వీయ జాగ్రత్తలే కరోనా నుంచి శ్రీరామ రక్ష: మంత్రి ఇంద్రకరణ్ రెడ్డి
7 hours ago
Sony Introduces Three New High-Performance G Lenses to Full-Frame Lens Series
7 hours ago
ప్రపంచ ధ‌రిత్రీ దినోత్సవం సందర్భంగా శుభాకాంక్షలు తెలిపిన సీఎం కేసీఆర్
9 hours ago
RapiPay to provide free AEPS (Aadhaar Enabled Payment System) services to its merchants
10 hours ago
విజ‌య‌వాడ న‌గ‌రాన్ని మోడ‌ల్ సిటీగా తీర్చిదిద్దుతాం: మంత్రి వెల్లంపల్లి శ్రీ‌నివాస‌రావు
11 hours ago
నేల తల్లి బాగుంటేనే.. భవిష్యత్తు: మంత్రి ఇంద్రకరణ్ రెడ్డి
11 hours ago
Union Government allocates supply of Remdesivir to 19 States/UTs with High Burden of COVID cases
13 hours ago
Telangana Covid Vaccination update as on 21.04.2021 at 9PM
13 hours ago
Finance Minister Nirmala Sitharaman assures ramp up in supply of Oxygen & Remdesivir to States
1 day ago
The Academy Awards – India's shining moments
1 day ago
రోజూ 2 గంటల పాటు నగరంలో పారిశుధ్య కార్యక్రమాలను క్షేత్ర స్థాయిలో పర్యవేక్షిద్దాం.. కార్పొరేటర్లకు మేయర్ పిలుపు
1 day ago
Kalyan Jewellers to open first showroom in Khammam
1 day ago
Amrita Vishwa Vidyapeetham Only Indian University to Figure in World's Top 100 Universities in Times Higher Education Impact Rankings
1 day ago
Land Rover Defender crowned 2021 world car design of the year
1 day ago
Vitero Tiles strengthens its product portfolio, launches 56 new shades of Wall Tiles across India
1 day ago
Acer launches Spin 7 - India's first 5G enabled laptop
1 day ago
Soundcore by Anker announced its most advanced TWS - 'Liberty Air2Pro'
1 day ago