'Amazon Future Builders Program' (AFBP) prepares MBA graduates for leadership roles at Amazon
20-11-2020 Fri 17:29
AFBP is a leadership development program offered at top B-schools and aimed at providing holistic exposure and training to graduate hires at Amazon
AFBP participants are provided the opportunity to gain exposure across varied lines of business such as AWS, Consumer, HR, Advertising, Devices, Operations, Finance and Video
Bengaluru, 20 Nov 2020: Amazon today announced the launch of its flagship leadership development program 'Amazon Future Builders Program' (AFBP) for students enrolled in premier B-Schools in India. Amazon Future Builders Program (AFBP) is geared towards MBA students who want to pursue a career at Amazon. The program allows students to gain a breadth of experience across Amazon's businesses through a two month 'Incubator' period, followed by a 24-30 month period where they gain domain expertise in particular 'Lines of Business' (LoBs). The in depth business experience will be augmented with learning, training, networking, and mentorship opportunities. The culmination of this experience will lead to students emerging as future leaders poised to occupy key leadership roles at Amazon.
AFBP has been introduced to provide students with crucible experiences to build their future careers at Amazon. It provides role clarity within our Day 1 builder mindset to roles, provides opportunities to hone highly specialized and general management talent who can take on leadership roles in the future, creates a 'One Amazon' value proposition that students can easily identify, opt for, and find valuable and helps Amazon position itself as an employer of choice at top B-School campuses.
The eight week 'Incubator' period provides AFBP participants an opportunity to gain exposure across varied lines of business such as AWS, Consumer, HR, Advertising, Devices, Operations, Finance and Video. Students undergo immersive experiences and learn more about Amazon's 'Day 1' philosophy, the company culture, and get acquainted with the processes and mechanisms that Amazonians use every day. The business swim lanes thereafter, allow students to gain domain or functional knowledge depending on the program design of the line of business they are assigned to. Graduation is defined as completion of the 24-30 month program curriculum curated by the respective business swim lane to provide crucible experience to the participants that will aid in their skills and leadership development. Participants are eligible for promotion at any time during the program duration subject to recommendation from the manager and subsequent promotion review process as defined by respective line of business
"Amazon has launched its flagship leadership development program 'Amazon Future Builders Program' (AFBP) for students enrolled in premier B-Schools in India. We have worked backwards from the business needs to curate a student hiring program which offers a unique value proposition. AFBP is designed to transform students into well rounded business leaders who demonstrate the ability to think critically, solve complex business problems and are well assimilated into our peculiar culture which will enable them to build long term career with Amazon" said Swati Rustagi, Director, HR, Amazon India
For graduating MBA students, there is no minimum work experience required to join AFBP. There are two ways to be selected for AFBP. First, first year MBA students can apply for a summer/autumn internship and can qualify for a pre-placement offer (PPO) at the end of the internship. Second, final year MBA students can apply for direct hiring through final placements at campus. AFBP will be offered at the top business schools in India starting with the FY21 final placement season. To apply to AFBP students can check out amazon.jobs page or check with placement committees on campus.
Powered by Froala Editor
---
More Press Releases

Covid -19- Disaster Management Act, 2005 - Unlock orders issued
1 day ago

Union Bank of India enters MoU with The National Small Industries Corporation Ltd
1 day ago

జస్టిస్ ఎన్వీ రమణకి "పుష్పహాసీయం" నీతి శతకాన్ని అందజేసిన తెలంగాణ గవర్నర్ జాయింట్ సెక్రటరీ
1 day ago
ఏడేళ్లలో రూ.88వేల కోట్ల విలువ చేసే 5 కోట్ల మెట్రిక్ టన్నుల ధాన్యం కొనుగోలు: తెలంగాణ పౌరసరఫరాల సంస్థ ఛైర్మన్
1 day ago
విభిన్న ప్రతిభావంతుల కోసం వెయ్యికి పైగా ప్రభుత్వ ఉద్యోగాల భర్తీ: కృతికా శుక్లా
1 day ago

BunkerFit adds yoga to its offerings, becomes India's first vernacular fitness app
1 day ago

Telangana Covid Vaccination update as on 18.06.2021 at 09 PM
1 day ago

PM condoles the passing away of legendary athlete Milkha Singh
1 day ago

TCL to Redefine Video Gaming in India with Upcoming C-series Smart TVs
2 days ago

Yamaha launches Neo-Retro Motorcycle FZ-X with the concept of ride free
2 days ago

ఈఎస్ఐ నాచారం హాస్పిటల్ నూతన భవనంను ప్రారంభించిన మంత్రి మల్లా రెడ్డి
2 days ago

Hyderabad FC sign striker Aaren D'Silva
2 days ago

PM launches 'Customized Crash Course programme for Covid 19 Frontline workers'
2 days ago

TVS Eurogrip celebrates Father's Day with a new social media campaign
2 days ago

Telangana Covid Vaccination update as on 17.06.2021 at 09 PM
2 days ago

Cable Television Network Rules amended
3 days ago

Cabinet Sub-Committee to study on functioning of Hospitals holds the first meeting
3 days ago

ధాన్యం దిగుబడి, కొనుగోళ్లలో సరికొత్త చరిత్ర: తెలంగాణ పౌరసరఫరాల సంస్థ ఛైర్మన్
3 days ago

WayCool launches 2nd Shuddha Dairy Square in Tirupati
3 days ago

Battlegrounds Mobile India early access is now live on Google Play Store for players in India
3 days ago

IKEA enters Bengaluru with eCommerce and Mobile Shopping App
3 days ago

Quaker Provides Oatmeals to healthcare professionals at Osmania General Hospital
3 days ago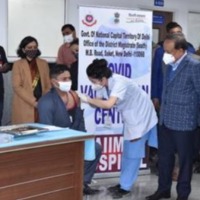 Telangana Covid Vaccination update as on 16.06.2021 at 09 PM
3 days ago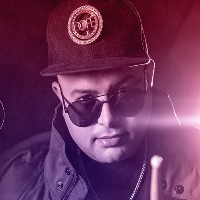 Hamsini Entertainment Brings Thaman To The USA
4 days ago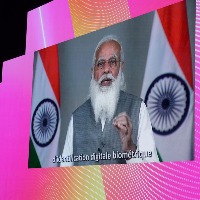 PM delivers Keynote address at the 5th edition of VivaTech
4 days ago