Shaktikanta Das Lashes out Amazon
16-01-2017 Mon 15:20 IST | Ap7am Desk |
National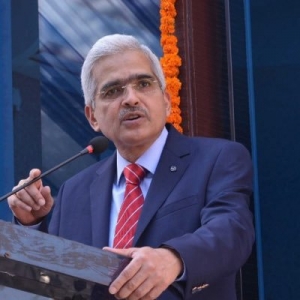 New Delhi: Economic Affairs Secretary Shaktikanta Das lashes out Amzaon for its flippant attitude toward Indian icons and symbols. He warned the e-com tycoon to 'behave yourself'.
Recently Amazon sold doormats depicting Indian flag. After servere protest from all the corners it removed that offensive article and announced that the doormat was no longer available for sale.
External Affairs Minister Sushma Swaraj also severly warned Amazon for its attitude towards Indian symbols and icons. She received several complaints on Amazon for selling flip-flops with Gandhi's photo.
Shatikanta Das tweeted "Amazon,better behave. Desist from being flippant about Indian symbols & icons. Indifference will be at your own peril
Comment on amazon was as a citizen of India as I felt strongly about it. Nothing more should be read into it."
---
More News
DGCA warns airlines against offering unserviceable seats
5 hours ago
Aishwarya Rai's modelling bill from '92 surfaces; she was paid Rs 1,500!
5 hours ago
BFI, SAI felicitate World Championships medallists Nikhat, Parveen and Manisha
5 hours ago
Violence in Andhra town over renaming district after Ambedkar
6 hours ago
Hyderabad youth jailed for 15 days for sending obscene photos
6 hours ago
India-Japan agree to enhance bilateral security & defence cooperation
6 hours ago
Public confidence must for using facial recognition with AI: KTR
6 hours ago
Will fight attempts of Centre to target my father through me: Karti Chidambaram
6 hours ago
KCR to avoid meeting PM Modi again
8 hours ago
TDP, Jana Sena behind violence in Amalapuram over district renaming row: Minister Viswarup
9 hours ago
Modi meets chairperson of Japan-India Association in Tokyo
10 hours ago
Proposed GPS to govt staff after assessing state's financial position: Sajjala
10 hours ago
Drones prohibited around ISB Hyderabad for PM's visit
11 hours ago
PM to visit Hyderabad, Chennai on May 26 for various programmes
11 hours ago
AI to make roads in India safer to drive
11 hours ago
KTR meets Andhra CM Jagan, Aaditya Thackeray
11 hours ago
Gudur: Gang war between B. Tech & polytechnic students of Audisankara Engg College
11 hours ago
Why YSRCP, TDP, Jana Sena scared of BJP, asks Vundavalli
11 hours ago
TPCC chief Revanth is blackmailer, alleges Minister Malla Reddy
13 hours ago
I look forward to further strengthening Olympic Movement in India: Nita Ambani on launch of OVEP in Odisha
13 hours ago