Heavy Rush For "Ghar Wapsi" For Sankranti
12-01-2017 Thu 17:20 IST | NSS |
Local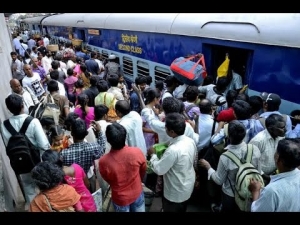 Hyderabad: As many as 50 lakh people virtually on a "Ghar Wapsi" to their native villages and towns for celebrating Sankranti festival has resulted in an unprecedented rush at bus depots and railway stations in the city for the last two days.
Though the festivities commence on Friday with Bhogi, Sankranti on Saturday and Kanumu on Sunday, people from different parts of Telangana and Andhra Pradesh States settled in Hyderabad for various avocations have started leaving for their respective home towns since Sunday last itself. As a matter of fact, many had booked their trains and bus tickets well in advance. Thus the bus and railway stations in the city are virtually chocked with passengers.
The SCR and RTC authorities have also made special arrangements to cope with the heavy festival rush by operating extra services. However, there seemed to be a shortfall of the services when compared to the unprecedented rush. This is despite the fact that scores of people proceeding in their own vehicles or in private taxis.
Taking undue advantage of rush and the anxiety of people to reach their native places for their biggest festival in time, unscrupulous private operators of taxis and buses are fleecing the passengers by charging three to four times the normal fare. What is more, even the State-run RTC also seemed to be trying to fill its coffers by charging exorbitant fares. What is intriguing is that people are trying to reach their native places by paying extra fares and traveling in chocked trains and buses.
Large traffic jams and bottlenecks on the national high way between Hyderabad and Vijayawada has become the order of the day during the last few days. Serpentines queues of vehicles are witnessed at all the toll gates with the number of vehicles increasing by 30 percent. According to officials, while 25,000 vehicles cross the Pathangi toll gate on normal days, the traffic has increased by 30 percent in view of the Sankranti festival. Similarly, while 18,000 to 20,000 vehicles, including cars pass through Chillakalu near Jaggaiahpet on normal days, it has increased by about 6,000 vehicles, mostly cars and buses. Same is the situation at toll gates near Gorla Pahad near Nakrekal and Chillakallu and also at Keesara in Krishna district.
The traffic jams at toll gates and the delay in vehicular movement for over 30 minutes at each gate is resulting in frustrating passengers entering into arguments with the staff manning the toll gates.
---
More News
After two years, India-Myanmar border trade to resume soon
2 minutes ago
Woman stabbed by stalker on busy road in Hyderabad
38 minutes ago
Kamal Haasan's production house warns websites against pirating 'Vikram'
1 hour ago
PM's attack on KCR triggers war of words
1 hour ago
Vijay Devarakonda to team up with Indraganti Mohana Krishna for his next
1 hour ago
BJP likely to rope in influencers, filmstars to highlight Modi achievements
1 hour ago
Telanagana Cong chief's remarks on Reddys-Velamas trigger row
1 hour ago
Honour killing in Adilabad district, parents kill daughter for marrying against their will
2 hours ago
KTR wraps up Davos tour, Telangana attracts Rs 4,200 crore investments
2 hours ago
Karate Kalyani complains to police against vulgar prank YouTube videos
2 hours ago
SC Collegium recommends transfer of six high court judges
2 hours ago
Hollywood writer Patton Oswalt all praise for RRR and director Rajamouli
3 hours ago
Udit Narayan shares his experience watching Anuradha Paudwal sing for the first time
3 hours ago
Akshay Kumar-starrer 'Prithviraj' name changed to 'Samrat Prithviraj'
3 hours ago
Akshay Kumar: I have done almost 650 songs in my career, and I don't ever want to retire
3 hours ago
Rana Daggubati, uncle spotted at Mumbai cafe
3 hours ago
Rajamouli releases glimpse of 'Brahmastra's first song
3 hours ago
I will consider myself lucky to die alone: Samantha in response to a troll
3 hours ago
80% people in AP ready to defeat TDP in 2024 elections: Kodali Nani
3 hours ago
Tech Mahindra inaugurates 5G innovation lab in US
4 hours ago