Do you know about Tirumala significance..?
12-01-2017 Thu 14:10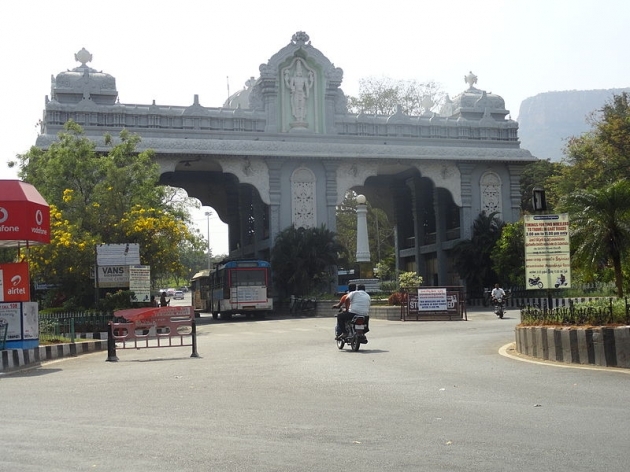 It is believed that Tirumala or Seven Hills that are the abode of the presiding deity, Lord Venkateswara Swamy (Lord of Heaven), are 'heaven' on earth. The sacred hills are also home to many temples and Theerthams (water bodies, pilgrim centres) that have historical and sacred significance. In a way, Tirumala is said to be a conglomeration of many spiritually significant happenings. The Seven Hills themselves resembling the pose of Lord Vishnu lying down on the bed of a coiled, seven-hooded serpent is in itself considered most significant. Let us learn about the places that are a 'must visit,' once a pilgrim reaches Tirumala. Rare facts about the temple town are worth learning.

It is the faith of the people, especially South Indians, that Lord Vishnu or Narayana himself manifested as Sri Venkateswara at Tirumala for protecting the people and establishing peace on earth. You might have heard the story of the Lord, coming down to earth from heaven (Vaikunta) and settling on the Seven Hills, after marrying Princess Padmavathi, popular now as Ammavaru. As per the temple local canons, the Lord's consort, Sri Mahalakshmi came down to earth, on learning about the marriage, and questioned the Lord. Consequently, he became a huge stone statue. Immediately after this, Sri Mahalakhshmi 'dissolved' herself on to the left side of the chest of the statue, while Padmavathi Ammavaru did the same on to the right side. To viewers what seems as just an image of the deity, should be viewed as the Lord, accompanied by his consorts.

Bhuvaraaha Swamy

Prior to Lord Vishnu descending to earth, the Seven Hills were the residence of Bhuvaraaha Swamy. He gave up all the land there to Lord Srinivasulu, on the latter's request. The Lord returned this gesture by blessing Bhuvaraaha Swamy, with first Dharsanam (sighting, viewing) and first Naivedyam (food offering). The local canons thus direct that pilgrims first have Dharsanam of Bhuvaraaha Swamy and later Srinivasulu. It is believed that the pilgrims would be blessed in this fashion.
The temple for Bhuvaraaha Swamy is open daily, for Dharsanam, from 5.30 a.m. to 12 noon and from 5 p.m. to 9 p.m. in the night. Special Abhisekham (anointing) is done for Bhuvaraaha Swamy during the month of Sravanam, as his birth star is Sravana.

Bedi Anjaneya Swamy Temple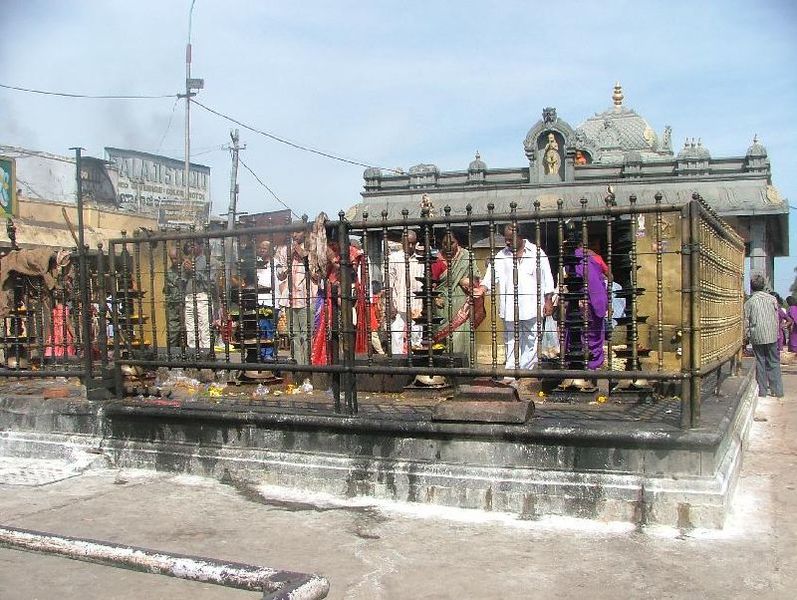 Pilgrims to Tirumala would have noticed Anjaneya Swamy temple, opposite the main gate of Tirumala temple. The Naivedyam that is first offered to Bhuvaraaha Swamy and then to Lord Srinivasa, comes next to this temple. The story goes that Anjaneya (Hanuman) is said to have decided to leave Tirumala when he was a youth. His mother, Anjanadevi, bound his hands in handcuffs (Bedi), and instructed him to stay there until she returns. She later disappeared behind Akasa Ganga and never returned. Anjaneya was left waiting there with his hands bound. That is why he is referred to as Bedi Anjaneya. Abhisekham is performed to the deity, every Sunday.

Vimana Venkateswarudu

After Dharsanam of the main deity, while perambulating the sanctum sanctorum, you can see Vimana Venkateswarudu, atop the dome, towards the right side. This is a replica of the idol of the deity in the main temple. Devotees are seen usually worshipping this image that is made of silver, coated with gold. Vyasatheerthulu, a spiritual guru is said to have attained salvation when he worshipped this image.
Swamyvari Pushkarini (divine lake, pond)

Swami Pushkarini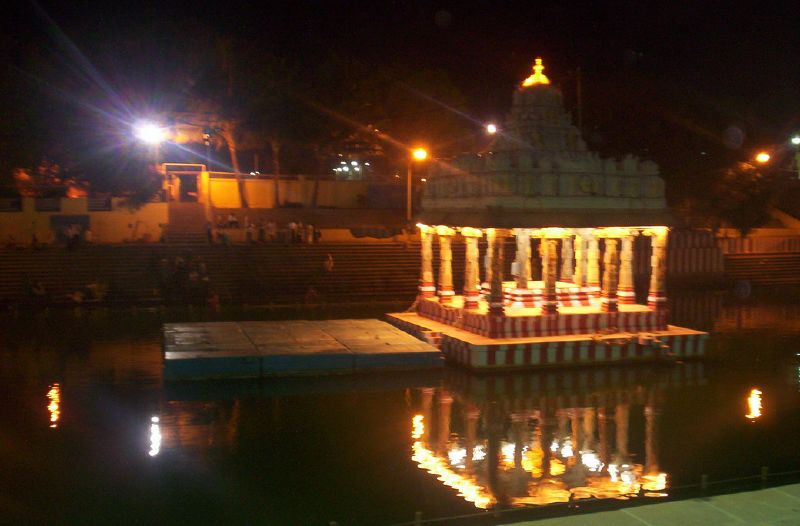 A lot of significance is attached to a divine pond or lake called Pushkarini that adjoins the main temple. It is believed that it is the divine Pushkarini that has been brought down to earth by Garuthmantha, a huge bird that carries Lord Vishnu. It is also believed that the lake turns pure, during Mukkoti Dwadasi in Dhanurmasam and is then called Mukkoti Pushkarini. If you bathe in this lake that particular day, you would be blessed with a purity and good karma that is equal to bathing in three crore sacred rivers. As per Hindu ancient mythological texts called Puranas, Pushkarini contains waters of three crore scared rivers and even divine beings bathed here.

Theerthams (sacred water bodies)

Pandava, Kumaradhara, Thumabara, Ramakrishna Chakra, Vaikunta, Sesha, Seethamma, Pasupu, Jabaali and Sanakasunandana, are some of the significant water bodies that are frequently visited by devotees as pilgrim centres. It is said that there are at least a crore such 'sacred theerthams' all over Tirumala.

Festivals surrounding Theerthams

Magha Paurnami (Full moon day of Magha month) is celebrated at Kumaradhara theertam with special pujas. Similarly, special worship is performed at Ramakrishna Theertham on Pushya Paurnami, at Thumbura Theertham on Phalguna Paurnami, at Chakra Theertham on Ksheerabdi Dwadasi during Karthika Masam.

Silathoranam (natural arch in rock)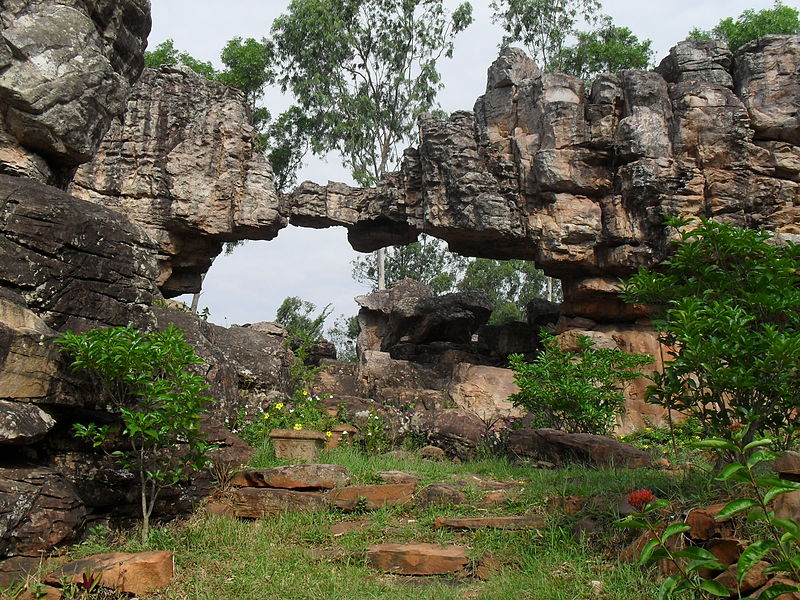 It is situated in a forest area, one km from the northern side of the main temple. The extreme edges of two rocks touch each other, forming an arch, naturally. Such a rare formation is not found anywhere else in the world, except for Rainbow Arch in United States of America (USA) and another in Australia. It is said that some secret information regarding Lord Vishnu turning in to a stone is buried among these rocks.
Silathoranam that is 10 ft. in height and 25. ft wide can be reached by private vehicles. It is at a 20-minute walking distance from Bhuvaraaha Swamy temple. Chakra Theertham is close to this place.

Papavinasanam

It is a natural waterfall, coming down the mountains. Devotees believe that bathing in these waters will remove their sins. That is why it is called Papavinasanam. There is a dam in this place that is used for the drinking water needs of devotees. Earlier, these waters served all purposes in the main temple. But because it is far off and difficult to transport, they began to use it only on special days.

Akasa Ganga

This is another natural water body that is just 3 km. from the main temple, on the way to Papavinasanam. These waters are used for performing Abhisekam to the deity.

Swamyvari Paadalu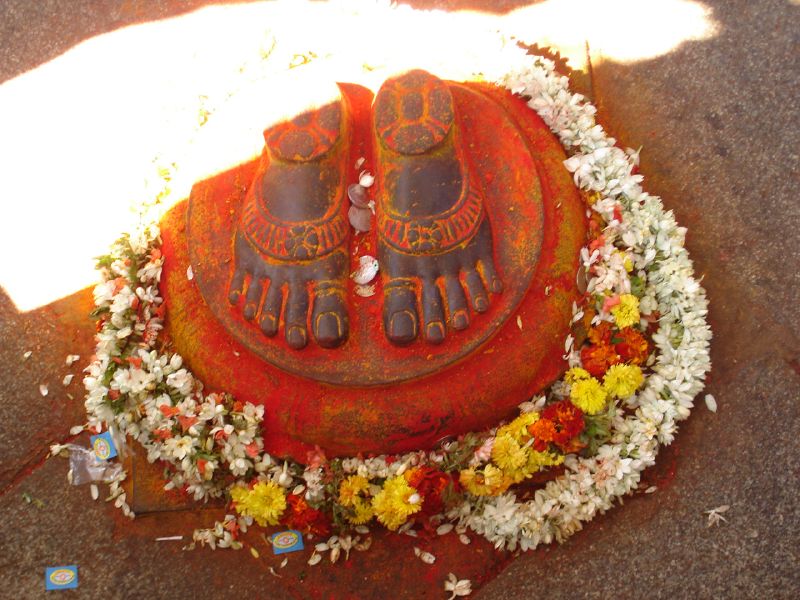 Swamyvari Paadalu are stone figures of the feet of Tirumala Lord, that can be viewed at a peak on Narayanagiri Hills, 5 km. from Tirumala bus station. The spot is significant in the history of Tirumala Hills, as it is believed that when Lord Venkateswara first came to Tirumala, he stepped here. The stone feet are symbolic of his footprints. A glass box has been arranged around the feet to prevent devotees from touching it. Sila Thoranam is close-by this place. Paid or private taxis can be hired to this place.

Chakra Theertham

Chakra Theertham is close to Sila Thoranam. Legend has it that Lord Brahma once asked Lord Venkateswara to show him a place where he can perform meditation. The Lord used his Sudarshana Chakram (Divine Disc) to break the hillock into two and showed Brahma the spot. The water coming from the hills is considered holy and the spot has become a pilgrim centre. During Brahmotsavams, the functional idols (Utsava Vigrahalu) of the deities are brought here.

Thumbara Theertam

This is another water hole in the hills that is at a distance of 12 km. from Tirumala and seven km. from Papavinasanam. The way of approaching this Theertam is opened on full moon day in Phalgunam, the last month in Telugu calendar. You have to cross at least five waterfalls, amidst thick forest area, to reach the place. The story goes that a mythological god, Thumbara cursed his wife and she turned into a frog and lived here. When a Rishi, Agastya, reached this place, she told him her story and due to his blessings she changed into her original human personality once again. Ever since, this has become famous as Thumbara Theertam. Another story has it that Thumbara Rishi performed severe penance in this spot and thereby it acquired that name.

Jabali Theertam

It is on the way to Papavinasanam. Lord Hanuman temple is located here. It is believed that Lord Hanuman manifested himself, when a holy man called Jabaali performed penance here. Also there are some stories which say that Lord Srirama, Seethadevi, Lakshmana and Anjaneya Swamy lived here for some time.

Naga Theertam

It is one km away from the main temple. Balatheertam is close to this place. It is believed that if you bathe here, you will turn in to a child, meaning you will gain that kind of energy. At present there is no water here. As the miracle is against the law of nature, the water has evaporated, it is believed.

Sesha Theertam

Again a pilgrim centre, where the Lord is said to recline on a huge, coiled snake, Adisesha (Nagendra). It is reachable, travelling through a thick forest path, from Papavinasanam dam, in Tirumala. You have to cross several streams to reach this. Good swimmers can step down into the water and enter a cave like enclosure, where the snake-structure is visible. Those who don't swim can access rubber boats or ropes. It is essential to take the help of a guide, as the surroundings are thickly forested and also there are an abundance of snakes, as the name of the place suggests. It is better to take all precautions, with the help of a guide, rather than face danger. Another story that makes the rounds is that Lord Vishnu was very thirsty and urged his disciple Garuthmanth (Eagle) to get some water. As Garuthmanth did not return for a long time, the Lord commanded Adishesha to get him some water. With this, the snake immediately fetched the water with its tail from this spot, making it significant, it is said.

Pandava Theertam

The spot got its name because the Pandavas bathed in the waters here, while they were doing Vanavas (sojourn in forests). Another name for this is Gogarba Theertam. It is towards north east of the temple. The TTD built Gogarba dam in 1963, at this place.

Kumaradhara Theertam

This pilgrim centre has a special significance. It is believed that childless women, once they bathe in these waters, on Full Moon day in Magha month of Telugu Calendar (February), they will have children.

Dharmagiri

It is at a distance of 2 km from Silathoranam. Tirumala Veda Vigyana Parishad conducts classes for students here, in four Vedas and Smartha techniques. There is a hostel for the students at the spot.

Udyanavanalu (Horticultural gardens)

There are four horticultural gardens at Tirumala, at Travellers' Bungalow, Gogarba Dam, Padmavathi Guest House and Divyaramam. It is assumed that the gardens were grown by Sri Ramanujacharyulu of Vishnava cult and his disciple Sri Anantha Alwar, during 14th century.

Museum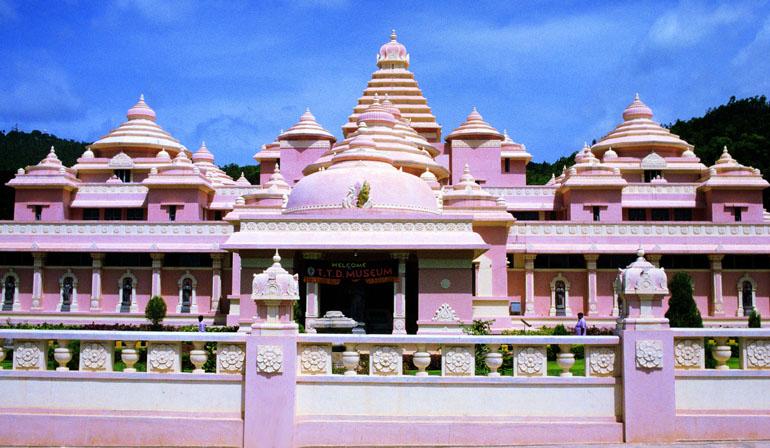 It is just a km away from Tirumala Bus Station and houses the whole history and archaeological wealth of Tirumala. A visit to the museum is a learning experience.

Venkamamba Samadhi

Tharigonda Venkamamba had been a great devotee of Sri Venkateswara and like his pet disciple, Annamacharya, she also worshipped him with devotional music: Sankeerthanam. It is believed that she was buried in Tirumala. Her tomb lies in a park full of sacred basil (Tulsi) plants, to the north of Sri Varahaswamy temple. A private school is situated close to it. In the main temple, during Sevas, Annamaiah Sankeetanams are sung and Venkamamba Harati is given to the main deity, in recognition of their devotion.

Hathiram Samadhi

Another devotee of Tirumala Lord, is Hathiram, popularly known as Bawaji. He is said to have played chess with the Lord. His tomb lies next to Sri Venugopala Swamy temple, on the way to Papavinasanam. The British, in 1843, handed over the administration of Tirumala temple to Hathiram Bawaji Matam (hermitage). It took care of the functioning of the main temple, until 1933, when Tirumala Tirupati Devasthanams (TTD) took over. Even today, the milk and butter supplied by Hathiram Bawaji Matam is offered to the deity, during Suprabhatham.

Anantha Alwar Thota (farm)

Anantha Alwar is the first devotee who offered flowers to the deity as a form of devotion . He introduced 'Pushpakainkaryam' to Lord Venkateswara, which is implemented even today. He resided behind the main temple. The story goes that Anantha Alwar decided to grow a garden, in order to offer flowers daily, to the deity. In this process, he and his wife started digging a well, for watering the flower plants. It is said that Tirumala Lord himself helped them in digging the well, in the form of a small child. However, Anantha Alwar at first rejected the boy's offer to help him. Then the boy started helping Alwar's wife. The angry Alwar is said to have thrown the crowbar used for digging the well, at the boy, hurting him on the chin.
On the same day, when Anantha Alwar reached the temple to offer flowers to the deity, he noticed blood flowing from the chin of the Lord. It suddenly dawned on him that the child, who came to help him dig the well, is none other than the Lord himself. He applied a paste of camphor (Pachcha Karpooram) to the wound. The same ritual is carried out to the deity, even to this day, in Tirumala temple.

The priests apply the paste of camphor to the deity's chin, every day. The crowbar which Alwar threw at the divine child has also been preserved and can be seen on the right side of the main entrance to the temple. The garden that Anantha Alwar grew for facilitating flowers for the deity is named after him. It can be seen while going to the queue complex.

Nityaannadanam ...Great scheme

Tirumala temple is the only one in the world where the highest number of people is served free meals, daily. At least 1.2 lakh devotees are served free meals, through Nityannadanam Trust.

Tirupati Laddu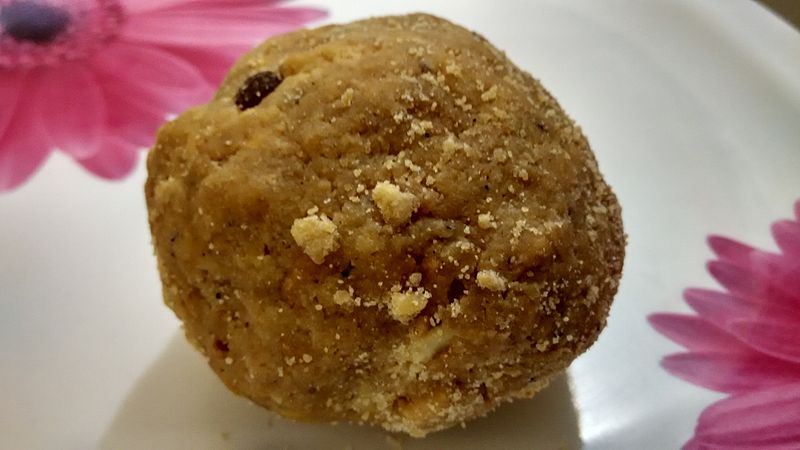 Tirumala Laddu Prasadam is well known. The temple prepares at least 1.5 lakh laddus and distributes them to the devotees, daily. The annual distribution of laddus is between five crores to 10 crores. The Laddu that is prepared here has Geograhical Indication Tag. It means that the product must not be made by anyone else, with the same name or form as Tirumala laddu. The Laddu offering to the Lord began on August 2nd, 1715, it is learnt.

The formula to mix the ingredients for laddus has changed six times uptil now, it is said. Besan, Cow ghee, sugar, cardamoms, misri, cashew nuts, almonds and currants are used to make the laddus. At least 10 tonnes of besan, 10 tonnes of sugar, 700 kg of cashew nuts, 150 kg of cardamoms, 500 litres of ghee and 500 kg of misri are used daily to make laddus.

Variety of laddus offered

Normal devotees know of only one kind of Tirupati laddu. But there are varieties in this. The laddu that is given to devotees is called Proktam laddu. It weighs 175 gms. There is another laddu that is offered during Kalyanotsavam. This is given to the devotees after Kalyanotsavam Seva to the deity. These are made in lesser quantity. Asthanam laddu is made during special festivals. This weighs 750 grams. Larger quantity of dry fruits like cashew, currants, almonds and saffron are used in this laddu.

Kapila Theertam, Kapileswara Swamy temple

This is a temple for Lord Siva that is downhill to Tirumala. The temple has come up in a place that is watered by falls from Tirumala Hills. A lot of significance is attached to this temple. It is learnt that at least 16 other waterfalls converge into this one. Special pujas are performed here every year during Sivarathri. A Dharsanam of the deity on this day, at this temple is considered significant as per Hindu scriptures.

Kalyana Venkateswara Swamy

This temple is situated in Srinivasa Mangapuram, 12 km. away from Tirupati. Local canons have it that after marrying Goddess Padmavathi, before leaving to Tirumala, both spent some time here.

Prasanna Venkateswara Swamy

The temple is 18 km away from Tirupati, at Appalaiahgunta. It is a temple of Venkateswara Swamy, who is said to fulfill all desires of devotees (Abhaya Hastham). It is believed that the Lord manifested here along with his consort Lakshmi Devi.

Chandragiri Kota (Fort)

There is some historical importance attached to Chandragiri Fort near Tirupati. It was constructed completely with stone in 1640. It was constructed adjoining the hill. It was like a guest house for Srikrishnadevarayulu. Chandragiri is the native place of Prime Minister Thimmarasu, in Srikirshnadevaraya court. Raj Mahal and Rani Mahal are prominent in the Fort.

Govindaraju Swamy temple

Another name for Tirupati is Govindaraju Patnam. The town got its name from the temple of Govindaraju Swamy temple in the vicinity. Govindaraju is said to be the brother of Srivaru (Sri Venkateswara Swamy). Local canons have it that the Lord borrowed money from Lord Kubera, during his marriage to Padmavathi. Govindaraju Swamy took up the task of measuring this treasure. The story goes that it was a never-ending task and a tired Govindaraju, slept with the measure under his head. The temple is run by TTD.

Similar Sevas as done to Tirumala Lord, like Suprabhatam, Thomaala Seva, Sahasranaamarchana, Naivedyam and Ekantha Seva are performed for Govindaraju Swamy also. Weekly, fortnightly, monthly and annual festivals are performed. Brahmotsavams are celebrated in Vaisakha month of Telugu calendar. Several other temples like Godadevi, Parthasarathi, Kalyana Venkateswara Swamy and Lakshmi Devi are also located in the same premises.

Temples of other deities that are famous near Tirumala include, Kanipaka Varasiddi Vinayaka, Srikalahasteeshwara, International Society of Krisna Consciousness (ISKCON) and Vedanarayana Swamy temple that is at Nagulapuram, 70 km from Tirupati. Lord Vishnu is seen in Matsyavataram (fish) in Vedanarayana Swamy temple. Sridevi and Bhoodevi temples too are close-by. Sri Venkateswara National Park is 10 km from Tirupati. Talakona waterfalls that are 49 km from Tirupati, are also a beautiful sight.

Several doubts about Tirumala clarified

There is a rumour that Tirumala Lord grows hair on the head. Another rumour is that flowers, milk and ghee that are offered to the deity come from a particular village, 22 km from Tirumala. Head priest of Tirumala temple Ramana Deekshitulu tried to burst these myths on a TV channel. Read on to see what he had to say

It is not true that the deity grows hair. All stories that the body of the Lord is soft, it sweats and the nails grow, are not true. These are characteristics of a natural human body that cannot be assigned to a 'supernatural' force and could bring harm, he warned.

Flowers and garlands are offered to the deity, daily during Thomaala Seva morning and night, Poolangi Seva on Thursdays and during festivals. All the flowers are got from the several gardens maintained around the main temple, not from any particular village.

It is also not true that after removing the flowers and garlands they are disposed off in a water hole, behind the idol. There is no water hole behind the idol of the deity. The flowers and garlands adorned during Thomaala Seva in the morning are removed just before the performance of the same Seva in the evening. They are put in a well that adjoins Addala Mantapam (Hall of mirrors). But the well is full now. So the dry flowers, removed from Vishvaksenula and Garudalwar, are strewn in the gardens where flowers are grown specially for adorning the deity.

New pancha and saree are not adorned to the deities daily. They are donned only after Abhisekam on Fridays. Silk dhoti measuring 24 yards long and four yards broad, called Mel Chat is donned on to the deity and an Angavastram measuring 12 yards is placed on the shoulder, as the deity is considered an 'honourable' man.

Talking about the closure of the temple for 12 years during 1800, he said that, ever since Vikasana Maharishi came to Naimisaaranyam (forest), and presented Vikasana Agamam, daily worship is going on to Tirumala Lord, as per the Aagamam. He urged devotees not to believe any rumours.

Transport facilities to Tirumala

You can reach Tirumala via road, rail or air. Road Transport Corporation (RTC) buses operate from a Bus Station, close to Tirupati Railway Station. There is a bus service to Tirumala every minute, from this station. RTC buses are run directly to Tirumala from some depots. A number of private taxis are available. You can reach Tirumala by road from Reningunta airport.
---
More Articles

Joint life insurance policy for couple...how beneficial?
2 years ago

Are you using the right charger for your phone? Check out
2 years ago

Shoot amazing videos with mobile phone
2 years ago

How to delete, block emails in Gmail?
2 years ago

Are your eyes healthy? Identify eye problems this way
2 years ago

Government services at your fingertips with these apps
2 years ago

Ways to increase height: Any options?
2 years ago

Life after death…what organs can be donated…give life to how many?
2 years ago

Phones costlier than Apple iPhone
2 years ago

Hyderabad Metro Rail halts..facilities in stations
2 years ago

Green peas curry...tasty for chapattis, paratas
3 years ago

Age for insurance cover. Need it for 100 years?
3 years ago

Shares that will go up in 2018; recommended by brokers
3 years ago

These are New Year resolutions of celebrities...what about us?
3 years ago

LIC policy that protects you from cancer... less premium, more protection
3 years ago

What do kids like... what they don't?
3 years ago

Lens resolution and not pixels make the difference in camera...unknown facts
3 years ago

What is the truth about North Korea?
3 years ago

Open zero balance account in any bank
3 years ago

Separate test for each health problem... what is known in which test?
3 years ago

Do this to increase life of phone battery, backup
3 years ago

New scooters that will arrive at your doorstep soon
3 years ago

Health insurance from banks... less premium...how worthy?
3 years ago

Has your smart phone slowed down? Here are tips to speed it up
3 years ago

Dental plaque formation, causes and care
3 years ago

Cholesterol is good...But when is it bad?
3 years ago

Make tasty panipuri at home
3 years ago

P2P platforms help easy lending, borrowing
3 years ago

Why Apple iPhone is expensive? Want it for less price?
3 years ago

Tips to cool down your heated smart phone
3 years ago

Which is better...own or rented house?
3 years ago

App that listens and types in Telugu
3 years ago

Jaundice could be dangerous if neglected
3 years ago

Sponge cake in a jiffy...no oven...with and without eggs
3 years ago

What happens when you don't repay loans
3 years ago

Yogurt, curd, dessert, paneer, cheese...what's the difference?
3 years ago

IT dept. eagle eye on bank deposits... what to do?
3 years ago

Google Tej app...transfer funds in a jiffy
3 years ago

Truths about money, you must know
3 years ago

Huge benefits with Multani Mitti
3 years ago