How to write the best resume?
04-05-2016 Wed 18:27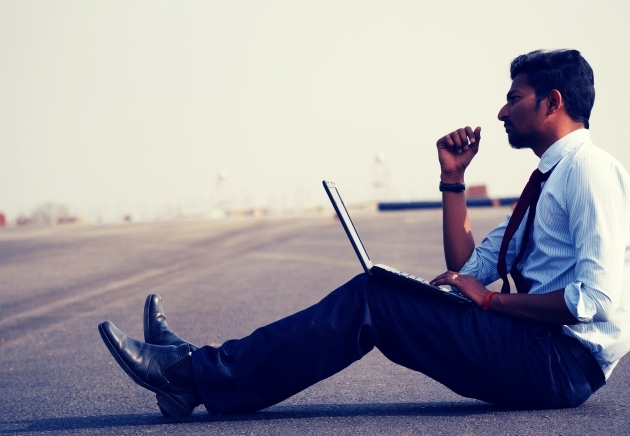 Resume is nothing but a document with which one can win the heart of the recruiter. It is one document through which one can claim s/he is the right person for the job. In it, one explains his/her educational qualifications, personal capabilities, skills, experience, what one can do if given a job and other related issues. One has to prepare the resume in such a way that the employer feels that 'He/She is perfect for the position'. However, one should not write a resume by getting the format from internet and by just replacing the name. In resume, you have to tell great things about yourself. In this article, we try to provide you with some tips on writing the best resume.
Writing with concentration
One has to write resume by putting in much effort. All candidates have to look at once whether a particular resume is fit for the job they are applying. One has to make corrections to their resume as per the job specifications. All candidates must try to get some information on their role in the particular job, expectations of the company and other related information.
Keywords must
Some necessary keywords must have a place in resume. The employers screen the resumes with applicant-tracking system software to find the best resumes. After that, some shortlisted resumes will reach the table of the recruiter. The aim of a candidate should be that his/her application would be selected by the recruiter in this screening. So, all keywords must be there. One can get proper keywords by typing the 'job name and key words' in Google. These keywords in the resume will give enough information to the employer about you.
For example, in case of a job in the HR department, proper keywords in the resume can be benefits and compensation, HR policy development and execution, payroll administration, performance management, job analysis/development, risk management, training and development, human resource administration, merger and acquisition and others. For a Salesperson's job, proper keywords can be marketing, analysis, research and display.
What should be in a resume?
Name, contact information, address, e-mail ID, phone number and the LinkedIn profile of the candidate should have a place in the resume. Many resumes have this procedure. But, there is no fixed format for a resume. Generally, the resumes are prepared in three formats like reverse chronological, functional and combination. Those candidates who have professional experience, write their resumes in the reverse chronological way. It means writing name and address in the beginning and then professional profile, professional experience, education and additional skills. In functional format resumes, much focus will be on explaining skills and capabilities. In these kinds of resumes, the order of presenting will be name, address, introduction/summary, skills, work experience and education. The combination resume will be just the combination of above two resumes.
Introduction/Summary
The introduction or summary is the key in any resume which has to be there after name, address and contact information. In this part, a candidate has to explain himself why and how he is the suitable candidate for the job. In this part of the resume, all candidates have to clearly explain themselves. The introduction should be direct.
If you are a marketing manager, you will explain to the customer all the good features of a particular product. Your resume should be written in similar way. In summary section, you have to explain about the product. It would be advantageous if you can explain in brief the benefit to the company with your induction into the job. Some recruiters give much preference to introduction. In resume, the candidate has to explain about his past and future.
In case of freshers, they have to explain their educational qualifications, name of educational institutes if they are reputed ones, grades and medals secured and others. If you have excellent communication skills and leadership qualities, you have to mention the same in your resume.
Professional experience
You have to mention your professional experience, experience in different fields, successes in your career and other achievements in your resume. But, all of them should be mentioned in brief only.
Education
In resume, you have to explain your educational qualifications. If you have completed Ph.D., you have to first mention your details of Ph.D, then PG and then degree. You have to give the year of course completion too. If you have passed the examination in top grade, you have to mention it in the resume. Details of awards and gold medals, if any, have to be given in the resume. It would be advantageous to give the details of computer, technical and professional courses done, if any. Special skills and capabilities should also have a place in your resume.
Companies are looking for special skills if you are applying for an IT job. All the details of your software programs and the projects completed should be given in your resume. If any candidate still has some doubts on writing resumes, they can once go through some resume formats in internet. One can get an understanding on writing resumes by going through a couple of resumes in internet.
Samples of resumes can also be viewed at http://www.vault.com/resumes/sample/
Tips
In case of freshers, single page resume is sufficient. Experienced candidates can write it in two to three pages. The preferred fonts for writing the resumes are Times New Roman, Arial, Calibri, Georgia, Tahoma and Bookman old style. Entire resume should have the same font. Name should have the font size of 24, headers should be of 12 size and text can be in the font size of 10. Don't decrease the font size with the intention of restricting the entire resume to one page.
The resume looks attractive if given a space of one line at the end of every section like name, address, summary, experience and others. A margin of one inch should be there on both sides of the page. After completing the resume, one must check if any error is there in it. If any spelling mistake, grammatical mistake or information error is there in the resume, your candidature is about to be neglected.
The most important thing one has to keep in mind is that all the information in your resume should be clear and brief. If it is lengthy, the recruiter may get vexed with it and neglect it finally. However, one can pay some amount of money to Naukri, Times Jobs and Monster so that they will give you a nice resume.
---
More Articles

Joint life insurance policy for couple...how beneficial?
3 years ago

Are you using the right charger for your phone? Check out
3 years ago

Shoot amazing videos with mobile phone
3 years ago

How to delete, block emails in Gmail?
3 years ago

Are your eyes healthy? Identify eye problems this way
3 years ago

Government services at your fingertips with these apps
3 years ago

Ways to increase height: Any options?
3 years ago

Life after death…what organs can be donated…give life to how many?
3 years ago

Phones costlier than Apple iPhone
3 years ago

Hyderabad Metro Rail halts..facilities in stations
3 years ago

Green peas curry...tasty for chapattis, paratas
3 years ago

Age for insurance cover. Need it for 100 years?
3 years ago

Shares that will go up in 2018; recommended by brokers
3 years ago

These are New Year resolutions of celebrities...what about us?
3 years ago

LIC policy that protects you from cancer... less premium, more protection
3 years ago

What do kids like... what they don't?
3 years ago

Lens resolution and not pixels make the difference in camera...unknown facts
3 years ago

What is the truth about North Korea?
3 years ago

Open zero balance account in any bank
3 years ago

Separate test for each health problem... what is known in which test?
3 years ago

Do this to increase life of phone battery, backup
3 years ago

New scooters that will arrive at your doorstep soon
3 years ago

Health insurance from banks... less premium...how worthy?
3 years ago

Has your smart phone slowed down? Here are tips to speed it up
3 years ago

Dental plaque formation, causes and care
3 years ago

Cholesterol is good...But when is it bad?
3 years ago

Make tasty panipuri at home
3 years ago

P2P platforms help easy lending, borrowing
3 years ago

Why Apple iPhone is expensive? Want it for less price?
3 years ago

Tips to cool down your heated smart phone
3 years ago

Which is better...own or rented house?
3 years ago

App that listens and types in Telugu
3 years ago

Jaundice could be dangerous if neglected
3 years ago

Sponge cake in a jiffy...no oven...with and without eggs
3 years ago

What happens when you don't repay loans
3 years ago

Yogurt, curd, dessert, paneer, cheese...what's the difference?
3 years ago

IT dept. eagle eye on bank deposits... what to do?
3 years ago

Google Tej app...transfer funds in a jiffy
3 years ago

Truths about money, you must know
3 years ago

Huge benefits with Multani Mitti
3 years ago