Hyderabad Metro Rail halts..facilities in stations
18-01-2018 Thu 11:16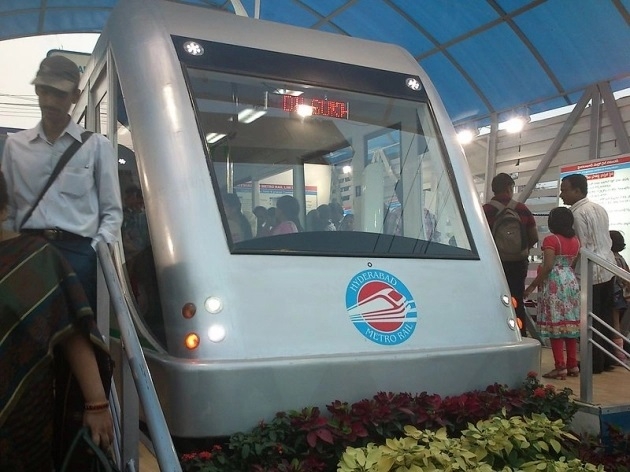 L&T Metro Rail has begun its journey in Hyderabad, making travelling long distances within the city easier. With the flagging off the train by Prime Minister Narendra Modi, in November last year, the Miyapur to Nagole route was opened to public. This is about the metro rail routes, halts, stations and facilities, ultra modern system and other details.
Hyderabad Metro Rail has three corridors, covering about 71 km. There are 66 ultra modern railway stations in these three corridors.
Corridor 1: Miyapur to L.B.nagar
Corridor 2: Jubilee Bus Station (JBS) to Faluknamah
Corridor 3: Nagole to Shilparamam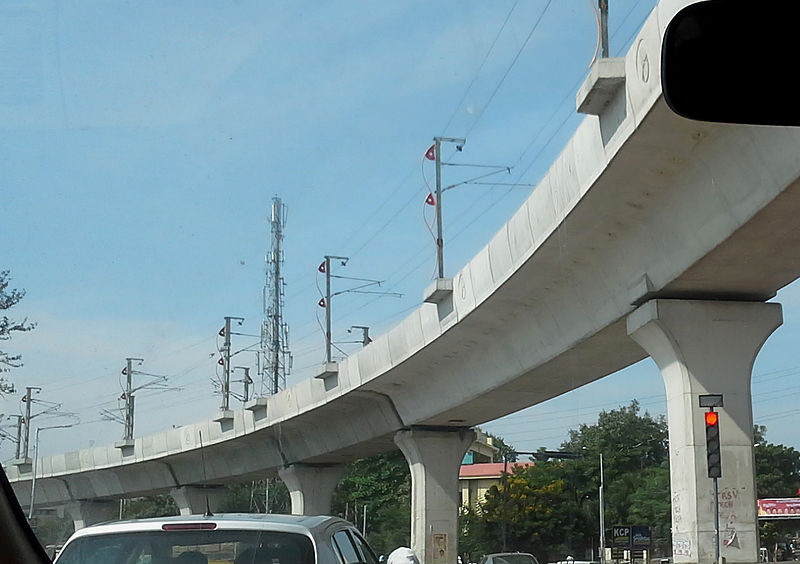 All the three corridors connect with another corridor at one spot. Corridor 1 and 3 meet in Ameerpet station. Corridors 1 and 2 come together at MGBS. Corridors 2 and 3 meet at Parade Grounds station. These are interchanging stations. It means, you can change the corridor depending on your destination. For example, those who wish to go to Madhapur from Miyapur, have to go to Ameerpet station and change to train that goes to Shilparamam, in Corridor 3.
The distance between Miyapur and L.B.nagar is 29 km. The route has 27 stations. Miyapur, JNTU college, KHBP colony, Kukatpally, Balanagar, Moosapet, Bharatnagar, Yerragadda, ESI Hospital, SRnagar, Ameerpet, Punjagutta, Erramanzil, Khairatabad, Lakdikapool, Assembly, Nampally, Gandhi Bhavan, Osmania Medical College, Mahatma Gandhi Bus Station (MGBS), Malakpet, New Market, Moosarambagh, Dilsuknagar, Chaitanyapuri, Victoria Memorial, LB nagar.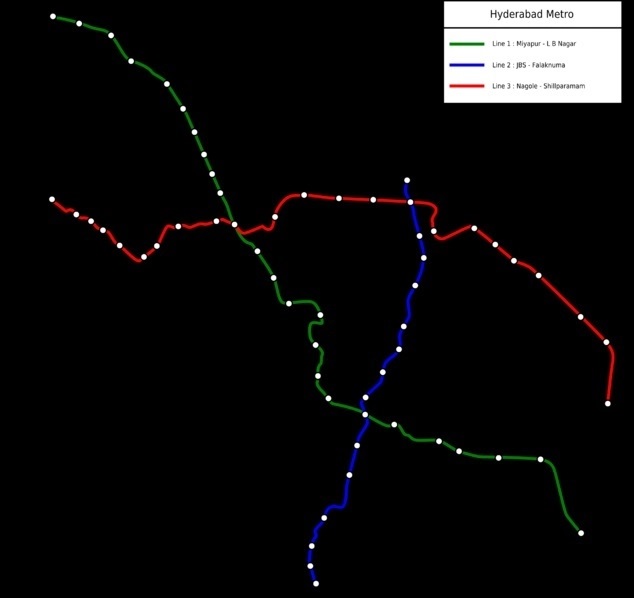 There are 16 stations in 15 km distance between JBS and Falaknumah, on Corridor 2. JBS, Parade Grounds, Secunderabad, Gandhi Hospital, Mushirabad, RTC Cross Roads, Chikkadpalli, Narayanguda, Sultan Bazar, Mahatma Gandhi Bus Station, Salarjung Museum, Charminar, Shalibanda, Shamshergunj, Jangametta, Assembly, Nampally, Gandhi Bhavan, Falaknumah. Work is yet to being on 6 km in old city, between MGBS and Falaknumah on this route, due to political reasons.
Nagole to Shilparam comes under Corridor 3. There are 23 stations on this route which is 28 km. Nagole, Uppal, Survey of India, NGRI, Habsiguda, Tarnaka, Mettuguda, Secunderabad, Parade Grounds, Paradise, Rasoolpura, Prakashnagar, Begumpet, Ameerpet, Madhuranagar, Yousufguda, Road No.5 Jubilee Hills, Jubilee Hills check post, Peddamma Temple, Madhapur, Durgam Cheruvu, Hitec City, Shilparamam.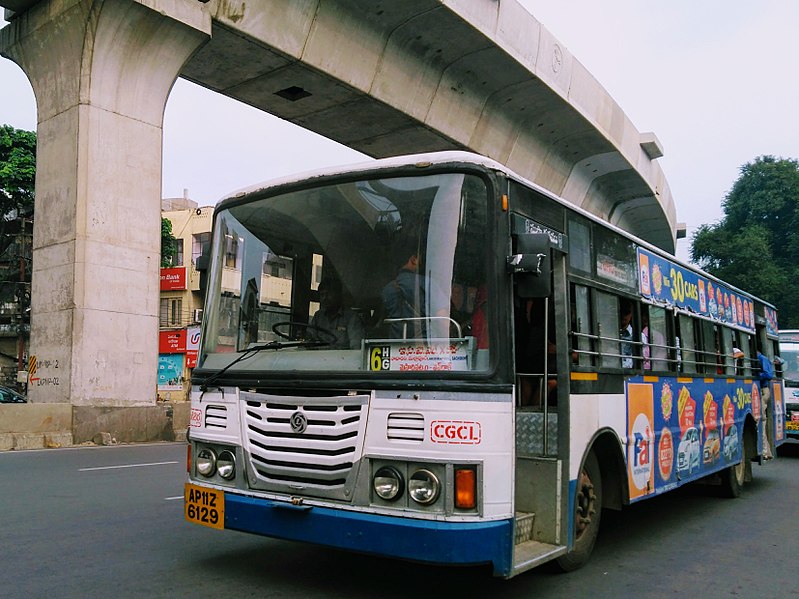 People use mostly buses and own vehicles for travelling within the twin cities. So they built pillars on the road route and laid the tracks on top, in cantilever design. As such, the vehicular traffic on the roads is not disturbed. Metro trains run above. As soon as you detrain from Metro, you can easily take a bus to your destination. There is another reason for building pillars in the middle of the road for Metro Rail. There is no need for acquiring land. Because some places are not wide enough, it was decided to build stations that are 20 mt. wide and 140 mt long. Interchange stations like Ameerpet, Parade Grounds, and MGBS have been designed in a different way, other than the cantilever design. There are two Metro Rail tracks on the pillars. One is the up line and the other the down line. But from below it appears as if it is only one track.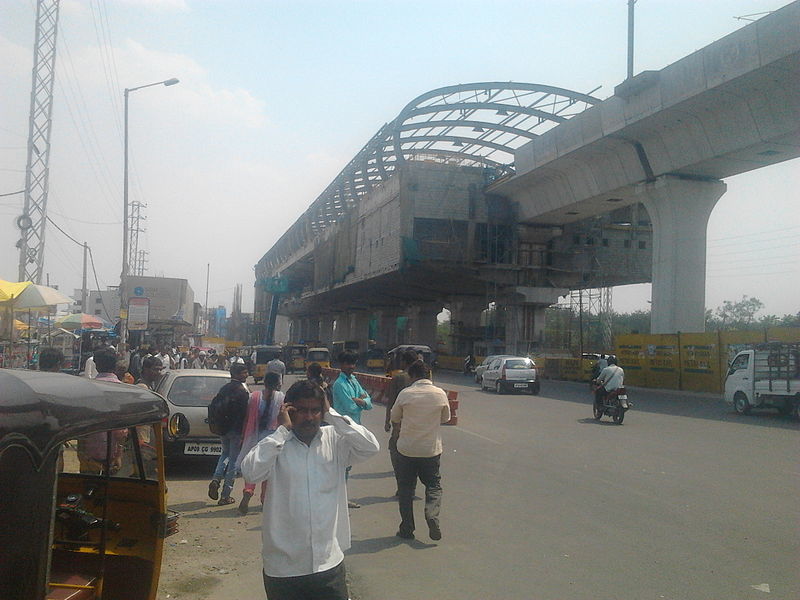 Arrangement has been made for a station for every kilometre on Metro Rail. Every station is designed to be ultra modern. There are two levels for the station. The first level is eight metres high from the road (26 ft.), also known as concourse level. This can be reached through escalator, lifts or steps. Wheel chairs have been arranged for the aged and the disabled. There are special staff who will assist them. There are two routes on either side of each station, to reach it. Also there are lifts and escalators. There are two parts in the first level. The front part is where people can move about freely. There are shops and ticket counters here. Those who have purchased tickets or Metro smart cards will be allowed to enter the paid counter. Passengers can reach the second level or the platform from here. This area is totally a 'paid area.' The platform and the track are in the second level. The second level is 12 mt. from the ground (40 ft.). It will take two minutes to reach the second level, from the entrance to the station. They are building bridges for important route buses to enter the Metro stations. These will be useful to passengers, who can get down a bus and come directly into the Metro station, without the need to come through the road below.
Ameerpet station is the biggest in India
Among the three interchange stations in the city, there are some special features that have come up in Ameerpet. It the biggest in the country. It is 40 mt wide and 142 mt long. There are eight lifts, 16 escalators and steps below the station, to reach it. The entire station is air conditioned. It looks like an airport, with three floors, granite flooring, shops and entertainment centres. It is estimated to be the most crowded interchange station. It has been designed to accommodate at 40,000 crowd at a time.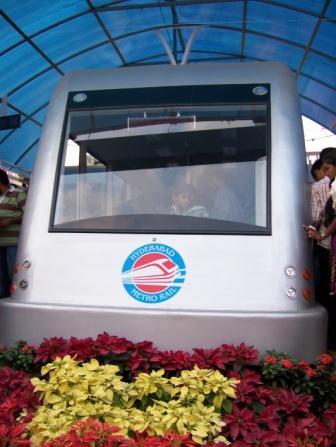 Tickets can be obtained from the counters arranged near the station. Vending machines are also available so as not to waste time in buying tickets. Tickets can be bought from here. E-smart cards swiping machines have been arranged at the entrance. If this card is shown at the gate, the machine will read this. Then the gate will be opened. The card has to be swiped at the reader at the end of journey as well. The quantum of charges for your journey will be debited from the card.
Passengers who buy tickets are given plastic tokens. They have to place it at the automatic collection gate, for it to open. They have to carry the tokens with them. After the journey, the tokens have to be put into a box at the exit gate. The token will not come out, as the journey has ended. After purchasing the ticket, the passenger has to enter the station within 29 minutes. After 29 minutes the ticket is rendered useless. There are shopping areas in the station. There are machines to scan bags at the entrance to the station and CCTV cameras inside the station. Emergency exits and fire extinguishers can be used in case of fire. Police and L&T staff provide security at the stations.
A train for every 10 mins
All the trains are totally air conditioned. Journey is cool during summers. Earlier, it was planned to have three coaches for every train. At least 1,000 people can travel in one trip. However, seating capacity is just 126. The remaining will have to travel standing. The tracks are ultra modern, without joints, so that the run is smooth, without jumps. There are no interruptions in Metro trains, like traffic on the road. Travelling time is reduced by half. The doors of the train close completely because of the AC. The doors open when the train stops in the station.
Trains run more frequently. There is a train for every 10 minutes, without much loss of waiting time. Depending on the rush, the frequency would increase to five minutes. If the rush further increases, there is a plan to run a train for every two to three minutes frequency. Similarly, each train will have three coaches in the beginning. If the rush increases, the number of coaches will be increased to six. Trains stop for 20 seconds in each station. They stop for two minutes in inter-change stations. Stations will be built to accommodate six coaches in a row. They will measure 140 mt long and 20 mt wide. The coaches have been made with stainless steel aluminium. There will not be much load on the track or pillars. LCD screens have been set up in every coach. Route map will be seen on these screens. Also there will be an announcement of the next station and the present station, in Telugu, English and Hindi. Special seats have been allotted for those who are disabled. Trains are cleaned daily to be rid of bacteria.
Use of ultra modern technology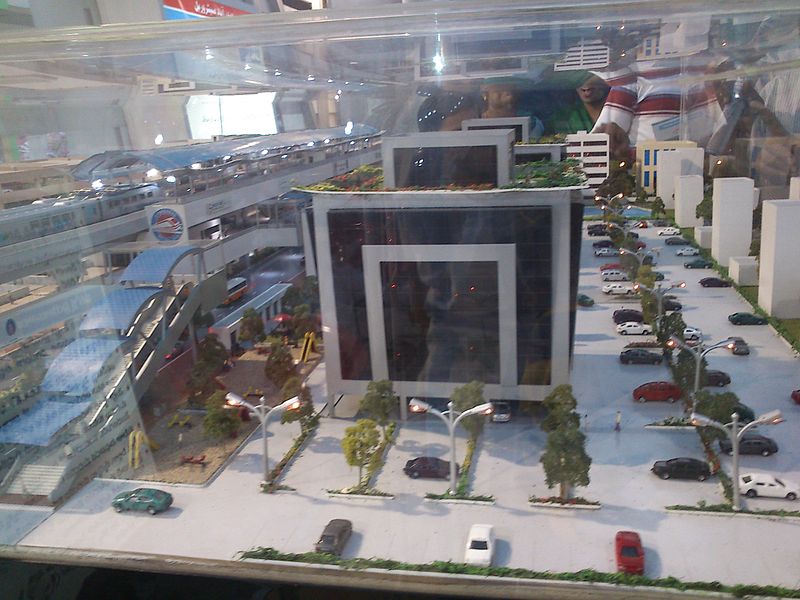 An ultra modern rail technology, called Cone Beam Computed Technology (CBCT) has been used in Metro Rail. It means ultra modern signalling and communications technology. Relentless exchange of information goes on between Central Command Control Centre in Uppal, the train operator and station controllers. Though there are two operators in the front and back of the train, they purview is limited to their side. This is because, the Advanced Operation Control Centre in Uppal regulates all the trains, via Automatic Train Operation (ATO).
Any technical problem in the train is repaired through the centre. Any problem in the track, the workers go to the spot to repair it. Computer-based inter linking system is available on all routes. The Centralised Operation Centre in Uppal, supervises and regulates electricity supply and traction system, through 'supervisory control and data acquisition.' Which means, with one stroke from this centre, the entire metro movement can be regulated. Huge generators have been placed on all routes, to replace power supply if necessary, for smooth run of metro without stopping. Similarly, Automatic Train Protection (ATP) system will keep supervising the journey of the train, without hindrance. All these systems have been set up to make sure that the Metro Rail journey is smooth, without hindrances or delays and safe.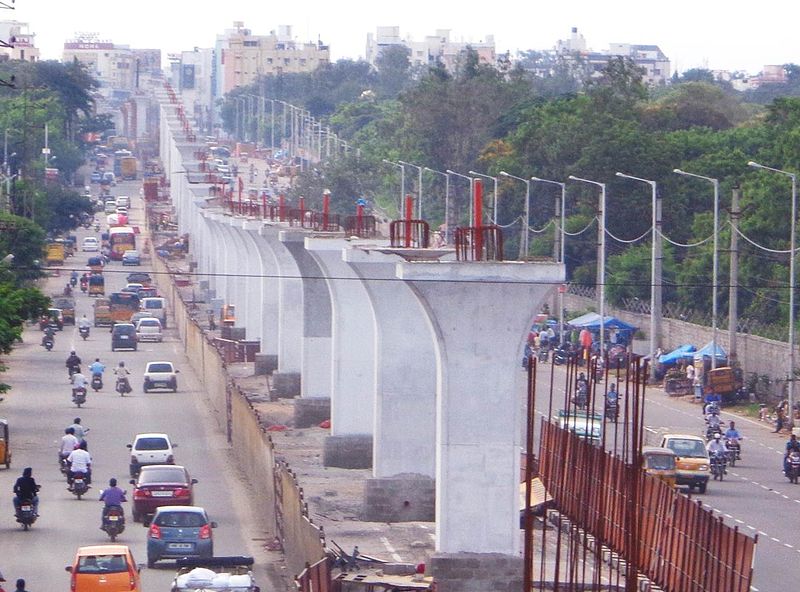 Staff at the Operation Control Centre at Uppal, keep watching the footage from the CCTV cameras that are set up in every station and its premises. As soon as they detect any suspicious activity, they inform the security staff, who rush to the spot. The rail movements are seen on these big screens arranged in this centre. While watching these, they give instructions to the train operators and guide them. Each corridor has been allotted a colour. Every moment in each corridor keeps blinking on the screen in that colour. The staff call this central metro system as the heart of the metro. A main depot has been set up for Metro Rail in Uppal. There are workshops here to conduct repairs to the trains. Two other depots have been set up to take care of future management matters.
There is another speciality for Metro Rail. It is the most environment-friendly system. Trains run on electricity. Another 41 per cent power is generated through the movement of the trains. Electro Dynamic Braking System has been set up in the trains. Whenever the train stops in a station, electricity is produced when the brakes are applied. At least 41 per cent of the power used by Metro trains is reproduced. This is of a higher percentage when compared to other Metro systems in the country. This is aligned with the power grid and reused. Even water consumption is less. Narrow fittings do not allow much flow of water. Rainwater harvesting pits are also ready. Solar power panels are being arranged on Metro roofs. LED lights are being used to reduce power consumption.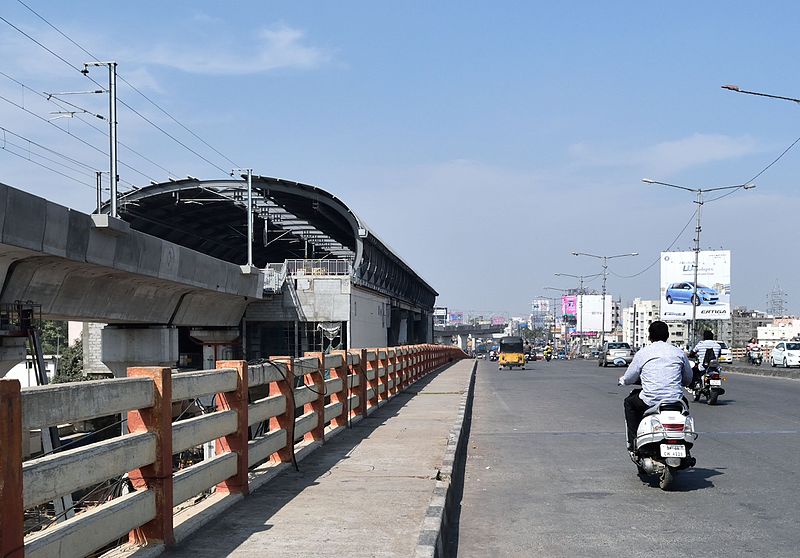 Security for Metro Rail is through CCTV cameras, based on internet surveillance. This is for the safety of the passengers. There are at least a 1,000 CCTV cameras all over the Metro Rail network. They are placed in all important locations, outside and inside the stations, while stepping into the train, in women's coaches etc. These are cameras with higher resolution and cover a large area. Security staff keep watching the video released by these cameras constantly. If they find something suspicious or unusual, they inform the police immediately. The CCTV cameras themselves keep highlighting some suspicious looking objects on the screen.
Unique numbers for Metro pillars
Unique numbers have been allotted to the pillars in the three corridors of Metro Rail. These have been linked to Google Maps. If you search for a particular Metro pillar with its number, its location will be highlighted. Letters A, B and C have been allotted to pillars in Corridors, one, two and three, respectively. For example, Corridor 1 begins at Miyapur and ends in LBnagar. The first pillar at Miyapur is therefore A1. The pillar at Ameerpet station is A450. Which means that there are 450 pillars from Miyapur to Ameerpet. While the pillar at Mahatma Gandhi Bus Station (MGBS) is A769, the one at LBnagar is 1,108. Similarly, in Corridor 2, the pillar at JBS is B1. The one at Musheerabad is B152 and the one at RTC Cross Roads is B196. MGBS pillar is B356 and Faluknumah Depot pillar is B588. In Corridor C, the pillar at Nagole bridge is C1, the one at Mettuguda is C296, at Ameerpet C623, Hitech City C1,001, the one at Rayadurgam is C1,052. At present there are 2,531 pillars in the three corridors. Metro Rail works between MGBS to Falaknumah in old city area have not yet started. If more corridors are added to Metro Rail in future, then they will be allotted D,E,F letters in serial order.
Metro Rail has come up with huge shopping malls and multiplex screens at several points on the various routes. There is an access to these from the stations. Not only shopping, but also entertainment is provided, before or after the journey. Besides there are several commercial establishments like food centres, gaming zones and shops. A vegetable market has been set up at Bharatnagar station. Some 150 farmers can get their produce, sell them, and relax and recreate here. Miyapur station is being recreated to resemble a village while, a kids zone is coming up at Nagole.
Metro Rail is a Rs. 15,000 crore worth project. Maintenance of trains and other systems incurs huge expenditure. If all this has to be collected only through tickets, the charges would be unbearable by ordinary people. The charges would been in hundreds of rupees. That is why, the state government has allocated extra land to L&T Metro at 17 locations, for setting up commercial establishments. It has to build commercial complexes at these places, to earn extra revenue. Plans have been approved for earning 50 per cent revenue through charges, 45 per cent is through shopping centres and five per cent revenue through advertisements.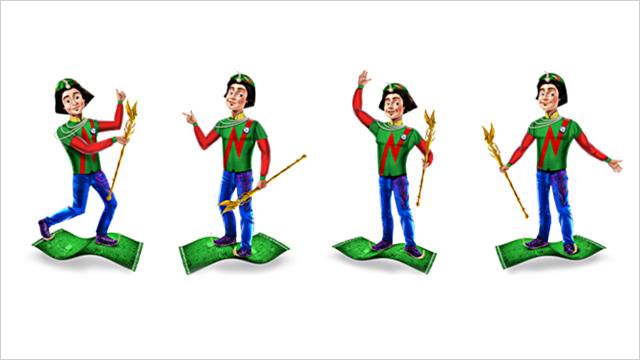 Nij is the mascot for Metro Rail. It has been designed as a symbol of the Nizam heritage. Nij can be seen at every station, welcoming the passengers and showing directions.
At the start, it was decided that ticket charges in Metro Rail will be a minimum of Rs. 10 to a maximum of Rs. 60. The charges are Rs. 10 for the first two km, Rs. 15 for four km, Rs. 25 for six km, Rs. 30 for eight km, Rs. 35 for 10 km, Rs 40 for 14 km, Rs. 45 for 18 km, Rs. 50 for 22 km, Rs. 55 for 26 km and Rs. 60 for 26 km. A passenger can carry 10 kg luggage with him, freely. More than that will be charged. As per the agreement between L&T Metro and the state government, it can increase the charges by five per cent annually. However, it has to take permission from the government before doing so. There is also a proposal to increase the charges by 25 per cent, during rush hours. At present the trains are running from 6 a.m. to 10 p.m. The timings might change from 5.30 a.m. to 11 p.m., later. There are chances of the trains starting earlier in the morning and running to late in the night, if the rush increases.
---
More Articles

Joint life insurance policy for couple...how beneficial?
3 years ago

Are you using the right charger for your phone? Check out
3 years ago

Shoot amazing videos with mobile phone
3 years ago

How to delete, block emails in Gmail?
3 years ago

Are your eyes healthy? Identify eye problems this way
3 years ago

Government services at your fingertips with these apps
3 years ago

Ways to increase height: Any options?
3 years ago

Life after death…what organs can be donated…give life to how many?
3 years ago

Phones costlier than Apple iPhone
3 years ago

Hyderabad Metro Rail halts..facilities in stations
3 years ago

Green peas curry...tasty for chapattis, paratas
3 years ago

Age for insurance cover. Need it for 100 years?
3 years ago

Shares that will go up in 2018; recommended by brokers
3 years ago

These are New Year resolutions of celebrities...what about us?
3 years ago

LIC policy that protects you from cancer... less premium, more protection
3 years ago

What do kids like... what they don't?
3 years ago

Lens resolution and not pixels make the difference in camera...unknown facts
3 years ago

What is the truth about North Korea?
3 years ago

Open zero balance account in any bank
3 years ago

Separate test for each health problem... what is known in which test?
3 years ago

Do this to increase life of phone battery, backup
3 years ago

New scooters that will arrive at your doorstep soon
3 years ago

Health insurance from banks... less premium...how worthy?
3 years ago

Has your smart phone slowed down? Here are tips to speed it up
3 years ago

Dental plaque formation, causes and care
3 years ago

Cholesterol is good...But when is it bad?
3 years ago

Make tasty panipuri at home
3 years ago

P2P platforms help easy lending, borrowing
3 years ago

Why Apple iPhone is expensive? Want it for less price?
3 years ago

Tips to cool down your heated smart phone
3 years ago

Which is better...own or rented house?
3 years ago

App that listens and types in Telugu
3 years ago

Jaundice could be dangerous if neglected
3 years ago

Sponge cake in a jiffy...no oven...with and without eggs
3 years ago

What happens when you don't repay loans
3 years ago

Yogurt, curd, dessert, paneer, cheese...what's the difference?
3 years ago

IT dept. eagle eye on bank deposits... what to do?
3 years ago

Google Tej app...transfer funds in a jiffy
3 years ago

Truths about money, you must know
3 years ago

Huge benefits with Multani Mitti
3 years ago