Godavari Opened on a Grand scale in Delaware
29-04-2016 Fri 18:24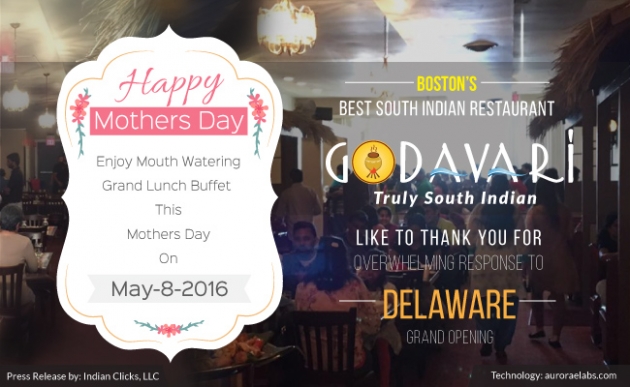 Delaware, USA, April 29th, 2016 (Press Note): The fastest growing South Indian restaurant in the world - Godavari, the authentic South Indian Cuisine was opened on April 16, 2016 to the public on a grand scale in the city of Wilmington in Delaware province.
The ostentatious inauguration was followed by a lavish buffet. The diversified menu infuses new laudable recipes and authentic flavors that includes Veg specialties like 'Vidya Balan' Vadalu, Gongura Idly, 'Paritala' Pineapple Rasam, Kunda Perugu along with many Non vegetarian specialties like 'KTR' Kodi Roast, 'Urmila' Uragai Mamsam Koora, 'Rathamma' Gari Royyalu Eguru, 'Pitapuram' Peethala Pulusu and many more.
Mohan Tummala and Gopi Chigurupati from Godavari Delaware franchise expressed their happiness in joining the Godavari family and extending Godavari to the state of Delaware which is lacking an authentic South-Indian restaurant.
The 150-seater Delaware restaurant's design will be a nod to the heritage and the authentic delights from the Southern India. Talking about this the franchise owners said, "Food lovers are going to have their authentic food under Hut like structures which you typically find in your Grandparents villages with a huge collection of Kondapalli Toys."
Elated with the expansion, Teja Chekuri & Koushik Koganti said, "With immense pleasure, we take pride to carry the legacy of Indian food, especially south Indian cuisine to various parts of United States through 'Godavari'. We as a "Team Godavari" are working very hard to innovate new recipes and serve different kinds of dishes to the community. We want every Indian food lover in the world to own a piece of Godavari."
Godavari Delaware will have close access to the Financial Office Hub and proximity to I-95. Taking the advantage of the location, Godavari, the restaurant would be serving and catering to the people in and around Philadelphia, King of Prussia, Exton and adjoining cities.
Godavari Group will soon set up their corporate offices in India at Amaravati (Andhra Pradesh) and Hyderabad (Telangana) to better serve their Global ventures.
Godavari also catered Ugadi events for more than 2000 guests for GMATA (Madison), TAGB (Boston) and many more with authentic dishes.
Godavari Group would like to Thank the people of Metro Washington area for making Godavari Maryland a huge success and Click Here for the Grand Opening Video: https://www.youtube.com/watch?v=ffro7phkAFE
Godavari chain is actively promoting the Hashtags of #GoogleofIndianFood and #IncredibleIndianFood.
Godavari Delaware is happy to celebrate the Motherhood with a special Lunch Buffet on Mother's Day weekend. Please join us for Lunch to enjoy the Traditional Mother's Recipes during the Mother's Day Weekend @ Godavari Delaware.
We TRUST our Legacy Continues in the state of Delaware and would invite every food lover to taste our authentic recipes.
Looking forward to serve you at:
GODAVARI DELAWARE
3615 Kirkwood Hwy,
Wilmington, DE, 19808.
Ph: 302-999-0286
Thanks again…. Hope you all avail and enjoy our services.
CONTACT:
MR.SATISH CHALASANI
DELAWARE@GODAVARIUS.COM
Ph: 248-719-8795
www.Godavarius.com
Press note released by: Indian Clicks, LLC
---
More Articles

Joint life insurance policy for couple...how beneficial?
3 years ago

Are you using the right charger for your phone? Check out
3 years ago

Shoot amazing videos with mobile phone
3 years ago

How to delete, block emails in Gmail?
3 years ago

Are your eyes healthy? Identify eye problems this way
3 years ago

Government services at your fingertips with these apps
3 years ago

Ways to increase height: Any options?
3 years ago

Life after death…what organs can be donated…give life to how many?
3 years ago

Phones costlier than Apple iPhone
3 years ago

Hyderabad Metro Rail halts..facilities in stations
3 years ago

Green peas curry...tasty for chapattis, paratas
3 years ago

Age for insurance cover. Need it for 100 years?
3 years ago

Shares that will go up in 2018; recommended by brokers
3 years ago

These are New Year resolutions of celebrities...what about us?
3 years ago

LIC policy that protects you from cancer... less premium, more protection
3 years ago

What do kids like... what they don't?
3 years ago

Lens resolution and not pixels make the difference in camera...unknown facts
3 years ago

What is the truth about North Korea?
3 years ago

Open zero balance account in any bank
3 years ago

Separate test for each health problem... what is known in which test?
3 years ago

Do this to increase life of phone battery, backup
3 years ago

New scooters that will arrive at your doorstep soon
3 years ago

Health insurance from banks... less premium...how worthy?
3 years ago

Has your smart phone slowed down? Here are tips to speed it up
3 years ago

Dental plaque formation, causes and care
3 years ago

Cholesterol is good...But when is it bad?
3 years ago

Make tasty panipuri at home
3 years ago

P2P platforms help easy lending, borrowing
3 years ago

Why Apple iPhone is expensive? Want it for less price?
3 years ago

Tips to cool down your heated smart phone
3 years ago

Which is better...own or rented house?
3 years ago

App that listens and types in Telugu
3 years ago

Jaundice could be dangerous if neglected
3 years ago

Sponge cake in a jiffy...no oven...with and without eggs
3 years ago

What happens when you don't repay loans
3 years ago

Yogurt, curd, dessert, paneer, cheese...what's the difference?
3 years ago

IT dept. eagle eye on bank deposits... what to do?
3 years ago

Google Tej app...transfer funds in a jiffy
3 years ago

Truths about money, you must know
3 years ago

Huge benefits with Multani Mitti
3 years ago