Book Thatkal ticket early...pay later...book like this
23-10-2017 Mon 13:26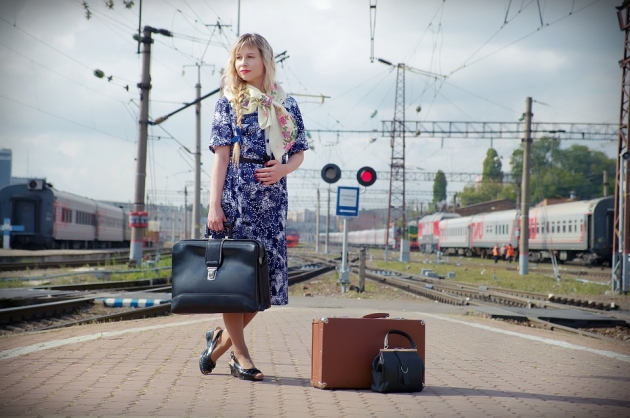 Railways have made it more convenient for passengers to book Thatkal ticket quickly. You can book the ticket first and pay later.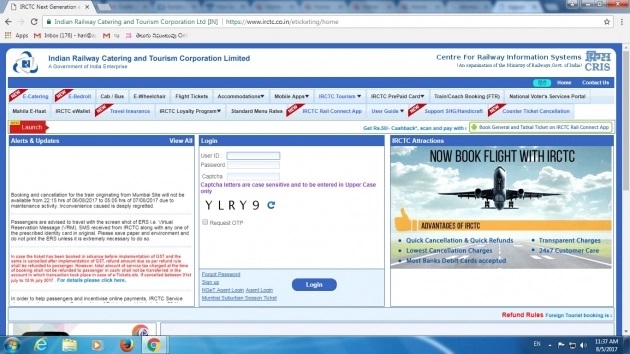 Booking of AC Thatkal ticket online begins from 10 a.m. and that of sleeper class begins from 11 a.m. But in this method by the time you login to Indian Railway Catering and Tourism Corporation (IRCTC), select the ticket, fill in the names and other details, and then proceed to pay, the seats are already reserved. Payment procedure takes a long time, as the number of seats are less and everyone is logged on at the same time. Meanwhile, the tickets are sold. The new feature in IRCTC, allows you to overcome these problems.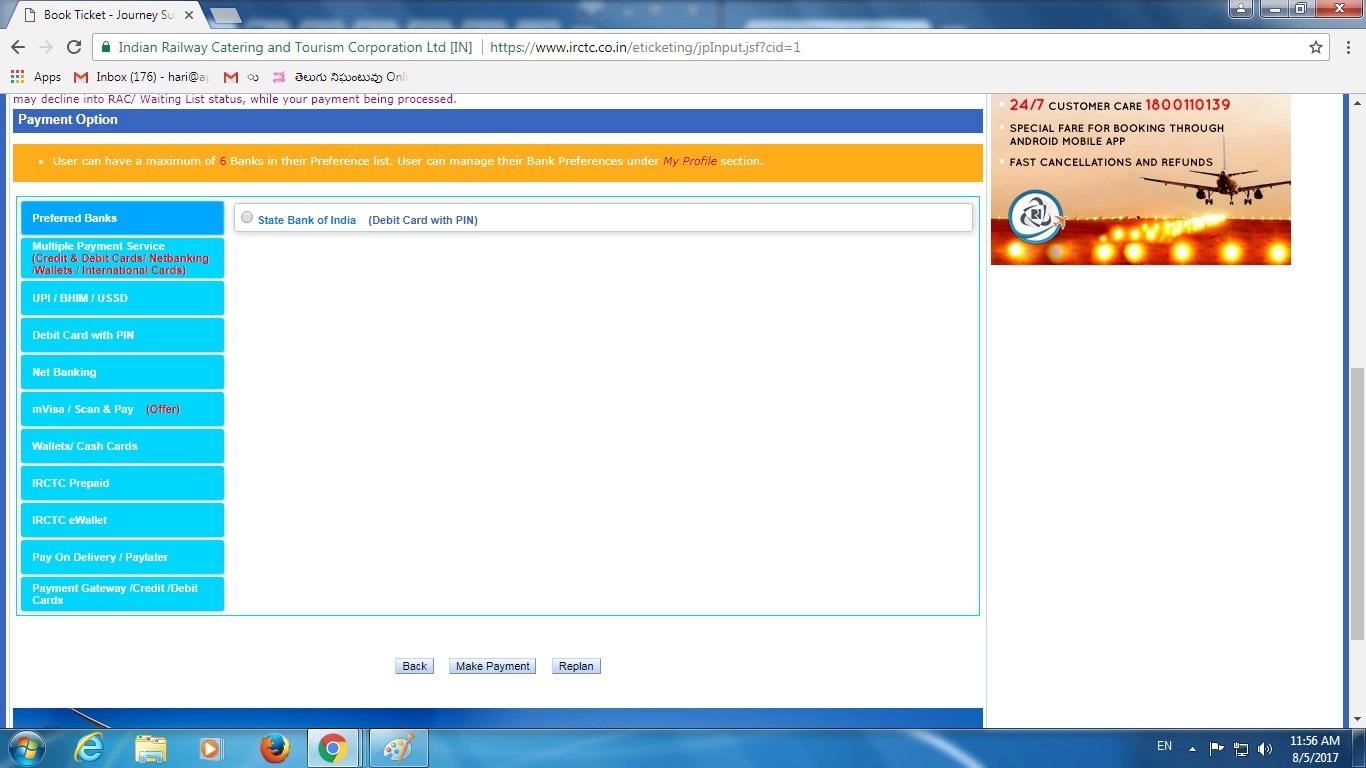 How to book?
There is no change in the procedure to book Thatkal tickets. It is same as before. After selecting the date of journey, train and Thatkal options, you should register your name, age etc. details, in the next page. Then you are directed to payment page. On the left hand side, there are options which read: 'Pay on delivery/ Pay later.' If you select this, the booking procedure becomes easy.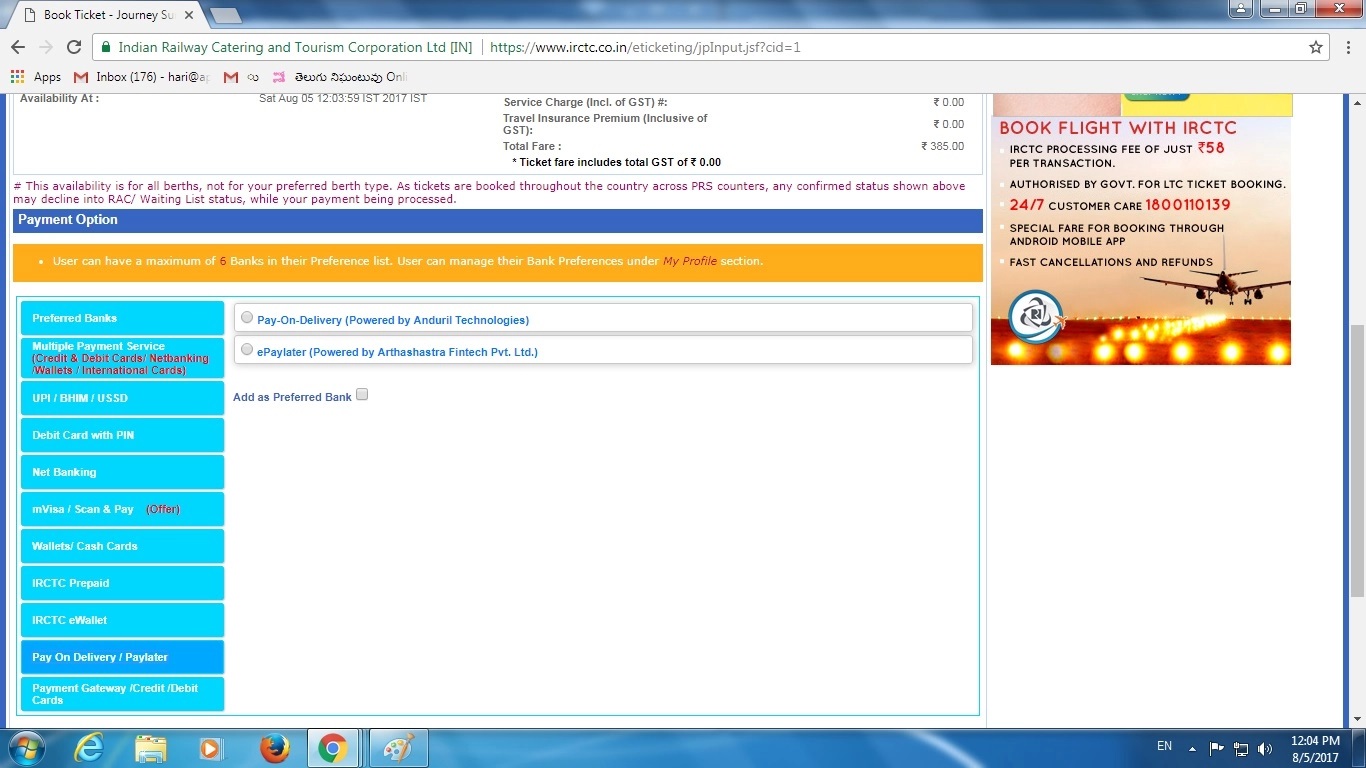 Pay and delivery/ pay later option will lead you to two more options, namely: Pay on Delivery (powered by Android technologies) and epay later (powered by Arthasastra Fintech Private Ltd.). In this, if you select Pay on delivery, the Thatkal ticket will be brought to your house. You will need to pay with cash or through card. If you take the ticket before hand and opt to pay later, you will need to select the second option, epay later.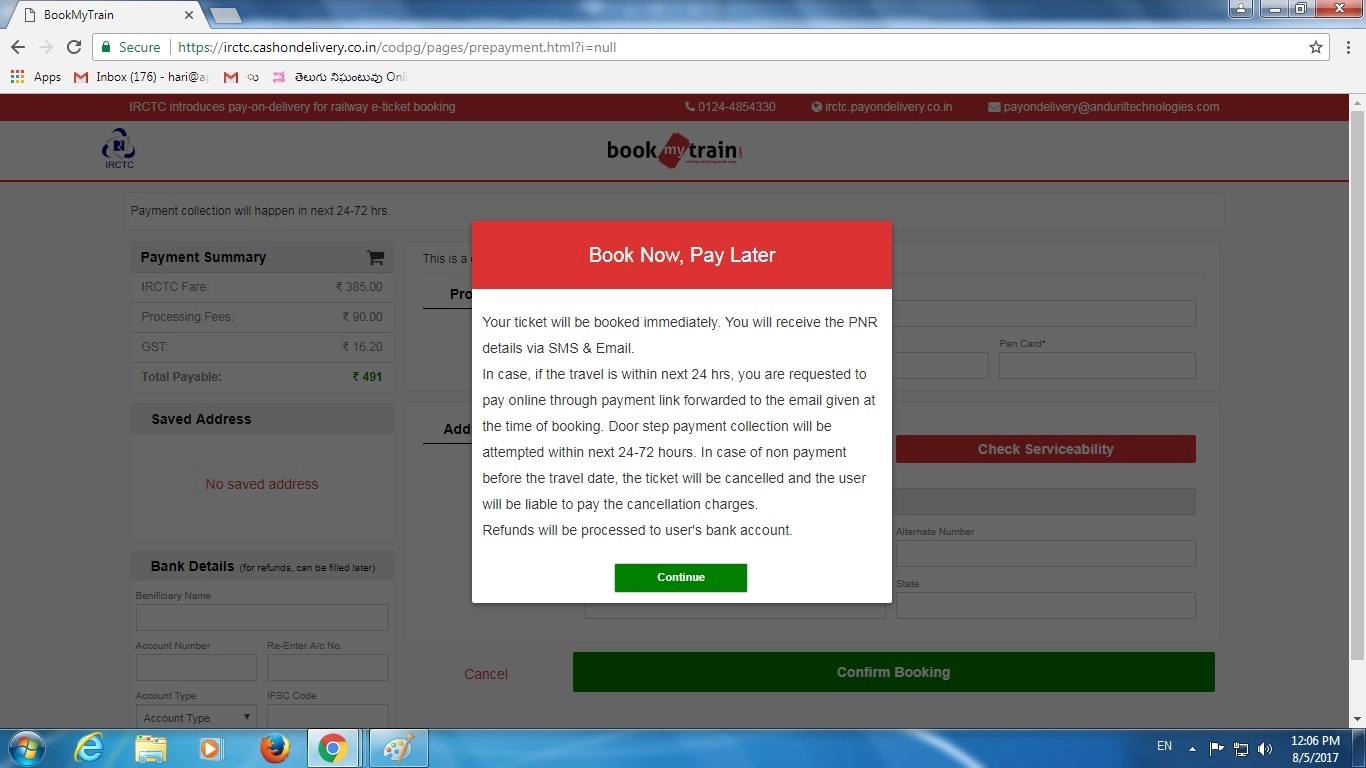 When you select Pay on Delivery, you will need to 'ok' Make Payment option. A pop up window will show the rules and regulations. When you 'ok' this after reading all the rules, you will need to give your profile and address details. You have to give the address, where you want the ticket to be delivered. Give your name, phone number and email ID, in profile details. Then onwards, whenever you want to book these kind of tickets, these details will be taken as standard.
As soon as you book the ticket, all the details regarding the ticket, including PNR number, will be forwarded through SMS and email. The physical copy will be sent to your house. Then you should pay. If you do not pay then, they will charge for cancellation. In case of failure to pay even this, the account will be deactivated and legal action will begin against you.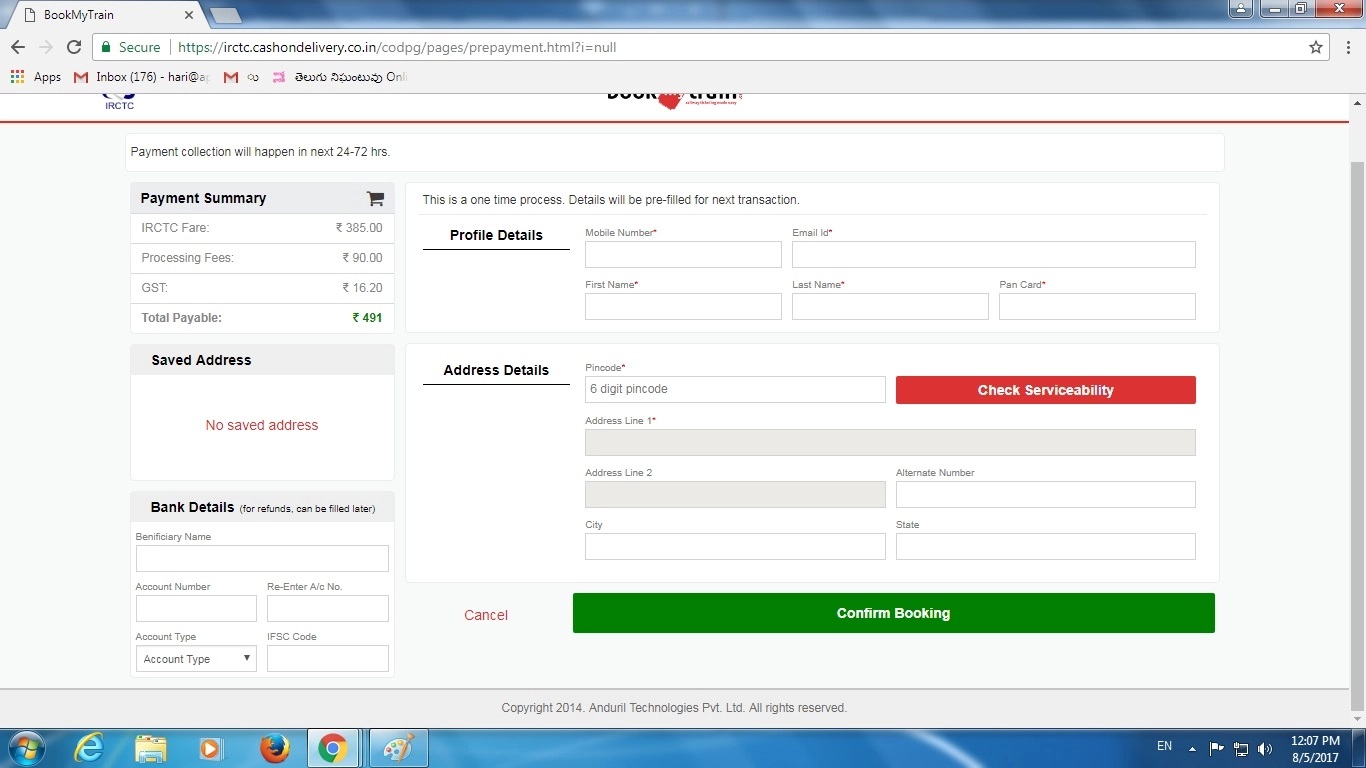 If you have to begin your journey within 24 hours, you will need to pay via the link that is sent to your email ID. Because, delivery is not possible before scheduled departure. The facility to deliver the ticket at the address and take the payment, is only for journeys later than 24 hours and before 72 hours. If the money is not paid before the journey, the ticket is cancelled. Cancellation charges will have to be paid. Any refund will be credited to the bank account.
Ticket can be booked then and there in 'epay later' option. You will need to pay the money before 14 days. For this 3.5 per cent of the ticket value will be charged for this. IRCTC is offering this facility, with the help of Arthasastra Pin Tech company. The link for payment will be sent to the mail. You can pay within 14 days, via this link. If you fail to pay the amount, the company will extract it with 36 per cent interest on the whole amount. IRCTC account will be deactivated.
---
More Articles

Joint life insurance policy for couple...how beneficial?
3 years ago

Are you using the right charger for your phone? Check out
3 years ago

Shoot amazing videos with mobile phone
3 years ago

How to delete, block emails in Gmail?
3 years ago

Are your eyes healthy? Identify eye problems this way
3 years ago

Government services at your fingertips with these apps
3 years ago

Ways to increase height: Any options?
3 years ago

Life after death…what organs can be donated…give life to how many?
3 years ago

Phones costlier than Apple iPhone
3 years ago

Hyderabad Metro Rail halts..facilities in stations
3 years ago

Green peas curry...tasty for chapattis, paratas
3 years ago

Age for insurance cover. Need it for 100 years?
3 years ago

Shares that will go up in 2018; recommended by brokers
3 years ago

These are New Year resolutions of celebrities...what about us?
3 years ago

LIC policy that protects you from cancer... less premium, more protection
3 years ago

What do kids like... what they don't?
3 years ago

Lens resolution and not pixels make the difference in camera...unknown facts
3 years ago

What is the truth about North Korea?
3 years ago

Open zero balance account in any bank
3 years ago

Separate test for each health problem... what is known in which test?
3 years ago

Do this to increase life of phone battery, backup
3 years ago

New scooters that will arrive at your doorstep soon
3 years ago

Health insurance from banks... less premium...how worthy?
3 years ago

Has your smart phone slowed down? Here are tips to speed it up
3 years ago

Dental plaque formation, causes and care
3 years ago

Cholesterol is good...But when is it bad?
3 years ago

Make tasty panipuri at home
3 years ago

P2P platforms help easy lending, borrowing
3 years ago

Why Apple iPhone is expensive? Want it for less price?
3 years ago

Tips to cool down your heated smart phone
3 years ago

Which is better...own or rented house?
3 years ago

App that listens and types in Telugu
3 years ago

Jaundice could be dangerous if neglected
3 years ago

Sponge cake in a jiffy...no oven...with and without eggs
3 years ago

What happens when you don't repay loans
3 years ago

Yogurt, curd, dessert, paneer, cheese...what's the difference?
3 years ago

IT dept. eagle eye on bank deposits... what to do?
3 years ago

Google Tej app...transfer funds in a jiffy
3 years ago

Truths about money, you must know
3 years ago

Huge benefits with Multani Mitti
3 years ago