Make these variety of mouth-watering paratas, daily
06-10-2017 Fri 12:17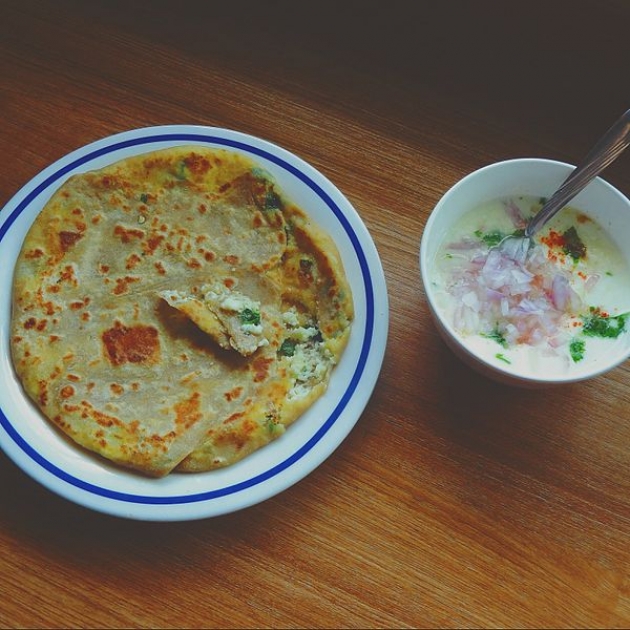 Many of you love paratas. They can be had at anytime, from breakfast in the morning, to dinner at night. However, they can be boring, when they are the same paratas day in day out. Those who wish to have different kinds of mouth-watering paratas, can learn how to make them.
Dough is prepared with wheat flour or maida, for the basic parata, in all the recipes. Dough should be prepared preferably one hour earlier than meal time. Take measured flour in a bowl or flat plate. Add two pinches of salt and a tablespoon of oil (optional) and mix well. Knead the flour in to a firm dough, by sprinkling water. Cover it and keep it aside until used. Different kinds of fillings are used to make tasty paratas. The recipes for preparing these fillings are given below...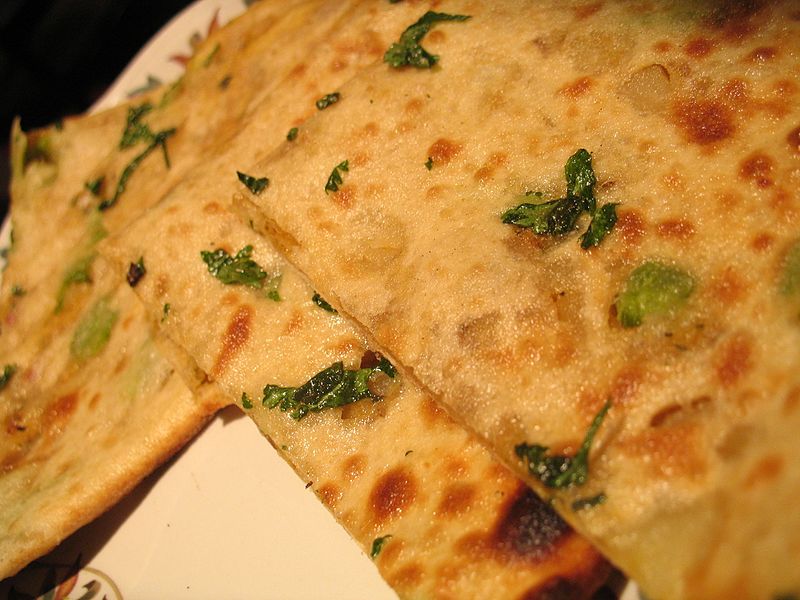 Boil two to four potatoes, peel and mash them, before keeping them aside. Chop two green chillies and two onions, finely. Heat some oil in a pan, on low flame, and add the chillies and onions to this. Fry a little and add one tsp of red chilli powder, a pinch of dhaniya powder, jeera, salt, and masala powder (optional), to it. Mix well and remove from heat. Add the boiled potatoes to this and mix well. Now process the prepared dough, as for rotis or puris. Place a small portion of the potato masala mixture in the centre and wrap the dough around it, shaping the whole in to a ball. Roll this out and roast it on a hot tawa, by adding some ghee or oil. Aalu parata is ready.
Mattar (green peas) Parata
Boil some green peas and grind them in to a paste. Add red chilli powder or chopped green chillies, salt and coriander leaves to this. Use this mixture like in the above recipe. Both potato and green peas mixtures can be mixed together to make these paratas.
Paratas with green leaves are made differently. For these paratas, the green leaves should be processed and mixed with the flour to make the dough. Small portions of the dough should be rolled out in to rotis and roasted.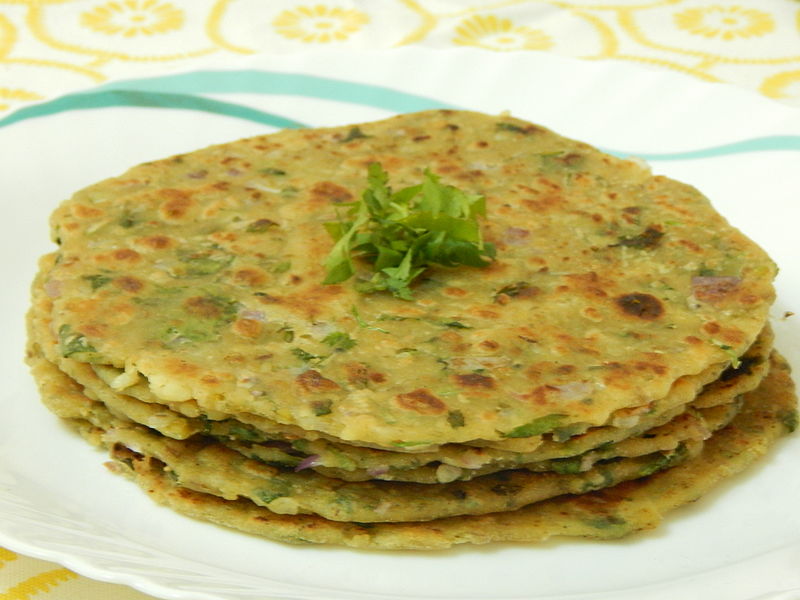 Methi has medicinal values. It is used in our household curries. To make paratas with them, wash the leaves thoroughly in water and chop them. Two finely chopped green chillies, three chopped garlic cloves, salt and a little red chilli powder too should be added to the flour along with the methi leaves, while preparing the dough. They should be roasted thoroughly on both sides, for them to be tasty. They can be had with chutney or curd. For Palak paratas, follow the same method. As a variation, wash the palak leaves and fry them a little in oil, with the green chillies and half a tsp of jeera. Grind these in a mixer, with very little water. Prepare the dough with this, adding all the other mentioned ingredients.
This is a nutritious as well as tasty kind of parata. Should be tried at least once. The processing of the vegetables should be done as in Aalu parata. Take three or four vegetables, like carrots, cabbage, french beans, peas etc. Add two potatoes and boil the vegetables. The rest of the steps are as in the recipe for Aalu parata.
Gobi (cauliflower) parata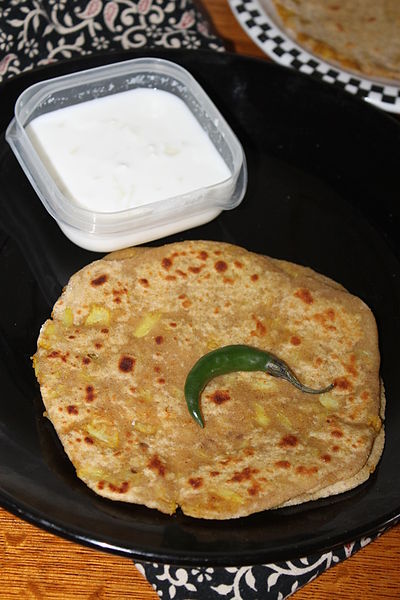 Wash cauliflower thoroughly and chop it finely. Heat oil moderately in a pan. Add chopped onions, little ginger garlic paste and salt and fry them. When the onions turn transparent, add chopped cauliflower, two green chillies finely chopped, a pinch of turmeric and a little red chilli powder and fry for five minutes. Add chopped coriander leaves. This is used as filling for making paratas.
Add garlic paste and salt to grated coconut and mix. This should be heated in a hot pan with oil, for a few minutes, before being stuffed in to rotis made from wheat flour or maid dough. The rotis should be roasted on a hot tawa.
Ingredients:
Badam, cashews, pista, coriander leaves, red chilli powder, salt.
Method:
Make a powder of all the dry fruits in a mixer. Take it in to a bowl and add coriander leaves, red chilli powder and salt, along with some water. Make paratas as usual, with this paste in the centre of each maida or wheat flour roti.
Ingredients:
One cup sweet corn, one cup green peas, salt to taste, a pinch of turmeric, red chilli powder or finely chopped green chilli, few mustard seeds, two onions finely chopped, oil.
Method:
Broil baby corn and green peas, in a little hot oil, in a pan. Once well done, add chopped green chilli, onion, salt and turmeric, mix well and remove from fire. Mix it well and use it as in the previous recipes to make paratas.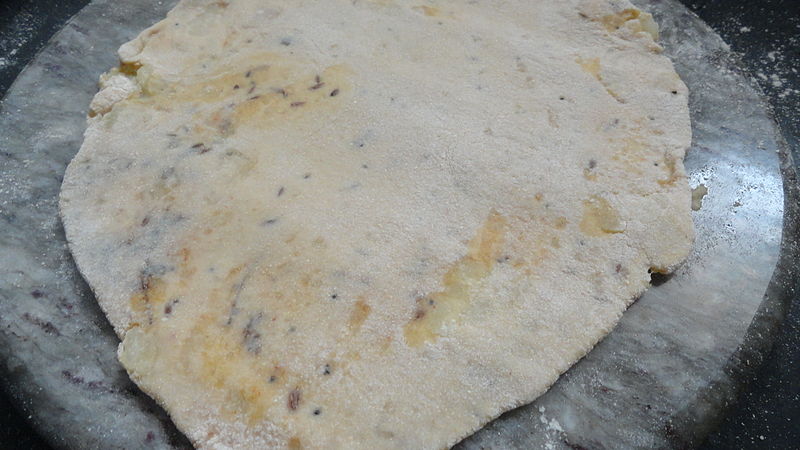 Jaggery Parata
Some people like sweet paratas. Jaggery parata is ideal for such ones. It is an easy recipe.
Method:
Grate some jaggery and keep aside. If desired, slice badam and pista into thin flakes and keep aside. Take a small portion of the dough in one hand and make a small pit at the centre. In this, place a small portion of the jaggery and a few dry fruits. Close it and make paratas as usual. Same measures of jaggery and boiled channa dhal can be ground together to make a filling for these paratas. A pinch or two of cardamom powder can be added to the mixture. However, these cannot be rolled out and should be pressed on to butter paper, with the fingers, in the shape of rotis.
This is also called egg roll. It is made by spreading beaten eggs on the roti, while roasting. Break the eggs in to a bowl and beat them lightly. Mix the other ingredients as mentioned in aalu parata, except oil and keep aside. Roll out a small portion of the dough like a roti and roast it on hot tawa on one side. Spread the egg mixture on that side. After two minutes, turn over the roti and cook it on the egg side, like an omelette, adding more oil.
This filling is made from green gram or moong dhal. The gram should be boiled first. Heat some oil in a pan and add jeera and the boiled green gram or dhal. Add salt and red chilli powder and fry for a while. The mixture can be used to make paratas.
Ingredients:
Two potatoes, one cup of channa, one onion, three green chillies, jeera, salt, turmeric, tomato (optional), dhaniya powder, oil.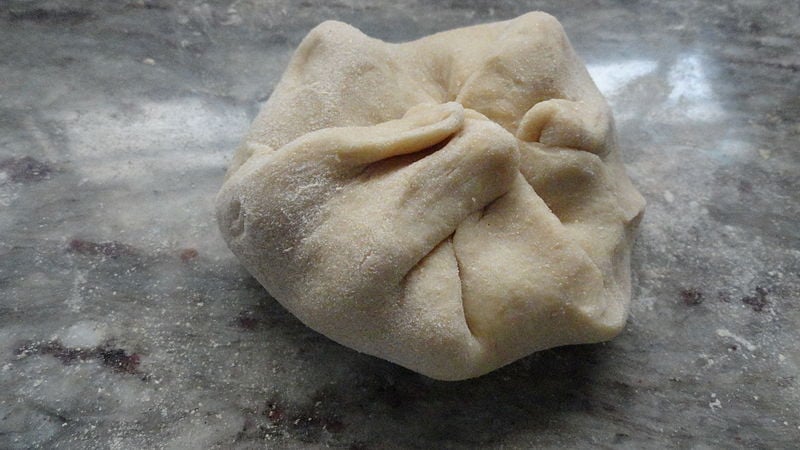 Method:
Soak the channa at least for six to eight hours. Boil the potatoes just before cooking. Chop onions and green chillies in to even sized pieces. Heat oil in a pan and add these to it. When onion turn transparent, add or tomatoes turn mushy, add the potatoes and fry them until moisture evaporates. Fry the dhaniya and jeera separately and add the channa to this. Boil it until soft to touch. Add the potato mixture to this. Mix everything thoroughly and keep on low flame for a while. Later, remove from heat and sprinkle some coriander leaves over the curry. This goes very well with paratas.
Note:
In all these recipes, the common ingredient is dough made with whole wheat flour or maida. The dough can be made with rice flour also. In the beginning paratas do not turn out well. But with practice, they can be made well and taste good.
---
More Articles

Joint life insurance policy for couple...how beneficial?
3 years ago

Are you using the right charger for your phone? Check out
3 years ago

Shoot amazing videos with mobile phone
3 years ago

How to delete, block emails in Gmail?
3 years ago

Are your eyes healthy? Identify eye problems this way
3 years ago

Government services at your fingertips with these apps
3 years ago

Ways to increase height: Any options?
3 years ago

Life after death…what organs can be donated…give life to how many?
3 years ago

Phones costlier than Apple iPhone
3 years ago

Hyderabad Metro Rail halts..facilities in stations
3 years ago

Green peas curry...tasty for chapattis, paratas
3 years ago

Age for insurance cover. Need it for 100 years?
3 years ago

Shares that will go up in 2018; recommended by brokers
3 years ago

These are New Year resolutions of celebrities...what about us?
3 years ago

LIC policy that protects you from cancer... less premium, more protection
3 years ago

What do kids like... what they don't?
3 years ago

Lens resolution and not pixels make the difference in camera...unknown facts
3 years ago

What is the truth about North Korea?
3 years ago

Open zero balance account in any bank
3 years ago

Separate test for each health problem... what is known in which test?
3 years ago

Do this to increase life of phone battery, backup
3 years ago

New scooters that will arrive at your doorstep soon
3 years ago

Health insurance from banks... less premium...how worthy?
3 years ago

Has your smart phone slowed down? Here are tips to speed it up
3 years ago

Dental plaque formation, causes and care
3 years ago

Cholesterol is good...But when is it bad?
3 years ago

Make tasty panipuri at home
3 years ago

P2P platforms help easy lending, borrowing
3 years ago

Why Apple iPhone is expensive? Want it for less price?
3 years ago

Tips to cool down your heated smart phone
3 years ago

Which is better...own or rented house?
3 years ago

App that listens and types in Telugu
3 years ago

Jaundice could be dangerous if neglected
3 years ago

Sponge cake in a jiffy...no oven...with and without eggs
3 years ago

What happens when you don't repay loans
3 years ago

Yogurt, curd, dessert, paneer, cheese...what's the difference?
3 years ago

IT dept. eagle eye on bank deposits... what to do?
3 years ago

Google Tej app...transfer funds in a jiffy
3 years ago

Truths about money, you must know
3 years ago

Huge benefits with Multani Mitti
3 years ago